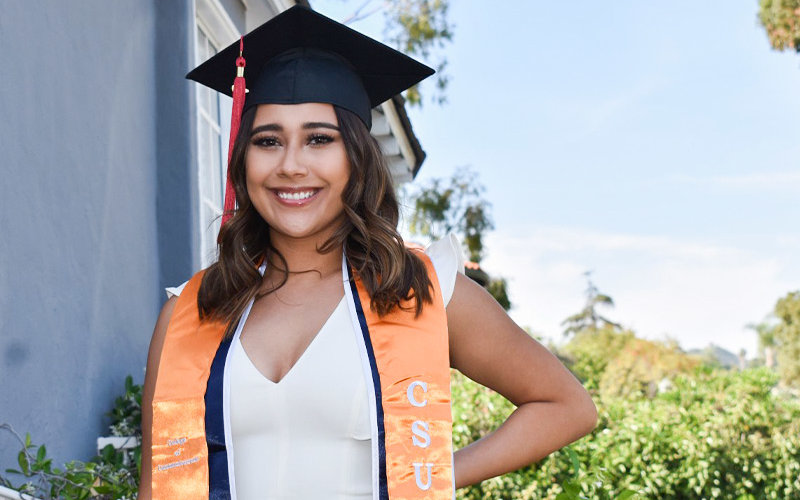 When Natalie Lopez graduates with a bachelor's degree in communications this spring, she will become the first in her family to earn a college degree.
"My parents have worked hard their whole lives to give me the kind of life they always wished for when they were kids. I pursued college because I want to be able to provide for my family and give my children the best opportunities in life," said Lopez of the Class of 2020.
Xochilt Lagunas also is earning a bachelor's degree in communications with plans to embark on a career as a journalist.
"Attending college was always a dream, and now, I have turned it into a reality," said Lagunas, also the first in her family to graduate from college. "I wanted to be an example to my younger siblings that anything is possible."
Lopez is among 50 graduating Abrego Future Scholars, a Cal State Fullerton program that supports underrepresented, first-generation college students with scholarships and services, including academic resources and mentoring, to help them reach their higher education goals.
Lagunas is one of the 13 soon-to-be-graduates of the Nicholas Academic Scholars, a partnership with the Nicholas Academic Centers in Santa Ana.
Graduating seniors in both of the programs were recently honored during a virtual celebration, hosted by the Center for Scholars, which oversees the programs. To watch the event, visit here.
"We provide these scholars with a transformational experience for holistic growth through a diverse and inclusive environment, services and opportunities. Our core values include collaboration, community, authenticity, compassion and celebration, which is what Abrego Future Scholars and Nicolas Academic Scholars embody," said Yajayra Tovar, director of the Center for Scholars.
Silas H. Abrego, CSUF vice president emeritus for student affairs and a member of the California State University Board of Trustees, is co-founder of the Abrego Future Scholars program. He praised the graduating class for reaching this milestone in their lives.
"I'm proud of how hard you have worked to get where you are today. You have made many sacrifices — days that tested your will to continue," Abrego told the scholars. "You have learned that challenges are nothing but opportunities for new discoveries and collaboration. Your education, your system of support, your determination and belief in yourself will strengthen you."
Abrego is a founder of the annual Cal State Fullerton Hispanic Scholarship Golf Tournament, developed more than three decades ago, in which proceeds go toward supporting the program's first-generation students.
Lopez, who studied public relations, was a member of Zeta Tau Alpha and interned at a Long Beach homeless shelter, relayed that the Center for Scholars gave her much-needed support — from academic mentoring to networking opportunities — to help her reach her goal of graduating from college.
"The Abrego Future Scholars program made me feel welcome in an environment that was all too unfamiliar to me," she said. "The staff and mentors laid out a strong foundation for me to not only succeed, but to thrive in college."
Lopez is looking forward to the next chapter in her life, which is studying for the law school exam and applying to law school for fall 2021.
"Pursuing a law degree has always been a dream of mine," she said. "My ultimate goal is to give back to my community, where many go unrepresented due to limited resources."
Lagunas relayed that the Center for Scholars also gave her comfort and support during her college journey.
"The program helped me achieve my college goals by providing a space for me to complete my studies; it made me feel at home," she said. "Being a scholar in the program reminded me that I wasn't alone. There were students who had the same struggles as me."
In working toward her career goals, Lagunas had the opportunity to report and produce "Tents of Hope: Tijuana's Busiest Migrant Shelter" for Al Día, a television news program produced in Spanish by students in the Department of Communications, and interned at ABC7 in Los Angeles.
"My career goal as a multimedia journalist is to utilize my creativity to tell stories from a different perspective and represent the minority community," she said.
For the complete list of graduating Abrego Future Scholars and Nicholas Academic Scholars, visit here. For more information about the programs, go to the Center for Scholars website. 
To support the Abrego Future Scholars program, go online, or contact Katie McGill, executive director of development, at kmcgill@fullerton.edu.
Contact: Debra Cano Ramos, dcanoramos@fullerton.edu