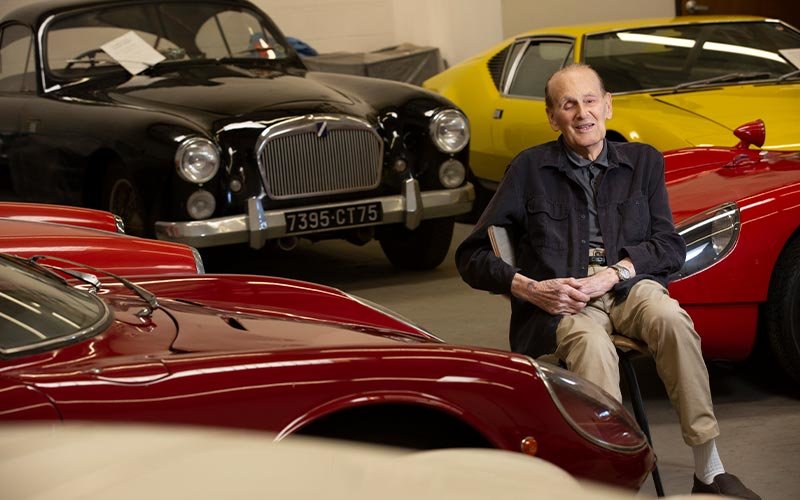 The $10 million European sports car collection donated to Cal State Fullerton as a lead gift for its $200 million comprehensive campaign was sold for the benefit of the Audrain Automobile Museum this week for future display at the museum in Newport, Rhode Island.  
As part of its mission to "preserve, celebrate and share automotive history," the museum now has the collection of 14 postwar sports and grand touring cars gathered by Cal State Fullerton supporter Nicholas Begovich, honoring his wishes to keep the collection together.
Begovich and his wife, Lee, announced the donation of the collection to Cal State Fullerton Feb. 29, launching the public phase of its first-ever comprehensive fundraising campaign. It is the single largest cash amount given to Cal State Fullerton and the largest gift to the public university's Center for Gravitational-Wave Physics and Astronomy, which opened in 2012. About $7 million will support the center's internationally renowned faculty and student gravitational-wave research, and will fund a state-of-the-art laboratory and the upgrade of computational resources to allow students and faculty to continue in key roles in the discoveries of gravitational waves. 
"It's been so rewarding to see the success that our students have had in gravitational-wave physics and in other science and technology careers," said Joshua Smith, professor of physics and the Dan Black Director of Gravitational-Wave Physics and Astronomy. "Nick and Lee's gift will greatly expand the number, and magnitude, of opportunities we are able to offer, and will help us make foundational contributions to designing tomorrow's gravitational-wave observatories — and making new discoveries."
The gift directly impacts the lives of future Titans who will work on cutting-edge research for the next generation of gravitational-wave science, said Marie Johnson, dean of the College of Natural Sciences and Mathematics. "This investment allows the university to make major contributions to the emerging field of gravitational-wave science and will equip our students to become tomorrow's leaders in science and technology," she said. 
The remaining $3 million will support interdisciplinary research in sustainable energy and power in the College of Engineering and Computer Science. Begovich was fascinated with engineering and computer science programs, including student projects to build a formula-style race car and an off-road vehicle for collegiate competition.
He possessed a mixture of curiosity, technical aptitude and empathy for others, said Susamma (Susan) Barua, dean of the College of Engineering and Computer Science. "These are all things we aspire to bring out in our students, and their gift will advance innovative ideas to propel our college forward to best meet the needs of our students and region."
The couple's generosity to Cal State Fullerton has been impactful for decades. The College of the Arts' Main Art Gallery was renamed the Nicholas and Lee Begovich Gallery in recognition of their philanthropy. To honor their February gift to the university, the science center was renamed the Nicholas and Lee Begovich Center for Gravitational-Wave Physics and Astronomy. Nicholas Begovich, a retired engineering executive, died earlier this month at 98. 
"Nick was so many things to so many people in his long and full life — husband, father, educator, inventor, engineer, philanthropist, and friend — but his legendary love of historic and fast cars cannot be overlooked when considering the magnitude of his final gift to CSUF and the eternal impact it will have on our students," said Fram Virjee, university president. "We are pleased and proud that the beloved car collection will continue to be enjoyed by generations of car enthusiasts at Audrain Automobile Museum." 
"It was a pleasure being able to partner with the Audrain Automobile Museum for the preservation of the Begovich Car Collection and to support the areas of Cal State Fullerton in which Nick cared for so deeply," said Vice President for Advancement Greg Saks. "Knowing we were able to honor Nick's wishes in this way means so much to everyone that has interacted with Nick and Lee."
Begovich purchased many of his cars new and directly from the factories. He bought the 1969 Lamborghini Miura in Italy and drove it only about 2,335 miles. The collection includes a 1956 Porsche 356 Speedster; one of six existing ATS 2500 GTS coupes, and a rarer competition model; and 1953 and 54 Pegaso coupes — Spanish sports cars of which only 84 were made. 
"We are so grateful to be able to share Nick Begovich's wonderful and historic cars with our visitors here, in Newport, and through our digital initiatives with the world," said Donald Osborne, Audrain's CEO. "The collection includes some of the most important, rare and desirable cars in the world, and together with other cars which our museum exhibits, including the 1907 Renault 35/45 'Vanderbilt' racer, the Schumacher/Irvine 1997 Ferrari F310B F1 car, the 1927 Isotta Fraschini 8AS Fleetwood Roadster, 1901 Winton Runabout, and 1948 Tucker to name a few, allows us to make the stories told in our exhibitions and events even more compelling."
The museum is planning a special exhibition featuring the cars of the Begovich collection "to show how his spirit and personality was so vividly expressed in the cars he gathered and so lovingly cared for over the decades."
Read more about the Begovich car collection and Cal State Fullerton's Gravitational-Wave discoveries: 
Gift Fuels Gravitational-Wave, Engineering, Computer Science Research
Astronomical Gift Fuels Science, Engineering and Technology Research
Gravitational Waves Detected 100 Years After Einstein's Prediction