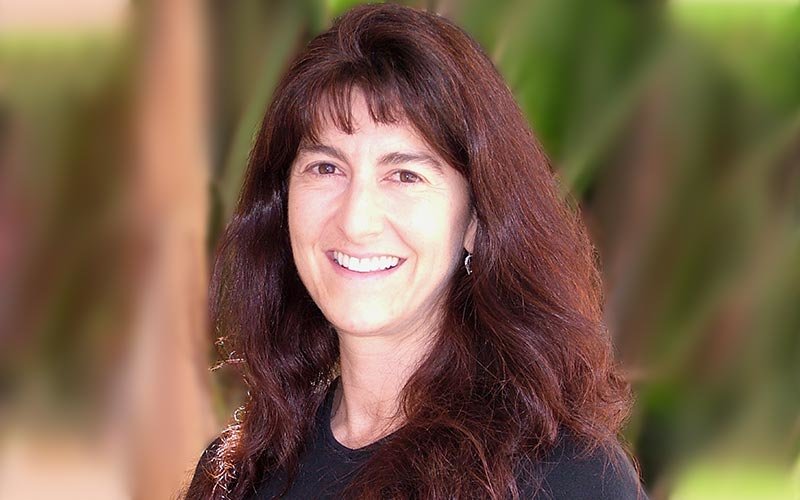 High expectations of students, a challenging curriculum and a kind, supportive attitude — these are the hallmarks of Amybeth Cohen's teaching, according to colleagues, students and alumni who have worked with her during her two decades of service at Cal State Fullerton.
The professor of biological science is the recipient of the university's 2020 Carol Barnes Excellence in Teaching Award, which recognizes faculty members with a sustained record of superior teaching — determined by academic rigor, scope of work and creativity.
Most notably, Cohen has been instrumental in expanding research opportunities for underrepresented students in her 15-year tenure as director of the Maximizing Access to Research Careers program. Funded by the National Institutes of Health, the program has garnered over $6.2 million in grants and supports undergraduate students in conducting biomedical and behavioral research.
Alumni such as Isabel Serrano '08 (B.A. mathematics) praise Cohen for her continued support even after they leave CSUF.
"Once Dr. Cohen enters our lives as a teacher, she never stops teaching us," said Serrano, a former MARC scholar who is pursuing a doctorate in computational biology at UC Berkeley. "The fact that alumni take time to maintain a relationship with Dr. Cohen, and seek continual involvement with the MARC program, speaks volumes of the impact Dr. Cohen has had on the lives of these many emerging scientists."
Beyond leading the MARC program, Cohen's many accomplishments include developing the Research Careers Preparatory program to introduce underclassmen to research, initiating a concentration in molecular biology and biotechnology, and launching a "Scientific Writing Course" in collaboration with the Department of English, Comparative Literature and Linguistics. These achievements contributed to her receiving the 2016 Andreoli Faculty Service Award from the California State University Program for Education and Research in Biotechnology.
In her own lab, Cohen has mentored over 80 students on research projects, supported by more than $600,000 in external grant funding.
One of these students is Laura Arce '00 (B.S. biological science), a first-generation college student and former MARC scholar who went on to earn a doctorate in biology at UCI before returning to Cal State Fullerton to serve as a lecturer and director of the RCP program.
"While it is important to note the sweeping impact Dr. Cohen has clearly had on students and the university as a whole, it is the personal support, care and dedication that Dr. Cohen provides that I would point to as the cornerstone of her success as a mentor and educator," said Arce.
"Her dedication has allowed students who, arguably, would not have realized their dreams alone, to successfully enter graduate programs, earn doctorates, and serve as educators, mentors and scientists in their respective fields."
"From Dr. Cohen's mentorship, I realized and chased dreams I never considered before," added Serrano. "Her unrelenting dedication to serving her students, commitment to diversifying the scientific community and her ability to make long-lasting connections with students make her the ideal candidate for the Carol Barnes Excellence in Teaching Award."
Contact: Lynn Juliano, ljuliano@fullerton.edu