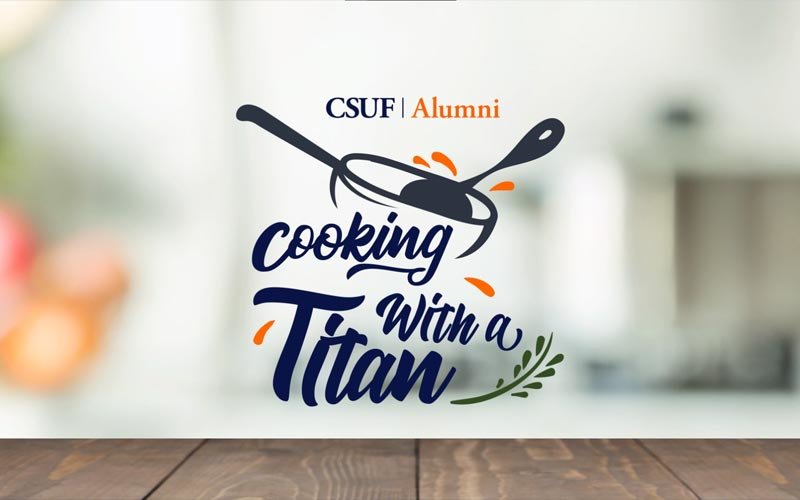 From bacon mac 'n cheese and almond shortbread to New Mexico Hatch chili verde (in the crockpot), chile egg puffs and more, "Titan Chefs" have been sharing their favorite recipes in Cal State Fullerton's new "Cooking with a Titan" online cooking series. 
The idea for the series came from Jessica Rowland, program specialist for CSUF's Alumni Engagement.
"I'm someone who likes to bake and I thought this would be a fun way to engage with people while we're all at home," she said. "As a society, we often connect with others over food and even though we're isolating at home, this was a good way to reach out."
Each week, alumni, donors and staff members volunteer to film videos preparing recipes from their kitchens.
"We have such an amazing alumni community," she said. "Everyone I asked said 'yes!' Our alumni board members really stepped up at the beginning. They filmed the three of the first four episodes."
The plan is to run the series through June and then pick up again in the fall.
Of course, not all the recipes … and their preparation work out perfectly.
"The funniest off-screen blooper we had was with Julie Virjee," Rowland recalled. "She was trying to turn on her mixer and then noticed that it wasn't plugged in. As she plugged it in, she didn't realize that the mixer was on … and the batter proceeded to shoot all over the kitchen. The president (Fram Virjee) was laughing so hard that the camera started to shake."
Mishaps aside, the recipes are usually quick, easy … and delicious.
"The response has been great," Rowland said. "We love knowing that our show brings a smile to our community. Every chef we have featured has asked to host another segment so it's nice that they're happy to participate, too."
"Cooking With a Titan" videos are available online on the alumni YouTube channel CSUF Alumni. CSUF's Alumni Engagement invites people interested in serving as guest chefs to email Rowland at jerowland@fullerton.edu.
Contact: Valerie Orleans, vorleans@fullerton.edu