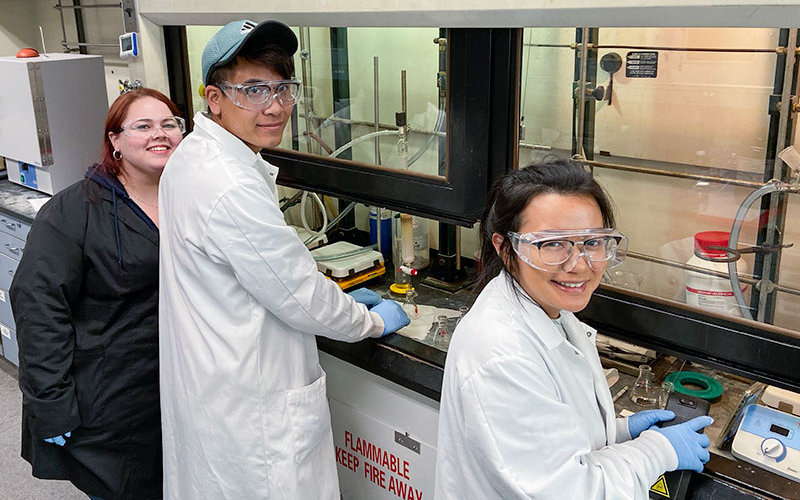 Biochemist Stevan Pecic is launching a scientific research project to identify and develop a new therapeutic drug for COVID-19 patients with acute respiratory distress syndrome, a life-threatening lung condition developed by some seriously ill with the new coronavirus.
Pecic will use medicinal and bioorganic chemistry techniques to identify a drug that will block two enzymes — naturally occurring proteins responsible for normal biochemical processes in the body — involved in the development of several lung diseases, including lung fibrosis that causes the lungs to scar and acute respiratory distress syndrome.
To support his biomedical research in drug design, Pecic has been awarded a three-year $426,000 National Institutes of Health grant for the project. He is receiving $142,000 in first-year funding.
"The two enzymes that I am aiming to inhibit are involved in pain, inflammation and lung fibrosis," said Pecic, assistant professor of chemistry and biochemistry. "I am proposing to design, synthesize and biologically evaluate inhibitors against these two enzymes. Once we inhibit these two enzymes, these compounds could be used as therapies in pain management, or anti-fibrotic and anti-inflammatory drugs, for lung diseases, including those caused by the novel coronavirus."
Pecic will involve students in the project, including chemistry graduate student Stephanie Wilt. He also plans to seek collaborators to further his research efforts to develop effective pharmacological therapies, including developing non-opioid drugs to treat moderate-to-severe pain.
Pecic's research in the disciplines of medicinal and bioorganic chemistry is important in finding solutions to human health issues and learning more about the mechanisms in which diseases operate, which paves the way for developing suitable therapeutic drugs.
"We are all affected by the current COVID-19 outbreak situation," Pecic said. "While health care workers are fighting this disease right now, the real cure will come in the form of vaccines and/or drugs that will be able to stop the virus.
"Most new drugs are discovered by pharmaceutical companies, but academic labs can also contribute. This is a challenge, but we, as scientists, prepare and dedicate our whole careers for this."
Before he began teaching at Cal State Fullerton in fall 2018, Pecic worked as a research scientist in the Division of Experimental Therapeutics at Columbia University Medical Center.
He has spent the last 15 years as a medicinal and bioorganic chemist focused on drug design and chemical synthesis. His studies have served as a foundation for current and projected clinical interests related to pulmonary inflammation treatment.
Pecic has synthesized many potential drugs and developed various biological procedures to evaluate the pharmacological activity of the drugs as a part of preclinical studies.
He also is an inventor of a patent related to sEH (epoxide hydrolase (EHs) enzyme) inhibitors, which could be used to treat hypertension.
He has published 18 scientific papers, with his work appearing in state-of-the art international journals in the field, including Nature Chemistry, Scientific Reports, Journal of Medicinal Chemistry, Bioorganic and Medicinal Chemistry and American Chemical Society Chemical Biology.
Pecic, who earned a doctorate in biochemistry-medicinal chemistry from the City University of New York and a diploma in pharmacy from the School of Pharmacy in Belgrade, Serbia, also has presented his work throughout the United States, as well as at international conferences and symposiums.
The university's "CSUF Cares — It Takes a Titan" campaign also is seeking contributions to support Pecic's work. This philanthropic funding will directly support graduate and undergraduate research fellowships related to this project.
Contact: Debra Cano Ramos, dcanoramos@fullerton.edu