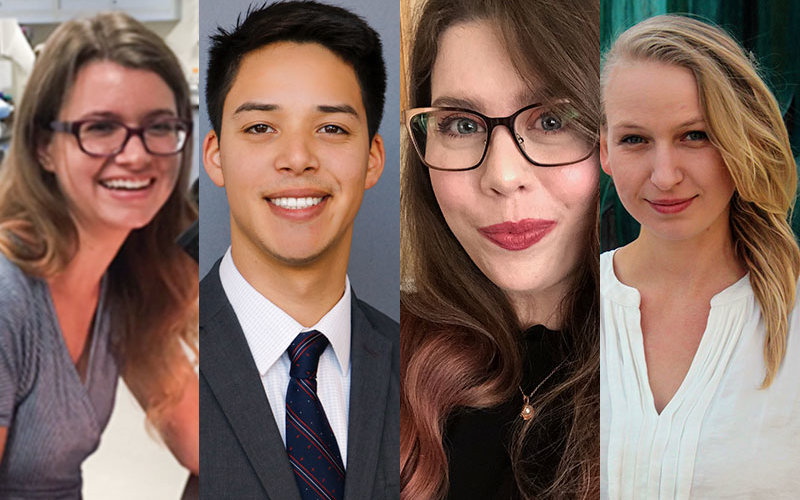 Ten CSUF finalists recently competed in the first-ever online version of the California State University Student Research Competition.
"In its 34th year, this event provides an opportunity for some of the best and brightest students from across the CSU system to present their research and creative activities in a highly competitive environment," said Terri Patchen, professor of education and faculty fellow for student creative activities and research.
Patchen mentored the finalists, helped them develop their research presentations, timing and delivery, prior to recording them. In addition to their 10-minute recorded research presentations, students also participated in a live Zoom Q&A session.
"While preparing for the competition, I learned how to present my research in a more accessible manner to a non-scientific audience without oversimplifying what is happening in a cancer cell," said graduate student Larissa Smulders. "Professor Patchen has been excellent at picking up on many subtleties in my presentation and she did a fantastic job in helping me to express my thoughts in a more concise and relatable way."
Four of the finalists won second place awards for their projects, including:
Elizabeth Hitch, undergraduate, biological science: "Determining the Role of Linker Regions in Polypyrimidine Tract Binding Protein 2 Neuronal Splicing Regulation"
Faculty mentor: Niroshika Keppetipola
Amber Myers, graduate, biological science: "Characterizing the Source and Function of Lipid Droplet Accumulation in Fly Macrophages"
Faculty mentor: Catherine Brennan
Dylan Serpas, graduate, psychology: "Group Cognitive Rehabilitation for Community-Dwelling Survivors of Traumatic Brain Injury"
Faculty mentor: Daniel Ignacio
Larissa Smulders, graduate, biological science: "Boosting Cancer Therapy by Blocking a Protein's Travel to the Cell Surface"
Faculty mentor: Nikolas Nikolaidis
The other six finalists who participated in the competition were:
Edwin Aguilar, graduate, chemistry and biochemistry: "Exploring the Limits of Promiscuity of Microbial RFAP Synthase, a Potential Target for Anti-Obesity Drug Treatment"
Faculty mentor: Madeline E. Rasche
Abdulmohsen Aleissa and Abdallah Almodhyan, undergraduates, mechanical engineering: "Wildfire-Averting Forecast and Early Response System: Numerically Estimating Fire Behavior for Streamlined Wildfire Suppression"
Faculty mentor: Sagil James
Samir Mulgaonkar, graduate, mechanical engineering: "Reducing Automobile Greenhouse Gas Emissions Using Generative Design Process and Additive Manufacturing"
Faculty mentor: Sagil James
William Terry, undergraduate, mathematics: "Quotients of Matrix Spaces"
Faculty mentors: Matthew Rathbun and Alfonso Agnew
Jordan Thompson, undergraduate, chemistry and biochemistry: "Investigation of Amino Acid and Dipeptide Inhibitors for Botulism"
Faculty mentor: Nicholas Salzameda
Contact: Valerie Orleans, vorleans@fullerton.edu