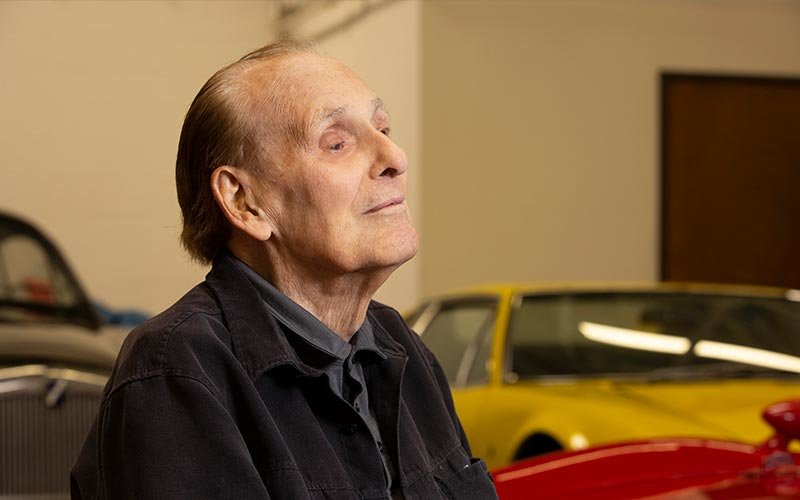 Nicholas A. Begovich, who has given generously to Cal State Fullerton to support students and research over the decades, died May 3. He was 98.
Begovich, a friend of the university since the 1960s, has been a steadfast supporter of many areas — from the arts to engineering, and more recently, gravitational-wave science.
"Nick was far more than a university partner, benevolent donor and all-around game changing Titan; he was a kind and caring friend, mentor, teacher and colleague — not just to me, but to every single Titan who was ever blessed to have crossed paths with him. The collective brainpower of our world is diminished today, but will rise to even greater heights because of Nick's passion for education and knowledge," said CSUF President Fram Virjee.
"Long before transforming CSUF, Nick quite literally changed, and some would even say saved, our nation with his engineering ingenuity and legendary generosity. He was far more than a Titan; in many ways, he was the Titan, and the legacy that he and Lee built together will eternally impact and transform the lives of all Titans. Julie and I will miss Nick dearly, and our hearts go out to Lee and their entire family."
Begovich and his wife, Lee, earlier this year committed to a planned gift to benefit gravitational-wave, engineering and computer science faculty and student research. He began collecting foreign sports cars in the early 1950s and donated 14 classic cars in his collection — valued at $10 million — to the university.
In recognition of his philanthropy and newfound interest in gravitational waves, the university renamed the research center in the College of Natural Sciences and Mathematics to the Nicholas and Lee Begovich Center for Gravitational-Wave Physics and Astronomy.
Begovich, at an event held last fall in his honor, shared why he supported the university, and its faculty and students: "I can't tell you how happy I am about this. It completes my life."
The couple's gifts to the university total nearly $13 million, including a planned gift of $1.25 million to benefit the College of the Arts' Main Art Gallery, renamed the Nicholas and Lee Begovich Gallery.
In addition to the gallery, a box in Clayes Performing Arts Center's Vaughncille Joseph Meng Concert Hall and the center's Scenic Laboratory — where physical sets are constructed for theater and dance productions — also bear their name. Their passion for the visual and performing arts and generosity has provided support for art exhibitions, artists-in-residence, student scholarships, concerts and plays.
Begovich and his wife attended many student performances and other arts events over the years. He also was knowledgeable and passionate about classical ballet and made a personal gift in each of the last five years to support classes for classical ballet training. The couple also supported Pollak Library and President's Scholars, and have been long-standing members of the President's Associates, Art Alliance, Music Associates and MAMM Alliance for the Performing Arts.
Begovich's ties to the university began as a volunteer in the early 1960s. The late Miles D. McCarthy, chairman of the then-Science, Mathematics and Engineering Division and a founding faculty member who later served as acting president, asked him to serve on the Engineering Advisory Committee with other local executives with technical backgrounds. Over the years, Begovich has been involved in the College of Engineering and Computer Science, attending student events or learning more about student projects, such as the teams that build a formula-style race car and off-road vehicle for collegiate competition.
A Fullerton resident for over 60 years, Begovich earned three degrees, including a doctorate, in electrical engineering from Caltech. He spent more than two decades at Hughes Aircraft as a director of engineering and then vice president of the ground systems group, and later retired after serving as corporate vice president of Litton Industries. A pioneer in his field, Begovich made groundbreaking contributions to advances in air defense systems, including radar technology, which remains fundamental to the field today.
He is survived by his wife of 21 years, Lee, a former first grade teacher and a devoted supporter of CSUF arts; stepdaughters Jill Carlson; Ann Carlson; and alumna Cynthia Carlson '84 (B.A. art). He was preceded in death by his first wife, Joan.
A private family memorial service will be held. His family is requesting that gifts be made to CSUF's College of the Arts-Dean's Fund for Excellence and the Nicholas and Lee Begovich Center for Gravitational-Wave Physics and Astronomy.
Visit online to make a donation:
— Debra Cano Ramos, dcanoramos@fullerton.edu