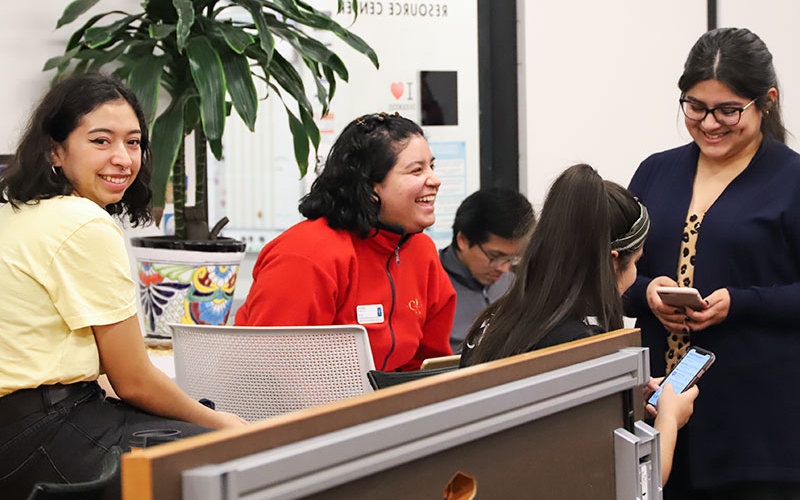 Students who frequent the Chicana and Chicano Resource Center on campus agreed that a name change is long overdue.
"When I was a first year student, I didn't feel that I belonged at the center because I am Central American. I felt that this name just reinforced the continuous erasure I have encountered with my cultural heritage," said Marisabel Hernández, a human services major.
Kinesiology major Katie Melara added she has friends who do not use the center because they don't identify with its name. "They felt the space wasn't for them," she said.
To better reflect the student communities it serves, the center announced today (May 21) its name change to the Latinx Community Resource Center. The center, housed in Pollak Library, is part of the Diversity Initiatives and Resource Centers in the Division of Student Affairs.
The new name aligns with national trends on enhanced inclusion of the varying identities the community holds with respect to gender identity and ethnic identity, said Ariana Mora Mero, coordinator of the center. Nearly 44% of CSUF's student population identifies as Hispanic/Latinx.
"The name expansion does not erase the historical value of the Chicana/Chicano term. Instead, it allows for all Latinx students no matter their family's place of origin, or their own, to feel welcomed," Mora Mero said. "We seek to provide belonging and community within our space, and inclusivity is a major component of this goal."
The name change is a result of numerous informal discussions with students and stakeholders, hosting workshops on terminology, collecting information from other California-based cultural centers, and conducting a survey regarding the inclusivity of the center's name.
In a survey completed by students, and staff and faculty members, 78% supported the name change, with 65% agreeing that the current name was not inclusive.
J Jesús Rojas, a triple major in ethnic studies-Chicana and Chicano studies, Spanish and linguistics and Class of 2020 graduate, added that the new name represents the Latinx community as a whole.
"The name itself serves as a symbol of unity and diversity amongst our community, without favoring one group over the other," he said.
Hernández also shared her excitement for the new name: "I can only imagine what a positive impact that this culturally and gender-inclusive change will have on Latinx students at CSUF for years to come."
Contact: Debra Cano Ramos, dcanoramos@fullerton.edu