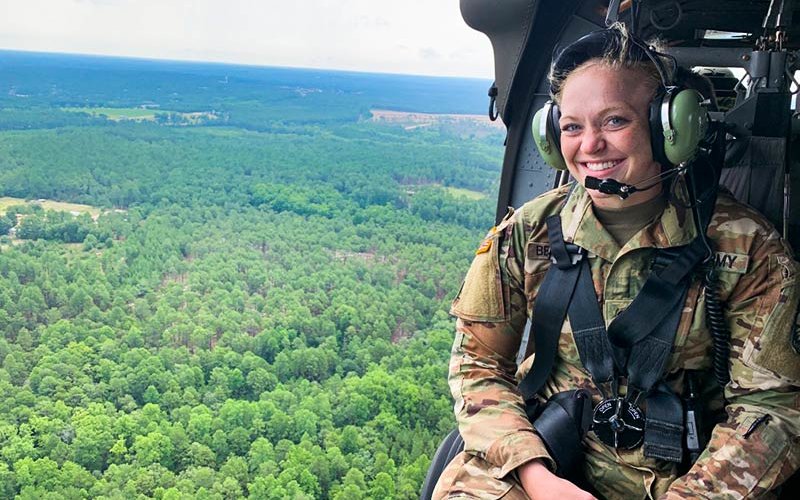 Falling from the side of a Blackhawk helicopter 12,000 feet up in the air, Sara Berlinger remembers watching from beneath her parachute as the Cal State Fullerton campus grew closer and closer. The experience of tandem skydiving with the Black Daggers, a special forces group in the U.S. Army, is one she'll never forget. 
"It was incredible," shared the graduating Reserve Officers' Training Corps cadet, who is headed to flight school at Fort Rucker in Alabama this July. There, she will work toward her short-term goal of flying Blackhawks for the U.S. Army before assuming her station in Germany.
Berlinger, a dance major, is one of 20 Cal State Fullerton ROTC cadets being commissioned this spring as a second lieutenant in the U.S. Army. Once commissioned, the new officers typically undergo additional training before reporting to their stations in the United States or abroad.
"Serving our country and training to become a commissioned officer in the Army has been very rewarding and a great opportunity to prove to myself that I can overcome the challenges it presents," said Berlinger.
From military drills to dance routines, Berlinger believes time management and self-discipline are among the many skills she gained while studying these two areas.
"ROTC and dance have pushed me beyond what I thought my capabilities were because both disciplines are physically demanding," she said.
"Dance has always been an emotional outlet," Berlinger added. "When dancing, I'm able to process and understand the chaos around me."
Selected to address her fellow cadets at the commissioning, Berlinger shared: "To my fellow graduating cadets and the upcoming cadets of the Titan Battalion, I would say never get comfortable. When we are comfortable, we not only become complacent, but we are also no longer striving for the next goal."
The 20 cadets completing bachelor's degrees this spring include:
Samuel Arteaga, computer science
Sara Berlinger, dance
Neil Coloma, sociology
Andrew Dietz, business-finance
Bryce Douglass, criminal justice
Seong Hong, computer science
Sarah Kang, biological science
Jason Landig, criminal justice
David Marcelo, criminal justice
Christopher Mills-Bowling, computer science
Elizabeth Molina, child and adolescent development
Jonathan Othman, business-finance
Jocelyn Rodriguez, kinesiology
Juan Rosas, criminal justice and history
Mickey Sakounkhou, computer engineering
Graham Sharp, linguistics
Hunter Stepp, psychology
William Vecchio, sociology
Manuel Villaverde, cinema and television arts
Ryan Viquez, criminal justice
Watch the spring 2020 commissioning ceremony live on Facebook May 16 at 10 a.m.
Contact: Lynn Juliano, ljuliano@fullerton.edu