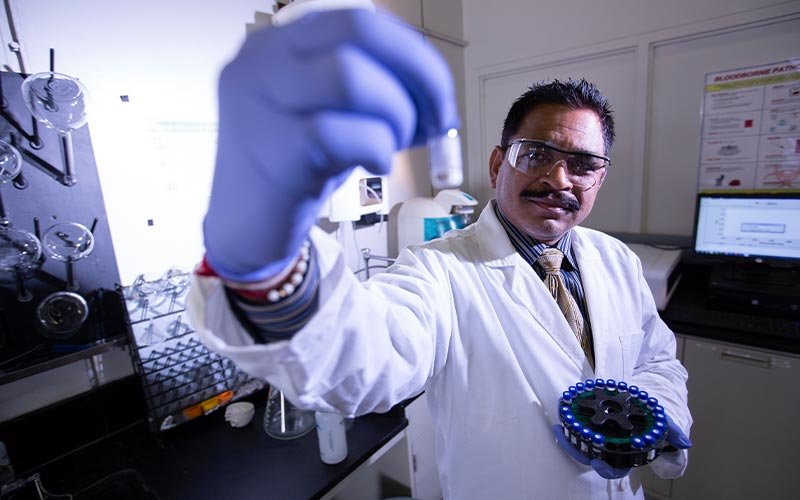 In the field of environmental engineering, Sudarshan Kurwadkar has made significant scholarly accomplishments studying emerging pollutants in the environment.
His research work is interdisciplinary, broad-based and collaborative with faculty colleagues in biology, chemistry and mathematics. Kurwadkar's work also centers around involving undergraduate and graduate students in research activities to bring real-world relevance to classroom instruction.
For his prolific and exceptional research, Kurwadkar, associate professor of civil and environmental engineering, has been selected as the recipient of the 2020 L. Donald Shields Excellence in Scholarship and Creativity Award. CSUF President Fram Virjee announced Kurwadkar's selection for the award at today's virtual Academic Senate meeting.
The award is presented to a faculty member in recognition of outstanding scholarship and/or creative work that is demonstrated through a variety of activities.
Kurwadkar's research focuses on contaminants found in water and soil environments, such as antibiotics and antimicrobials, and neonicotinoid — nicotine-like chemical — insecticides.
He employs novel approaches to understand how antibiotics and insecticides move through the environment, their persistence and remediation solutions. The occurrence of these pollutants in the environment could potentially threaten drinking water sources.
"Sudarshan represents an ideal environmental researcher dedicated to teaching, research and service to the public at large. He has established himself as an expert in the area of environmental engineering as a result of significant contributions to the field of emerging pollutants in the environment," said Garrett Struckhoff, associate professor of civil and environmental engineering and a research collaborator.
"I firmly believe that Sudarshan's continued research efforts will assuredly produce crucial results, and will further advance the understanding of the occurrence and control of organic pollutants in the environment."
Kurwadkar has received nearly $2 million in grants for research projects, including a $1.5 million National Science Foundation grant project to prepare underrepresented students for the STEM workforce. In his role as a research adviser, he has mentored scores of students, with many presenting their research projects — and winning awards — at national and international conferences.
Graduate student Michael Jea called Kurwadkar a creative and driven mentor and is grateful for the opportunity to work and learn from him: "He has been an outstanding life mentor, researcher and academic adviser to me personally."
Kurwadkar has published a variety of research papers in the area of emerging contaminants of concern. Since joining the university in 2014, he has published 17 peer-reviewed journal articles, many co-authored with students and faculty members from engineering and computer science, chemistry and biochemistry, and political science. He also has published book chapters with his students, and wrote two books, including "Emerging Micro­-Pollutants in the Environment: Occurrence, Fate and Distribution."
He also has received numerous awards and accolades for outstanding teaching, research and mentorship to students. Most recently, Kurwadkar was given the Outstanding Faculty Adviser Award from the Orange County branch of the American Society of Civil Engineering, in recognition of his contributions to the field.
His engineering colleagues commended him, noting, "His dedication to student success, personalized attention to student design teams and student rapport are simply unparalleled. He engages undergraduate and graduate students in research activities and promotes environmental engineering education." He also is the recipient of the Outstanding Young Engineer Award from the Orange County Engineering Council.
Kurwadkar, a board certified environmental engineer and licensed professional engineer, earned a doctorate in environmental engineering from Missouri University of Science and Technology. He also holds master's degrees from Savitribai Phule Pune University and Indian Institute of Technology, and a bachelor's degree from Sant Gadge Baba Amravati University, all in India.
The Shields Award was created in 2012 and named in honor of Cal State Fullerton's second president, who served from 1970-80.
Contact: Debra Cano Ramos, dcanoramos@fullerton.edu