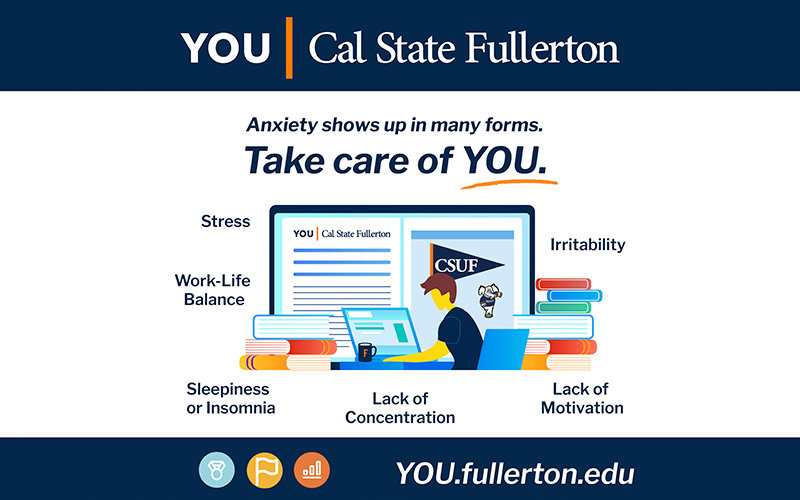 To give students a comprehensive, holistic approach to their college education and well-being, and to connect them to on-campus and other useful resources, Cal State Fullerton has launched the YOU@Fullerton pilot program.
The virtual platform, coordinated by Student Affairs, is a one-stop shop to better serve and care for students and focuses on resources related to academics, physical wellness and mental health.
The start date for the web-based platform was moved up from late summer due to the coronavirus pandemic since students are now taking classes online, and may be experiencing isolation and missing their on-campus college experiences, said Kevin Thomas, associate director of counseling and psychological services. (See related story)
YOU@Fullerton is a partnership with the California State University Chancellor's Office and is one of 14 of the 23 campuses selected to be a part of a two-year pilot program.
What is YOU@Fullerton?
YOU is a metaphor — a reminder — and the main idea is that the individual student has the power to learn information and to make changes. One of the slogans is: 'Wellness begins with YOU.'
What is the mission of YOU?
YOU@Fullerton is an online tool designed to help students be successful during their time at CSUF. Accessible from their homes, on any laptop or mobile device, students — and faculty and staff, too — are able to explore online resources.
Why offer this platform for students?
Most of today's college students are digital natives. The first place they look for help is online. Additionally, due to the stigma associated with mental health, it can be hard for certain students to go in person to a counseling center. YOU@Fullerton emphasizes individual well-being and self-awareness in order to connect students to evidence-based health information, campus resources, peers and opportunities. It's a place where students can look up information without feeling stigmatized or ashamed.
What are the benefits to students?
Through YOU@Fullerton, students can take "Reality Check" quizzes that assess their overall well-being and help them to set goals. Students can use the online tools to explore relevant articles, videos and CSUF resources that support their personal goals and general wellness. All activities on the health portal are anonymous to protect privacy.
How is the online program different?
From academics and social life, to mental and physical health, YOU@Fullerton is a new kind of solution, focused on skill-building for holistic wellness, rather than focusing on specific deficiencies. Depending on the need, the want or the will, students can connect with hundreds of pieces of self-help content within each section. The site contains a wide variety of short, evidence-based articles, fact sheets and tips covering three broad areas: academic success, personal growth and overall physical and mental well-being. It's a comprehensive health portal with information on all aspects of what it's like to be a college student. All of the content is free, and is curated and vetted by behavioral health experts. The content is from quality, evidence-based original sources. Cal State Fullerton resources available to students are also listed on the YOU@ Fullerton website.
For more information, visit online. 
Contact: Debra Cano Ramos, dcanoramos@fullerton.edu