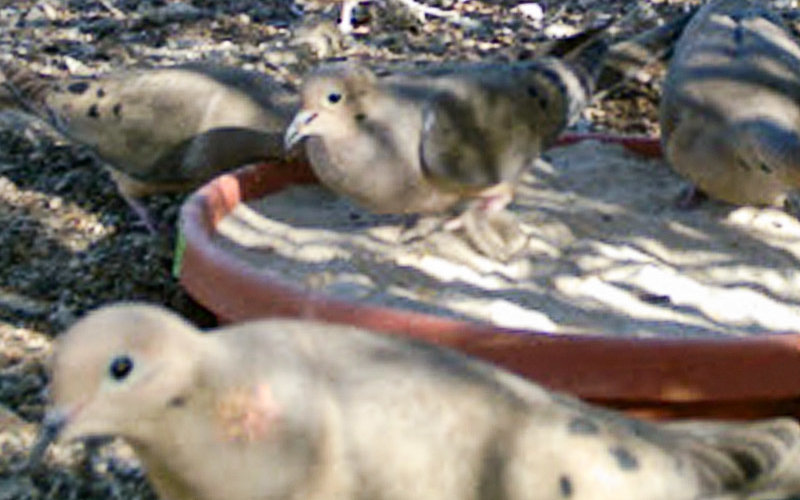 Donning a feather plume on their heads, Gambel's quail became Jennifer Ibarra's favorite bird as she set out to study how the growing problem of traffic and other loud urban noises affect seed-eating desert wildlife in finding food sources.
As urbanization sprawls into the habitats of Gambel's quail, mourning doves, black-throated sparrows, antelope ground squirrels and other animals, Ibarra trekked to the Philip L. Boyd Deep Canyon Desert Research Center in Palm Desert to seek answers for her field study.
At her study sites, located in the Sonoran Desert, the student researcher conducted experiments on wildlife by placing seed and sand-filled food trays in the ground and setting up cameras to monitor the behaviors of the visitors eating in a noisy or no-noise site.
"With the human population increasing, more and more desert land is turning into urban living spaces," she said. "It's important to find out how urbanization is not only changing the desert landscape, but also how it's affecting all natural phenomena to develop efforts to preserve nature."
Ibarra, who earned a bachelor's degree in biological science-ecology and evolutionary biology in May, conducted her research project as a scholar in the university's Southern California Ecosystems Research Program (SCERP). The program provides undergraduates with opportunities to perform independent research in ecology and environmental biology to prepare for graduate school. Ibarra and the other Class of 2020 graduates presented their research projects during a recent SCERP virtual showcase.
"Jenny's project is important because it gives us some insight into how desert animals are reacting to human encroachment," said William "Bill" Hoese, professor of biological science and Ibarra's research adviser. Hoese co-directs SCERP with Jennifer Burnaford, associate professor of biological science.
Results of Ibarra's work show that desert birds and animals did not take longer to arrive at the seed-tray study sites, but they did eat less. "While they knew food was present, nearby noise obscured the sounds of approaching predators, and it may have been too risky to remain at a site for very long to eat," Ibarra explained.
"My results also showed that the animals that forage in areas with no traffic noise ate more food from the seed trays that I had placed in the field."
Additionally, wildlife eating in a noisy area ate 20% less food than they did in a no-noise area. "If we think about our own diet, 20% is a huge loss in our daily calorie intake," Ibarra added.
Gambel's quail
For an ecology class, Ibarra visited the Desert Studies Center, a field station of the California State University located within the Mojave National Preserve. It was her first time in nature, and she not only gained an appreciation for the desert and wildlife, it inspired and motivated her to work toward a career in ecology.
"It's magical visiting the Mojave and Sonoran deserts. Growing up, I had no experience with camping and being in nature," said Ibarra, a first-generation college graduate who aspires to earn a doctorate.
"This research project gave me the opportunity to explore new experiences and to share what impact urbanization has on desert wildlife."
Ibarra and her three siblings were raised by their single mom. Her only exposure to nature was visiting the Natural History Museum of Los Angeles County.
"My mom did her best and she couldn't be more proud to have a college graduate with a STEM degree," she said.
Ibarra added that SCERP was a valuable program for students to discover more about the natural world and what it takes to pursue a career in science.
"It brought my college education to a whole new level. The program gave me the confidence to be a better student," she said. "Another perk was having a faculty mentor — someone who believed in me and guided me, especially in a tough science major."
Contact: Debra Cano Ramos, dcanoramos@fullerton.edu