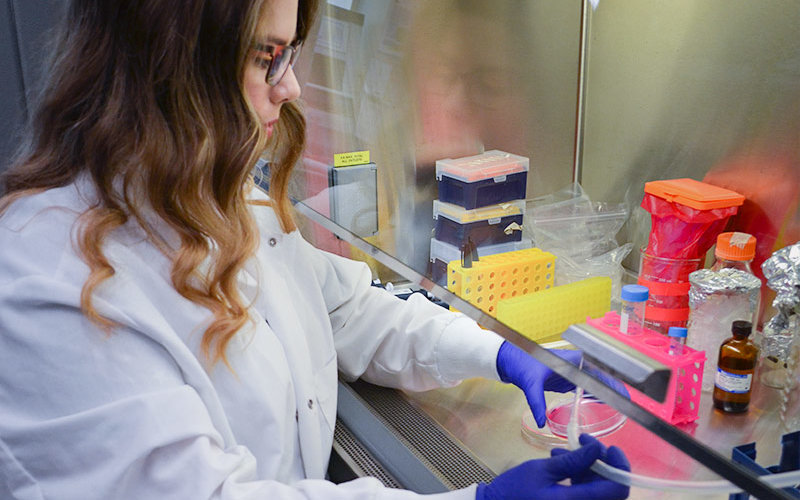 Graduates Yasmine Alam and Elizabeth Hitch are both pursuing careers in science to help find treatments for diseases.
In the sixth grade, Alam became friends with a classmate who struggled with cystic fibrosis. She wanted to find out more about the incurable disease, and ever since, it has fueled her curiosity in research.
"It was because of Sydney that I decided to pursue biochemistry in hopes that I would gain more information on how to help improve her condition. The pursuit of higher education became not only a powerful desire, but also a necessity — and guided me on a path toward aiding in fighting against diseases," she said.
Hitch, a first-generation college student, has always been in awe of science. She even took an AP chemistry course in high school just for fun. But seeing her boyfriend's affliction with Becker muscular dystrophy has motivated her to pursue a career in biomedical science, and to seek treatments for inherited diseases and other genetic disorders.
To help Alam and Hitch achieve their advanced degrees and career goals, they were scholars in the university's Maximizing Access to Research Careers (MARC) program, which offers undergraduates the training and preparation to pursue careers in biomedical research.
The National Institutes of Health-funded program is directed by Amybeth Cohen, professor of biological science. The goals of the program include providing undergraduate research training, leadership development and graduate school preparation.
Both scholars are among Cal State Fullerton's Class of 2020. Alam, who earned a bachelor's degree in biochemistry, will enter the doctoral program in cellular and molecular biosciences at UC Irvine in the fall. She plans to become a researcher in the pharmaceutical industry. Hitch earned a bachelor's degree in biological science, with a minor in chemistry, and is moving to St. Paul to work toward a doctorate in the molecular, cellular and structural biology program at the University of Minnesota.
Class of 2020 graduate Elizabeth Hitch will enter the doctoral program at the University of Minnesota.
"I chose the University of Minnesota because of the institution's commitment to diversity, the wide variety of opportunities and the many graduate student resources," said Hitch, who is exploring career options in academia, industry and scientific policy.
Alam chose UCI because the program will introduce her to a network of opportunities that will prepare her for a career in developing drug treatments.
"My goal as a researcher is to understand the properties of drugs and their involvement in the promotion or inhibition of specific targets in an effort to treat disease," Alam added. "I intend to be a part of a team whose ultimate goal is to heal and make a difference. Ultimately, I want to be a part of the discovery of new drugs and meaningful life changes for Sydney and others like her."
Preparing for Grad School
Since research experience is key to graduate school success, MARC scholars Alam and Hitch prepared for their advanced studies by working in the labs of CSUF faculty mentors.
Alam worked under research adviser Maria C. Linder, professor of chemistry and biochemistry, on a project that investigated the characteristics of copper metabolism in dogs.
"Many dogs actually die from too much copper in their systems," she said. "My goal was to understand why."
She found that a certain protein structure contributes to the overload of copper in dogs, which could lead to a therapeutic approach to eliminate copper toxicity in mammals.
Hitch worked in the lab of Niroshika Keppetipola, associate professor of chemistry and biochemistry. She studied two related RNA-binding proteins, which function to regulate a process involved in gene expression called alternative RNA splicing.
Abnormalities in RNA splicing can lead to many neurodegenerative diseases, including spinal muscular atrophy, Alzheimer's disease, Parkinson's disease and frontotemporal dementia, which is associated with both the frontal and temporal lobes of the brain, Hitch said.
"By improving our understanding of how RNA-binding proteins can regulate neuronal development, these results can help scientists develop potential therapies to combat neurodegenerative diseases," she added.
Alam and Hitch also are ready for graduate school because of the support and encouragement they received from MARC program faculty and research mentors.
"Dr. Keppetipola was always happy to show me a new technique, explain a difficult concept, give me feedback and answer my questions," Hitch said. "She also taught me that making mistakes in science is part of the learning process and gave me the confidence to explore new ways to tackle difficult problems in the lab. These are powerful lessons that I will take with me as I move forward in my Ph.D. program."
Alam added that Linder taught her "what it means to be a scientific researcher."
"Dr. Linder taught me to question everything, to think critically for myself and make conclusions based on my own thoughts and findings," Alam said. "Her constant support and encouragement helped build my confidence and motivated me to not only dream big, but to act on those dreams and make them happen for myself."
Contact: Debra Cano Ramos, dcanoramos@fullerton.edu