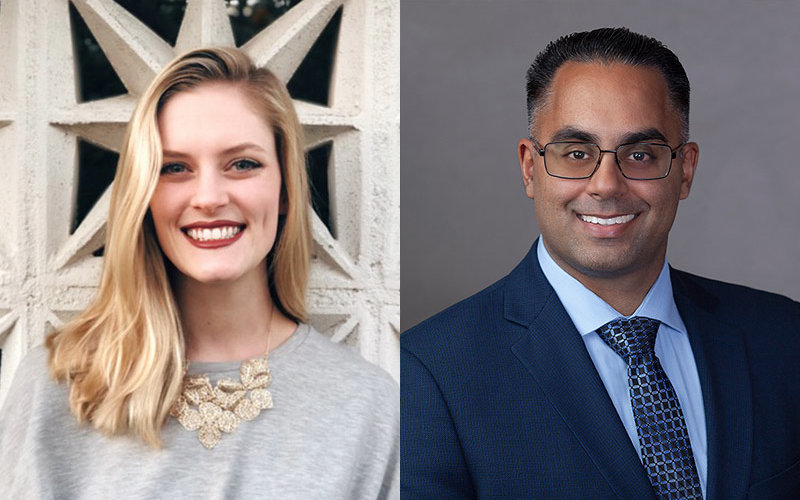 When Cecelia "Cece" McWilliams was in fifth grade, she woke up to find her father lying on the kitchen floor after suffering a stroke.
She picked up the phone, dialed 911 and saved his life.
"Thankfully I made the call in time and he was eventually able to make a full recovery," she said.
The experience gave McWilliams her first glimpse into the power of medicine. "From that day on, I knew that I wanted to help families like the doctors at the hospital had helped mine, and I dedicated myself to achieving good grades and completing the prerequisites to apply to medical school."
McWilliams, who is graduating from Cal State Fullerton this semester with a bachelor's degree in biological science, is one of more than 30 Titans who have been accepted to medical and other health professions schools across the country.
Motherhood and Medicine
"Growing up, I was told constantly that I would eventually have to pick between having a family and having the career that I wanted," said McWilliams, an aspiring pediatrician. "I noticed that I almost never heard boys get this same advice."
Through the University Honors Program, McWilliams spent a year researching the journeys of five physicians, the barriers they faced and the solutions they believed would help boost the career success of women in the field.
Her Outstanding Senior Honors Project was titled "Motherhood and Medicine: How Gender and Generational Differences Impact Views on Pregnancy and Child Care in the Medical Field."
McWilliams' education was also deepened by research experiences both on campus and through a summer research fellowship at Children's Hospital Los Angeles.
"CSUF prepared me for a career in medicine by providing me with a very strong foundation in the basic sciences," shared McWilliams, who will attend Rocky Vista University College of Osteopathic Medicine in Southern Utah this fall.
"I met so many faculty and staff members who were extremely supportive along my journey, and were willing to help me gain research experiences in their labs and answer any questions that I had."
A Veteran Goes to Medical School
Manpreet Luthra, a veteran of the U.S. Army, enrolled in Cal State Fullerton's pre-health post-baccalaureate program three years ago with his sights set on medical school.
He credits supportive faculty members, the Veterans Resource Center, the Health Professions Advising Office — as well as involvement in such organizations as Flying Samaritans, Latino Medical Student Association and the Student Health Professions Association — for helping him achieve that goal.
"I have attended a lot of undergraduate institutions during my journey," he said. "I have to say that CSUF was by far the most supportive in helping their students reach their goals.
"Faculty members played tremendous roles in supporting my ambition throughout this arduous process by sparking that desire to learn more and delve into academia even further," he continued. "Clubs and organizations gave me a network and sense of community."
Empowered by the support he received at CSUF, Luthra applied for and was awarded the competitive Veterans Healing Veterans Medical Access and Education Program scholarship to attend medical school at the University of South Carolina School of Medicine-Columbia.
An aspiring trauma surgeon, Luthra explained, "I shadowed Dr. Cristobal Barrios and members of the Forward Surgical Teams during my tenure in the Army, and I was inspired by the fast-paced, critical thinking that was required of them to save their patients' lives.
"My long-term goal is to do whatever I can to help my brothers and sisters in arms live healthier and better lives after they finish their service."
Contact: Lynn Juliano, ljuliano@fullerton.edu