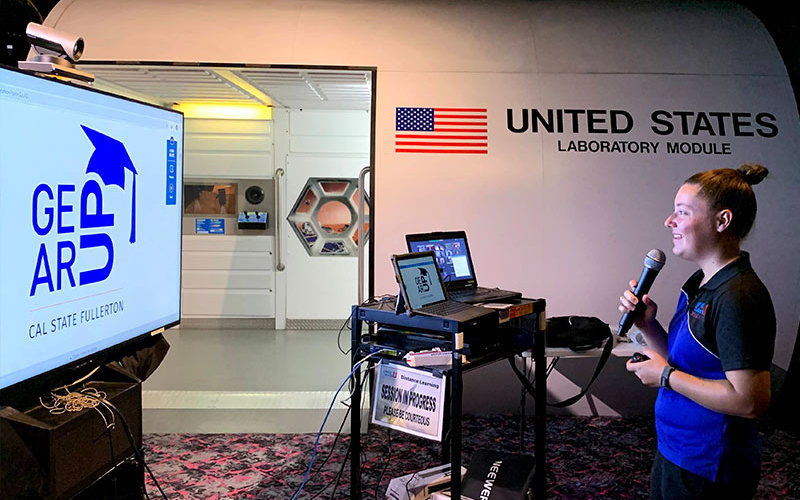 Future teacher Victoria Nevens got an up-close teaching experience this summer helping high school students learn about NASA and STEM careers.
Nevens, alumna Beverly Berekian, a science teacher, and Space Center Houston educators, taught students about the roles of scientists and astronauts, and helped them design and conduct space-related experiments.
This out-of-this-world experience for 44 students — incoming freshmen or seniors this fall — from Anaheim Union High School District schools was presented by Cal State Fullerton's GEAR UP for Space program. Gaining Early Awareness and Readiness for Undergraduate Programs, known as GEAR UP, in partnership with the school district, is committed to fostering a college-going culture among underrepresented students.
For the first time, the federally funded program partnered with Space Center Houston in Texas, a science and space exploration learning center that promotes STEM pathways and space exploration, to offer a virtual summer mission due to the coronavirus pandemic.
Like real life space missions, offering virtual instruction had its challenges, said Kaci Heins, Space Center University director.
"The primary challenge was the timing and transport of supplies across the country multiple times, which can also be an aspect of a real space exploration mission. The students adapted well and did an excellent job with both experiments — mission accomplished!" Heins said.
One of the activities the young explorers participated in was a high-altitude balloon launch into near-space, which sent a payload of student-designed experiments 98,287 feet into the stratosphere. One student sent a strand of her straight hair in a test tube, which came back from space curly, noted Berekian '08 '10 (M.S. geology, single subject credential program).
Outfitted with a camera and GPS tracker, the balloon launch was recorded and captured the balloon bursting and falling back to Earth on a parachute, and landing at a Texas cattle ranch. The students watched the early Sunday morning live launch virtually from their homes. Watch the balloon launch video here.
"Through this innovative program, these high school students were immersed in hands-on STEM activities and experiments. The goal was to introduce students to real-world experiments, give them an understanding of what it's like to live and work in space and inspire careers in STEM," said Berekian, who has taught the summer GEAR UP program for nine years and is an eighth grade science teacher at Ball Junior High School in Anaheim.
Nevens, a Class of 2020 graduate who earned a bachelor's degree in history and is pursuing a high school teaching career, and junior Roy Lee, a computer science major, tutored the GEAR UP students.
"While I assisted the students and the teachers, I also learned something new every day that will help me in my own classroom," Nevens said. "It was amazing to be a part of a program that taught students about space and showed them what it's like to conduct experiments."
Led by Space Center Houston educators, GEAR UP students conducted a melanin experiment and collected data on the effects of melanin on the growth of yeast cultures on Earth. It is part of a study by Johns Hopkins University School of Public Health and the International Space Station on the protective properties of melanin from radiation exposure.
"This data will be combined with data from other study sites and compared to the results from the International Space Station experiment and the control conducted at Johns Hopkins. The students' work will be submitted for publication and presentations," said Phyllis J. Friello, Space Center Houston education manager.
During the program, the students were exposed to STEM careers from scientists at Johns Hopkins University and NASA's Johnson Space Center, including retired NASA astronaut Clayton C. Anderson, a mission specialist who worked aboard the Space Shuttle and International Space Station. Students had the opportunity to ask Anderson a range of questions, such as how to become an astronaut. He applied 15 times before NASA selected him as an astronaut.
"We included guest speakers from the STEM fields so the students could learn more about careers they may have never known about," Friello said. "We also wanted the students to hear that they should always follow their passion and to never give up." 
Contact: Debra Cano Ramos, dcanoramos@fullerton.edu