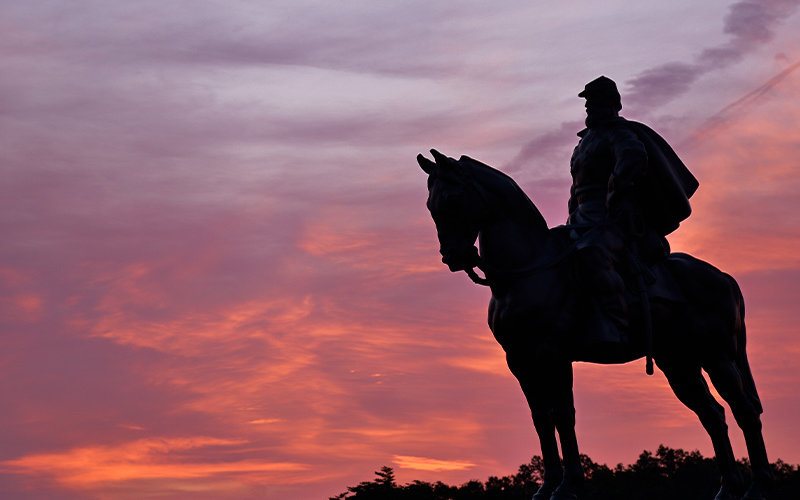 From Confederate generals to Spanish conquistadors, calls to remove controversial monuments and statues have dominated national headlines in the past month. But a Cal State Fullerton assistant professor of history reminds her students that debates like these aren't new.
"There has long been critique and protest of the glorification and commemoration of historical actors with records of enslavement, oppression and violence," said Margie Brown-Coronel, who teaches courses in U.S. history, public history, the U.S. West, U.S. women's history and U.S. Latinx history.
Brown-Coronel, who served as a research fellow at the Smithsonian Institution before joining CSUF, often uses the example of Native American communities protesting the installation of a statue of Juan Onate in El Paso, Texas in the 1980s. Onate was notorious for leading the violent Spanish conquest of New Mexico.
What is unique about the current tensions, she says, is the convergence of several factors: increasing intolerance for the continued disregard of people's history and experiences, connection between historical inequalities and contemporary injustices, and desire for inclusion of complex historical narratives.
"History and historical narratives have been used to perpetuate inequality and now people are demanding justice, equity and recognition of the past through historical symbols, such as monuments. The long-standing inequities in this country have not changed in many ways, and people are angry and want change.
"We are now also more invested in more nuanced historical narratives," said Brown-Coronel. "In public history we study how museums first emerged to preserve 'important' or 'significant' people, but now we ask what exactly makes an event or person significant?"
While the country remains divided on what to do with such public symbols of history, Brown-Coronel says it's important to have multiple processes for making such decisions.
"In many places, change to historical narrative is heavily resisted by those in 'power,' so the process requires grassroots organizing or perhaps direct action," she explained. "Other places or institutions welcome or desire change because they understand the need to move away from 'myths' and to be inclusive, equitable and accurate.
"I don't think there should be just one process. I think debate and conversations are really important to understand the context behind how statues and other commemorative places emerge, and what ideas they represented and seek to continue."
Studying disciplines like public history, a field that emphasizes history outside of an academic setting (such as museums, documentaries, cultural institutions and events, landmarks, etc.), may be part of the solution.
"We cannot ignore that the history commemorated in public has been one-sided. Protestors and activists are calling for more equitable and representative history," said Brown-Coronel. "Public history explores the meaning of past events and experiences, and develops ways to interrogate these histories and offer new understandings to public audiences."
Contact: Lynn Juliano, ljuliano@fullerton.edu