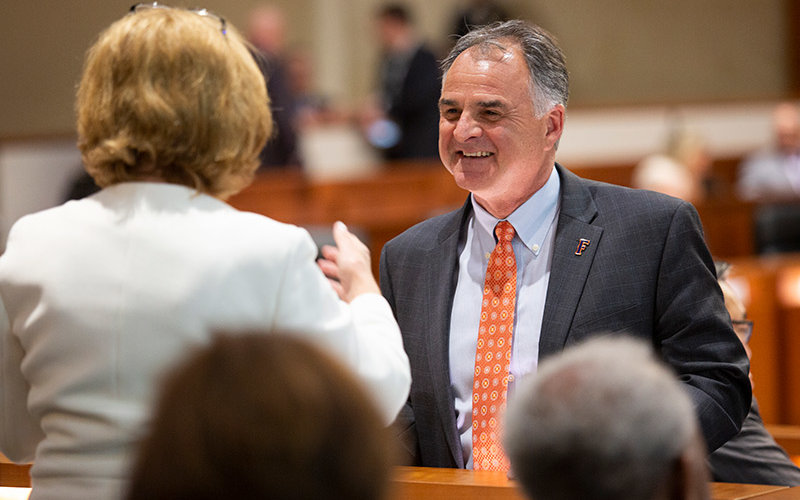 The CSUF physical campus master plan was approved, by unanimous vote, by the CSU Board of Trustees on July 21. This was followed an hour later, by a second unanimous vote, to approve the university's student housing phase 4 plans. The following day, a third unanimous vote carried the motion to approve the renaming of Nicholas and Lee Begovich Center for Gravitational-Wave Physics and Astronomy. 
The Physical Campus Master Plan
President Fram Virjee introduced the physical campus master plan by explaining that this was a culmination of years of effort, involving significant public input across the campus community that brought thousands of Titans and members of the Orange County community to the table.
"I think it is important to share that we did not just go through these motions to check a box," Virjee said. "We listened intently. We asked probing questions. And we made significant changes until we had strong consensus. This was not just from our campus community and neighbors, but also from the surrounding cities, educational partners and other constituencies."   
Virjee also pointed out that universities typically complete this process about every 10 years, but it has been more than 15 years for CSUF. 
"Our last new academic building, which went up 12 years ago, is the only new academic building on our campus in the last 30 years," he said. "So that's one new academic building in 30 years — on a campus that has seen its student population rise by 60% over that same time period. 
"So yes, this new master plan is long overdue."  
The campus master plan serves as the physical blueprint for CSUF's current and future leadership to support the university's strategic plan.
The goal was to create a master plan that while aspirational, was also practical, achievable and flexible. 
"We know we are not likely to receive funding for lots of new buildings," Virjee said. "Instead, our intention is to take what we have and make it better, to not only support our strategic plan, the academic master plan and the CSU's Graduation Initiative 2025, but also, achieve our goal to be a national model of inclusive excellence where diversity, equity and inclusion, in all of its forms, is welcomed, celebrated and integral to the academic experience of every student across every discipline." 
With these goals identified, the campus master plan supports increased opportunities to move even further from a commuter to a residential and transformational campus, redeveloping obsolete buildings and sites, leaving space for future growth and green space, and sharing resources across campus. 
"Our CSUF master plan presents strategies for future leadership to build toward fulfilling the university's potential and sustaining a healthy institution in a manner that both sets clear priorities and is achievable," Virjee said. "Given the pandemic we are all currently navigating, I want to especially highlight that this plan is designed for flexibility. This is a visioning document for where we want to go with much flexibility on when, how and why we get there." 
To learn more about the campus physical master plan, visit masterplan.fullerton.edu.  
Student Housing Phase 4 Project
The campus then sought the board of trustees' approval on three actions relating to the proposed fourth phase of the CSU Fullerton Student Housing project: An amendment to the 2020-21 capital outlay program to include the Student Housing Phase 4 project, approval of the schematic design and approval of the project financing.
"Much of the impetus for our Student Housing Phase 4 project aligns with the goals highlighted in the campus master plan so I want to make some quick points (and 600 reasons) behind Cal State Fullerton's proposal to construct a new housing community project opening fall 2022," Virjee said. 
"The 600 reasons are the 600 students who will live in these accommodations every year.
"First, research shows that on-campus living, in conjunction with intentional and targeted approaches contributes to student success because there is an increased sense of belonging, ease of access to community and campus resources, and prescribed community engagement opportunities.  Residential living-learning environments have documented higher levels of contributing to student success. This directly aligns with the goals of our master plan and GI 2025. 
"Second, some have tried to compare the cost of our on-campus housing with the cost for private housing off campus. Even though the cost for off-campus housing is roughly the same as the on-campus housing, on-campus living provides so much more when combined with co-curricular activities, immersive experiences and student engagement – that's not me saying that, that is the data," Virjee continued.
"Third, you may be thinking 'Should we be building in the midst of a global pandemic?' The answer is yes, and here is why: This is not something we came up with in the last few months; we've been planning it for five years and it won't be complete for another two years. Further, we have already raised millions of dollars and our staff has spent thousands of hours in planning. If we press pause now, it would be a full stop. We lose the contractors and the contract, the cost of everything will go up, and the opportunity will be gone. 
"This housing project is barely an additive based on the fact that it will serve as a replacement project for the original housing phase (396 beds) which has documented code and maintenance issues.
"Frankly, this project will increase inventory with a net gain of only about 200 residents, but without this project, we suffer a net loss of nearly 1,000 residents – half of our total resident population," Virjee said.
"As a replacement project, the new construction will include relocation of existing essential operational spaces including full-time and graduate staff apartments, a centralized staff office, a student leader workroom and program space, a multipurpose event room, facilities and custodial warehouse, laundry facilities and mailroom. The expanded outdoor spaces will provide residents and the campus with a vibrant social engagement space."
Renaming of Nicholas and Lee Begovich Center for Gravitational-Wave Physics and Astronomy Approved
Nicholas Begovich and his wife, Lee, earlier this year committed to a planned gift to benefit gravitational-wave, engineering and computer science faculty and student research. He began collecting foreign sports cars in the early 1950s and donated 14 classic cars in his collection — valued at $10 million — to the university.
In recognition of his philanthropy and newfound interest in gravitational waves, the university renamed the research center in the College of Natural Sciences and Mathematics to the Nicholas and Lee Begovich Center for Gravitational-Wave Physics and Astronomy.
Contact: Valerie Orleans, vorleans@fullerton.edu