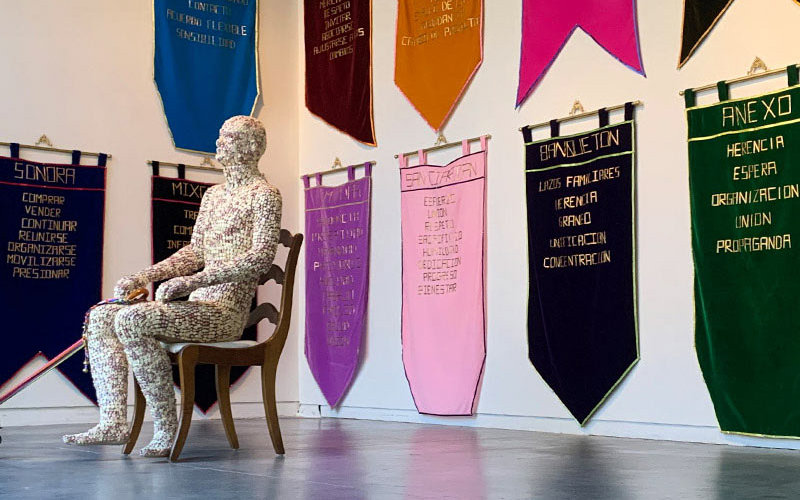 Three years ago, Mexico City-based artist Alfadir Luna and Cal State Fullerton student Alejandro Olivares spent a month adhering corn kernels to a fiberglass mannequin that would come to be known as "Señor de Maíz." or "Corn Man."
Every morning, the pair would gather materials from Grand Central Art Center in Santa Ana, where Luna was an artist-in-residence, and make their way to the plaza in front of the mural of the Virgin de Guadalupe. Together, they would sand the mannequin to allow the corn to adhere to the fiberglass and begin the process of choosing kernels that best fit the space — almost like a puzzle.
"The process itself was a kind of meditation, in which an action is repeated over and over again until you lose track of the number of repetitions made," explained Luna, who estimates that 3,000 kernels were used to cover the mannequin.
"Corn Man" is a replica of a sculpture Luna first created in 2008 to unify merchants in the historic La Merced market of Mexico City. Since then, assembling a new "Corn Man" every October has become a tradition, sometimes with Luna and other times without. Luna wanted to bring the same sense of community to Downtown Santa Ana.
Olivares '19 (B.A. art-art history), who learned of the opportunity to assist Luna while studying art history at Cal State Fullerton, recalls how people flocked to their project with curiosity.
"Through these conversations, we learned about people's lives, where they were from, their identity and their culture"" he said. "'Corn Man' brought the community of Santa Ana — people from all over Latin America — together, even if it was only for a moment.
"Working on this project made me realize that I have an intense love and appreciation for the role that social practice has within the art field," added Olivares, who is beginning a master's program in art history with a focus on Latin American art this fall at Cal State LA. "My love for art, created by a community that I relate to, encouraged me to want to learn more and to pass on this knowledge to others."
Since its completion, "Corn Man" has been exhibited at such locations as OTIS College of Art and Design, Art Institute of Chicago, Pratt Manhattan and Arizona State University Art Museum.
The sculpture returned this August to Grand Central Art Center, where it will remain until Luna can return for the final piece of the project: dismantling and distributing the kernels to the community in a symbolic gesture of unity and connection.
"It is exciting since it is about the closure of the project," shared Luna. "The sculpture was created in Santa Ana with the purpose of being shelled once the tour through art and education spaces in the U.S. was finished."
Luna was slated to reprise his role as artist-in-residence at Grand Central in spring 2020, but those plans were stalled due to the COVID-19 pandemic.
"Our hope is to keep the storefront installation up until it is safe for Luna to return," said John Spiak, director and chief curator of Grand Central Art Center. "'Corn Man' is not the first piece to originate here and tour other locations nationally and internationally, but it is the first to come back to be redistributed within our community."
"Corn Man" is currently on view at Grand Central Art Center's storefront at 125 N. Broadway, Santa Ana. Masks and social distancing are recommended.
Contact: Lynn Juliano, ljuliano@fullerton.edu