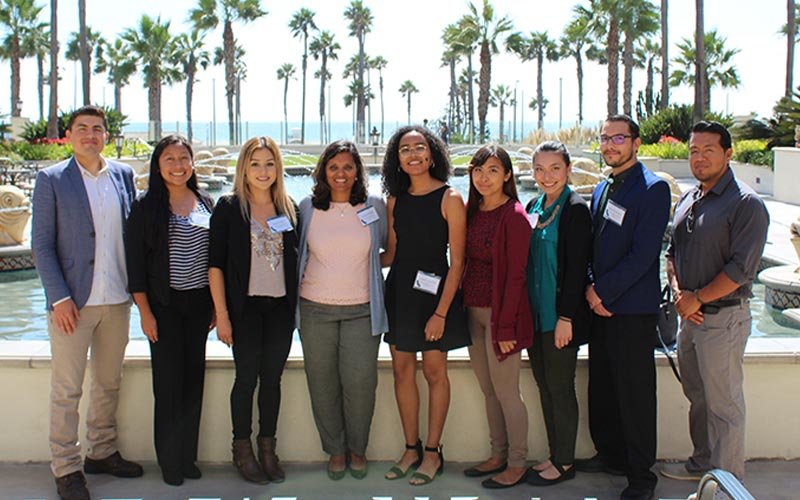 For her creation and leadership of a visionary program that gives underrepresented students training and mentorship in the emerging field of big data science, Cal State Fullerton's Archana McEligot has garnered the California State University's 2020 Faculty Innovation and Leadership Award.
McEligot is a professor of public health and director of the Big Data, Discovery and Diversity through Research Education and Partnership (BD3-REAP) program. She is one of two CSUF faculty members — joining Roberto Soto, assistant professor of mathematics — who received this year's systemwide honor.
BD3-REAP provides underrepresented students in STEM fields research opportunities, peer collaboration, faculty mentorship, professional development, emotional support, and guidance related to financial resources and graduate school preparation. The program aims to address imposter syndrome, negative stereotypes, feelings of isolation and other barriers — with an overall goal for graduate school entry and optimal student success.
"I am always amazed at how much background research Dr. McEligot prepares and how much care she puts into designing meaningful opportunities for our students," shared Laura Chandler, assistant professor of public health and BD3-REAP collaborator. "She spends hours with these students mentoring, writing letters, providing advice and just being there for them when they are in need."
McEligot's ability to facilitate the success of underrepresented students is exemplified in the outcomes of the BD3-REAP program's first two cohorts: Nearly 60% of students have authored manuscripts in peer-reviewed journals or university publications; 75% of students applied to graduate school and were successfully admitted in data science-related fields.
"I can fully attest to Dr. McEligot's remarkable innovation and leadership skills in creating a unique and highly successful program," said Sam Behseta, professor of mathematics and another BD3-REAP collaborator. "The students who completed the program have continued their educational path to top graduate programs in the country, including USC, UCLA, University of North Carolina, University of Chicago and Emory University, in diverse fields of study from epidemiology, statistics and biostatistics to psychology and public health."
Beyond leading the BD3-REAP program, McEligot directs CSUF's Center for Cancer Disparities Research, helped develop a new public health nutrition concentration, and has partnered with other institutions on USDA-funded training programs such as Nutrition for a Changing World and Comidas y Comunidades Saludables (Healthy Foods and Communities). Through her curriculum innovations, nearly 200 underrepresented students have been trained in the field of public health and have served in various community activities and internships.
"I am humbled and honored to receive this award," said McEligot. She is quick to share her success with the BD3-REAP faculty team, which spans four academic colleges (Health and Human Development, Natural Sciences and Mathematics, Business and Economics, and Engineering and Computer Science) and five departments (public health, mathematics, biology, business and information sciences, and computer science).
"BD3-REAP is innovative because the program is the first-of-its-kind in the United States to train and fill the equity gap in the newly emerging data science field," she said. "But, the true uniqueness is our incredible BD3-REAP faculty team — a group of scholars and academicians genuinely committed to CSUF student success."
Contact: Lynn Juliano, ljuliano@fullerton.edu