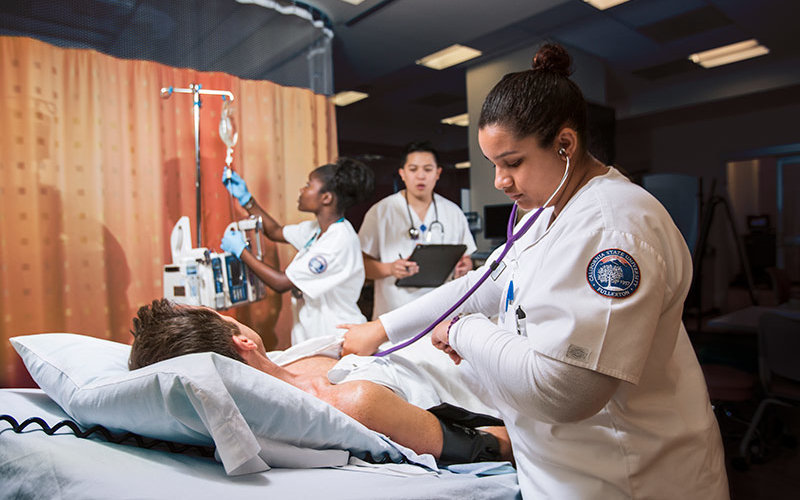 Amid deep health disparities illuminated by the COVID-19 pandemic, Cal State Fullerton's School of Nursing has been awarded a five-year, $3.25 million grant from the Health Resources and Services Administration to increase the pipeline of graduate-level nurses in underserved communities.
One hundred percent of first-year funding, totaling $650,000, will go toward scholarships for underrepresented students during the 2020-21 academic year.
"This grant is extremely important during the COVID-19 pandemic, as it will deploy a new contingent of social justice-informed nurses who have advanced preparation and the ability to address health disparities and complex care needs of vulnerable populations," said Sadeeka Al-Majid, professor of nursing who is leading the effort.
The project, "Enriching Nursing Representation to Impact Community Health" (ENRICH), aims to increase the enrollment and retention of nursing students from underrepresented backgrounds, the number of nurses with graduate degrees in medically underserved communities and primary care settings, and the overall diversity of professionals in the nursing workforce.
"Using holistic admission processes, our goal is to increase the number of admitted disadvantaged students by 30% over the five-year grant duration," said Al-Majid, adding that the grant will help the School of Nursing meet its top enrollment capacity across its five Master of Science in Nursing and Doctor of Nursing Practice programs.
Scholarship recipients will benefit from such support activities as professional and peer-to-peer mentoring; panel discussions with community experts addressing health disparities and other social justice issues; access to writing tutors, a nurse's coach for psychosocial issues, and a career counselor who will research and distribute job opportunities in medically underserved communities and primary care settings.
A total of $47.8 million was awarded by HRSA to 86 institutions across the nation. The maximum amount granted per institution was $3.25 million, and CSUF was among the select few to receive the maximum amount between 2020 and 2025.
"This was a competitive national grant that solicited applications from a large number of disciplines, including medicine, osteopathic medicine, pharmacy, radiology, chiropractic medicine, dentistry, optometry, podiatric medicine, public health, allied health, veterinary medicine, physician assistant programs and nursing," explained Al-Majid.
Cal State Fullerton's top-ranked School of Nursing currently enrolls approximately 100 graduate-level students each year in its MSN (leadership, nurse educator, school nursing, women's health care) and DNP (nurse-anesthesia and post-master's) programs.
Contact: Lynn Juliano, ljuliano@fullerton.edu