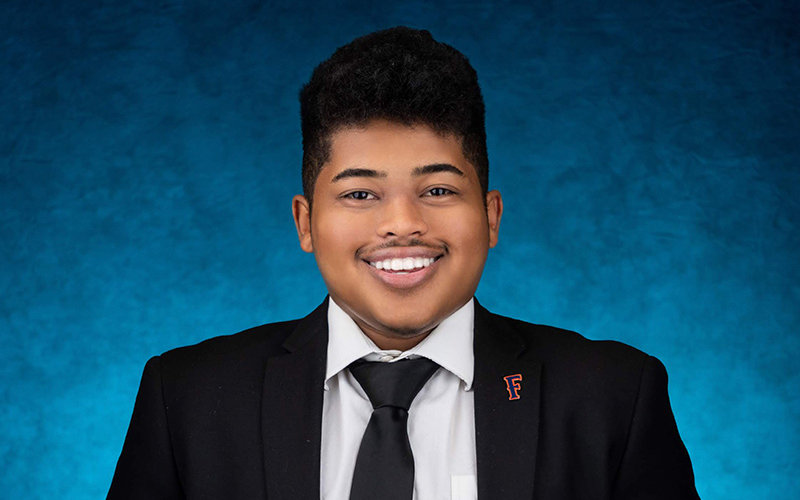 In high school, Isaac Alferos landed his first job helping underrepresented peers gain admission into college.
Now a Cal State Fullerton senior, he continues to advocate for educational equity, higher education access and financial assistance to help students, including himself, earn a college degree.
Gov. Gavin Newsom appointed Alferos to a two-year term on the California Student Aid Commission, which gives him a statewide platform to continue his advocacy work. Alferos, who applied for the position and begins his new post this fall, will review and make policy relating to student financial aid as a student representative of the 15-member commission. The position also requires state Senate confirmation.
A business administration-finance major, Alferos is a scholar in the Male Success Initiative-Fullerton, a research assistant in the College of Education's Center for Research on Educational Access and Leadership, and with a 3.68 GPA, is a member of the University Honors and Business Honors programs. He also served as lobby corps coordinator for Associated Students Inc.
Alferos, who plans to pursue a master's degree in public policy, currently is an intern in the Panetta Institute's Congressional Internship Program. He also serves as executive director of the Black + Brown Healing Project, a community of writers and creatives focusing on healing, restoration and collective action.
He plans a career in higher education public policy: "I want to promote equity in higher education practices so more historically marginalized students like me have access to a more affordable and quality education."
Why serve on the commission?
The commission oversees the financial aid process for all of California higher education. Being a representative on the commission will allow me to amplify the student perspective and to be a present and powerful voice in financial aid policies to better support future generations of California State University students.
Why become involved in financial aid issues?
As a student who couldn't be in college without the help of financial aid, financial aid policy has always seemed confusing and inequitable. I'm interested in public policy, especially higher education policy. This commission allows me to better advocate for my community, as well as work to proactively develop policies that have serious impacts on CSU students.
What do you hope to accomplish?
My goal is to ensure that students' financial assistance isn't leveraged to help accommodate for a drop in funding as a result of COVID-19. In a system predominantly made up of students from historically marginalized communities, it is critical that our students can count on their financial assistance to minimize financial barriers that affect their college graduation. Additionally, I am hoping to use the resources of the Student Aid Commission to develop research on how we can better tackle the rising issue of basic needs support in our higher education systems, including food insecurity, access to mental health resources and housing affordability.
How has the Male Success Initiative helped to shape your college experience?
MSI has been critical in my success, not only in this appointment, but holistically in my college and budding professional career. The support I receive from MSI staff, as well as the broader MSI brotherhood, has made a home for me at CSUF, and keeps me grounded and inspired to put myself in spaces of advocacy and to help create the change that I know is needed. When I needed help with issues I had in my classes or at home, MSI was there for me. In all my time at CSUF, MSI has supported me and it makes me even prouder to represent not just CSUF, but the MSI brotherhood as well.
Why is it important for you to give back to the Titan and greater college community?
I believe that success is a collective effort. It is something created by, and for your community. No success I have had thus far has been entirely on my own, and so it's incredibly important for me to use the platforms and privileges I am given to better my community, which has supported me in getting to where I am today. Leadership is rooted in service, and if I intend to lead in spaces like the Student Aid Commission, I also have to work to support my community.
Contact: Debra Cano Ramos, dcanoramos@fullerton.edu