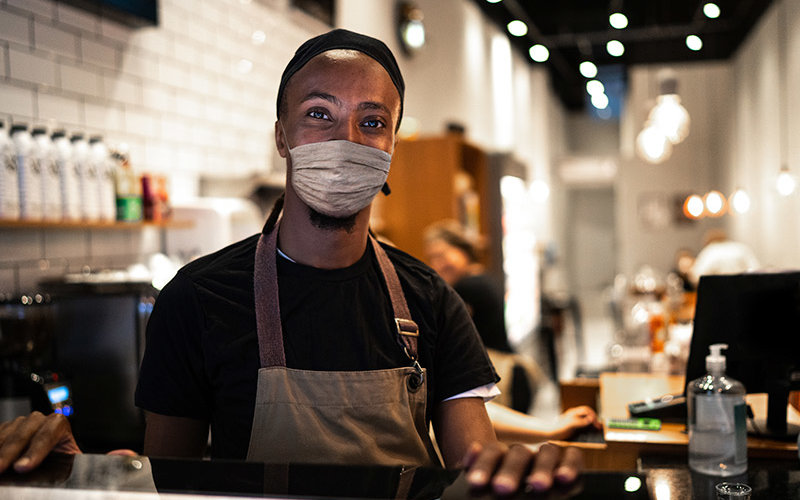 Since March, the Small Business Development Center at Cal State Fullerton has helped over 10,000 small businesses obtain more than $280 million in relief. 
"Those 10,000 clients translate into 57,000 local jobs that we're working hard to keep," said Mike Daniel '99 (B.A. business administration-marketing), regional director of the Orange County Inland Empire Small Business Development Center.
To say Daniel knows a lot about small business is an understatement. In his job and as a small business owner himself, he thought he had seen it all.
But the coronavirus outbreak has offered new and unexpected challenges for the marketing alumnus whose organization is charged with supporting small businesses in Orange, Riverside and San Bernardino counties.
When the pandemic hit, the SBDC was inundated with calls for help. "We dropped everything and only focused on COVID-related relief," Daniel said. "We invested in a 1-800 number to enable all of our staff consultants to continually answer calls."
To disseminate information to more people at once, the center decided to host a call every afternoon, discussing the options available to small enterprises and to answer questions. For months, roughly 1,500 to 2,000 people called in each day.
And the phones kept ringing. "We had to hire 50 people and open two more offices to handle the workload," Daniel shared. "Since March, we've helped 20,000 callers and provided 25,000 hours of one-on-one business consulting compared to 10,000 hours the year before." 
Beyond guiding organizations in obtaining funding, the SBDC has helped with such projects as moving brick and mortar organizations online, providing technology for cashless transactions, and navigating unemployment rules and filings. They are also administering $35 million in grant relief programs for local cities as part of the Coronavirus Aid, Relief and Economic Security (CARES) Act.
Another big surprise was discovering that many operations in underserved communities lacked record keeping. Without such records, they were not only unable to get COVID-19 funding relief, but are at a competitive disadvantage since they aren't making data-based decisions.
To address this, Daniel applied for a foundation grant and — once the health crisis subsides — plans to engage CSUF accounting and finance students in establishing bookkeeping systems for such firms and consulting with owners to improve their operations. "Students would get great experience and the businesses would benefit," he explained.
While the initial shock of the pandemic has abated, the SBDC is continuing to help organizations facing the uncertainty of constantly changing mandates and an unpredictable virus.
"If you need help, call us," Daniels encouraged.
Visit the SBDC's COVID-19 web page or call 1-800-616-7232 for assistance.
Contact: Karen Lindell, klindell@fullerton.edu