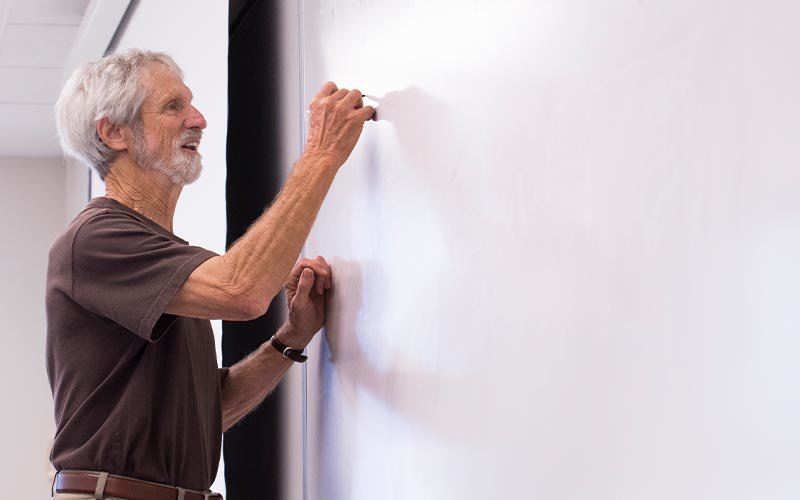 For the past 30 summers, Project MISS, a summer enrichment course for female high school students to strengthen algebra and precalculus skills, has been offered on campus.
But this July, the 31st summer of the program, was different.
The Mathematics Intensive Summer Session, known as Project MISS, directed by David L. Pagni, professor of mathematics, and taught by Cal State Fullerton math graduates, was held virtually for the first time. The 72 high school students — 28 in algebra II and 44 in precalculus — who participated represented 42 schools and 40 different cities across the region.
"Offering MISS online was a daunting concept at first, but I decided to go for it. It was rewarding to find instructors and tutors who were excited about the idea and eager to create virtual opportunities that could emulate our face-to-face operation," said Pagni, who founded the program in the summer of 1990 to inspire young female students to pursue college studies and careers in STEM.
The program's teaching staff included five instructors, plus five tutors and four high school volunteer tutors — all female. The instructors are CSUF mathematics graduates who recently completed the credential program; the tutors are CSUF graduates or students who are either in the teacher credential program or will soon enter the credential program.
The instructors and tutors got creative and used imaginative ways to engage students in learning high school math — virtually. For the traditional in-person sessions, students are given a binder to use for storing their notes and classroom work. This summer, one tutor came up with an online notebook that students used instead.
Instructors and tutors also invented classroom math games to spark interest in practicing math concepts. This year, they created online games. For example, the instructors used the 52-card game of "War" to make new cards using precalculus math concepts, in which pairs of students used to play the game virtually, Pagni said.
Future math teacher Selena Alamillo Ramirez, who earned her bachelor's degree in mathematics-teaching mathematics in 2019, and completed the teacher credential program to teach math in May, co-taught the precalculus class. Since the teacher preparation program went virtual this spring semester because of the pandemic, teaching Project MISS online was a smooth transition.
"I had the benefit of seeing how our mentor teachers in the public schools adapted and I was able to use this knowledge to determine the best methods to not only cover all the material possible, but to also provide the students with a fun setting to learn math," Ramirez said. "The virtual setting also allowed us to have more one-on-one time with the students, especially with those who wanted extra help."
The program also featured guest speakers via Zoom from Southern California Edison, Fluor Corp., Edwards Lifesciences, and the dean of the College of Natural Sciences and Mathematics. The female professionals spoke about the importance of math skills in their careers.
Dean Marie Johnson pointed out that learning math develops analytical thinking and problem-solving skills — skills that will help the students in their later lives, regardless of their chosen career.
"Math is also the language of science. By participating in Project MISS, the students invested in themselves, which always pays future dividends," Johnson said.
Materials and supplies are provided at no cost to the students, supported through private and industry philanthropic gifts. For more information or to donate, visit the Project MISS website.
Contact: Debra Cano Ramos, dcanoramos@fullerton.edu