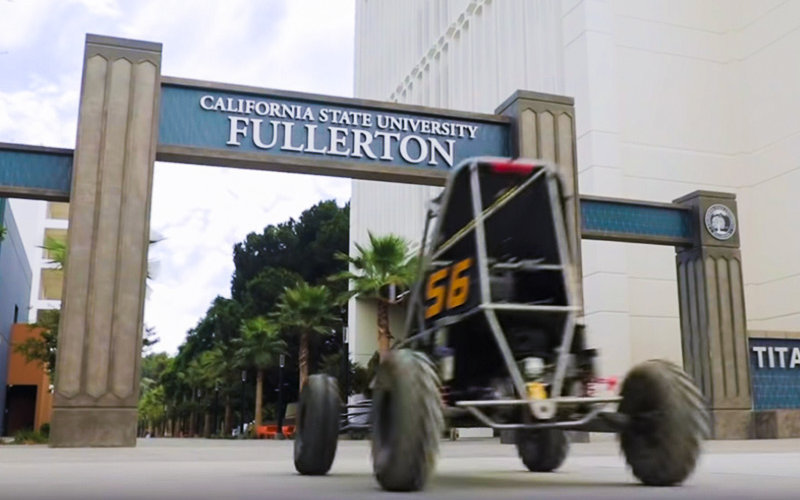 Cal State Fullerton President Fram Virjee stirred up some "good" trouble at the first-ever 2020 Student Convocation dubbed "The Day You Become a Titan." Virjee, along with Tonantzin Oseguera, vice president for student affairs; Amir Dabirian, vice president for information technology; and Marcus Reveles, president, and Skylar Soria, vice president of Associated Students Inc., welcomed new and returning students at the Sept. 16 virtual presentation.
With most courses offered online this semester due to the pandemic, Virjee gave students a fun-filled, action-packed virtual campus tour. He zoomed around campus in a Baja off-road race car, conquered the rock wall at the Student Recreation Center and hit the ropes at the Roy Lopez Army ROTC Obstacle Course. "Oh man, I'd be in so much trouble if anyone saw me doing this," Virjee mused, while racing around campus and mastering "donuts" in the Baja vehicle, designed and built by engineering students.
Fun and games aside, the convocation gave students information about all of the virtual activities, services, resources and programs offered at the university. These include a drive-thru food pantry, drop-in fitness classes, concerts and online spoken word events; services at the Veterans Resource Center, Disability Support Services and Pollak Library; and programs at the Diversity Initiatives and Resource Centers and Male Success Initiative-Fullerton, and more. For information on student virtual services, visit online. 
Virjee concluded by emphasizing the university's commitment to wipe out racism, injustice and intolerance, and promote social justice, equity and inclusion — "a commitment that we intend to live up to with much action and change."
Watch the Student Convocation here.
Contact: Debra Cano Ramos, dcanoramos@fullerton.edu