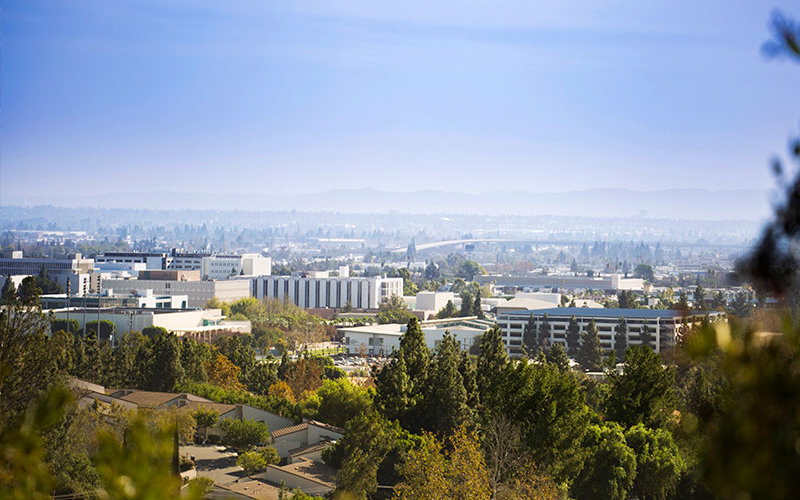 Luz Luevano, a junior majoring in business administration, was feeling overwhelmed. The COVID-19 pandemic had just hit, and she was among the hundreds of students who were forced to move back home and continue classes online.
On April 9, the U.S. Department of Education announced that more than $6 billion would be distributed immediately to colleges and universities across the country to provide direct emergency financial aid grants to college students whose lives and educational pathways had been disrupted by the coronavirus outbreak. 
"COVID-19 created many difficulties and a lot to navigate," Luevano said. "My mom tested positive for COVID-19 and she had to stay home for a few weeks. Since she is the breadwinner of our household, we were struggling financially."
Fortunately, staff members in Cal State Fullerton's financial aid office were able to assist Luevano in applying for CARES (Coronavirus Aid, Relief and Economic Security) Act funding.
"It took a few weeks to receive the funding but it was definitely a help," she said. "And the university loaned me a laptop and a phone so I could continue to work as a student assistant and keep up with my classes."
Cal State Fullerton received $20,510,756 in emergency grant aid for students out of the more than $262.5 million allocated to the CSU to distribute to students throughout the 23 CSU campuses. This provided a tremendous boost to the more limited resources that campuses have to support emergency grants.
The CSUF Office of Financial Aid worked to award $20,510,756 through almost 28,000 CARES Act emergency grants. It took more than 1,000 hours of staff time to distribute these funds … while also addressing a simultaneous exponential increase in student requests for financial aid assistance and services due to student needs and loss of income as a result of COVID-19. There was a 40% increase in student income appeals as students sought to have their Free Application for Federal Student Aid adjusted to more accurately reflect their current financial circumstances in hopes of gaining greater financial aid eligibility.
In addition to the Office of Financial Aid, other areas that were instrumental in ensuring that students received CARES funding included student affairs leadership, Student Business Services and the Center for Internships and Community Engagement.
"We were working around-the-clock to get these needed funds to our students," said Jessica Barco, director of financial aid. "Despite federal regulations changing almost daily on the implementation of CARES Act emergency grants, we knew we needed to move quickly on behalf of our Titans." 
During this same time, the financial aid office was experiencing its peak summer season, processing over 30,000 student financial aid awards for the 2020-21 academic year, and responding to a 53% increase in student requests due to their concerns about income loss as a result of COVID-19. Even more remarkably, this was all accomplished while staff were working remotely.
"We are so grateful that these funds were available and that staff moved as quickly as possible to identify and distribute funding to these students," said Tonantzin Oseguera, vice president for student affairs. "Many students were experiencing extreme financial challenges and the CARES Act funds often meant the difference between continuing with their education … or being unable to continue. We know how important higher education is to our students, particularly those who are often the first in their families to earn a university degree. Being able to assist them during this crisis has allowed them to continue pursuing their dream of a college degree."
Contact: Valerie Orleans, vorleans@fullerton.edu