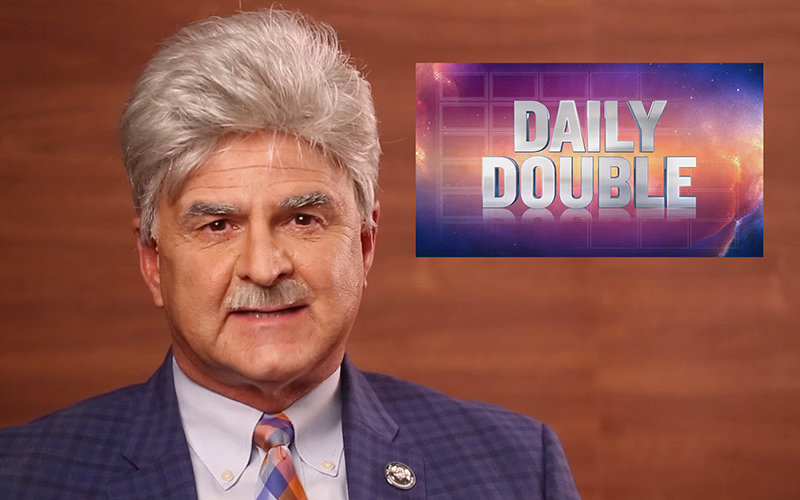 Battling knowledge of "Saturday Night Live" skits and presidential music to constitutional emojis and political beverages, Titan faculty, staff and students will face off in a trivia competition to commemorate this year's Constitution Day.
Cal State Fullerton's third annual Constitutional Jeopardy show will debut Monday, Sept. 21, on Titan TV's YouTube channel, with host President Fram Virjee.
New this year are incentive prizes to support three student programs — $2,500 for first place, $1,500 for second place and $1,000 for third place — thanks to a donation from alumnus Paul Carter '92 (B.A. political science), partner at Bergkvist, Bergkvist & Carter LLP and a member of the Cal State Fullerton Philanthropic Foundation board of governors.
"I am pleased to support our future CSUF alumni in every way possible. My Titan education in political science provided the foundation upon which my entire life is built," he said. "I am also a political junkie and a great fan of 'Jeopardy!'"
The student contestants include Navdeep Sidhu, Gabrielle Bennett and Miguel Lerma, paired with faculty and staff members: two-time defending champion Rob Robinson, associate professor of political science who will be competing on behalf of the university's Moot Court team; Carolyn Thomas, provost and vice president for academic affairs who will be competing on behalf of the Guardian Scholars program; and Tonantzin Oseguera, vice president for student affairs who will be competing on behalf of the Veterans Resource Center.
All three programs are personal to Carter, who is a veteran, has four adopted children and competed on his law school's national championship Negotiation Moot Court team.
"I am intimately familiar with how each of these groups enhances the student experience on campus while also providing a support network to ensure the success of all students," said Carter.
Robinson says knowing the Constitution is foundational: "Like the air we breathe, we don't always notice it, but it's vital in understanding our political life." A frequent Moot Court judge, Robinson explains that the program is a transformative experience for students that builds confidence, strengthens critical skill sets and introduces them to local alumni networks — but is expensive due to the travel required for competitions.
Meanwhile, recently appointed Provost Thomas wanted to jump into a "fun and inspiring" activity with her new colleagues. The CSUF Class of 1994 American studies alumna chose to support Guardian Scholars, a program that supports former foster youth in their higher education journeys, because of a personal connection: Her family began fostering a son last year.
Stepping into her new role as vice president for student affairs, Oseguera emphasizes that "knowing and studying the Constitution is the personal responsibility of everyone." She is "excited about making the Constitution more alive and relatable" and chose to support the Veterans Resource Center in honor of her brother and husband, both veterans.
This year's Constitutional Jeopardy is organized by Stephen Stambough, professor of political science and Academic Senate chair, and sponsored by CSUF's chapter of Pi Sigma Alpha, the national political science honor society.
Audience members are encouraged to donate in support of their favorite contestant and/or student program.
Contact: Lynn Juliano, ljuliano@fullerton.edu