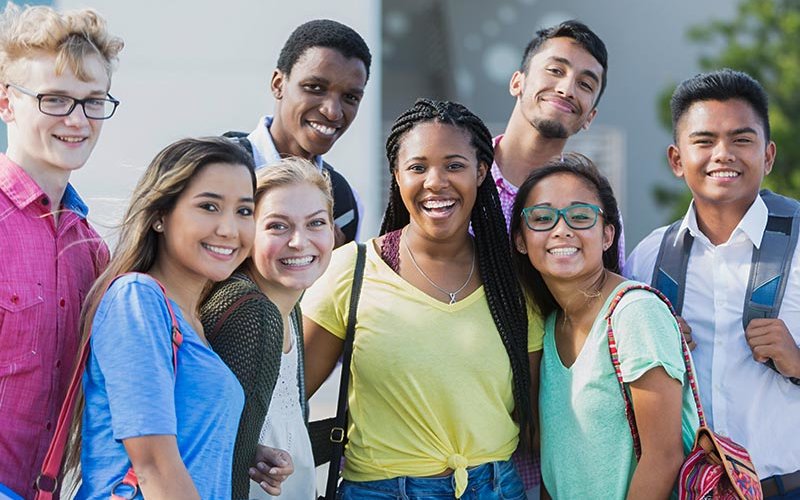 When teenagers immigrate to the U.S. and enter middle school and high school, adjusting to another culture and learning a new language isn't always easy. 
To help these young students adapt to their new country, learn to speak and understand English as a second or third language, and prepare to excel in the classroom, Cal State Fullerton's College of Education faculty members started the Summer Language Academy.
The program began in Anaheim Union High School District in 2016, and has since expanded in the Newport-Mesa Unified School District and Escondido Union High School District. The arts- and literacy-rich summer program has served more than 500 students and involved 80 educators from the three school districts, including district teachers and bilingual instructional assistants, and CSUF teacher candidates. 
To reach more students new to the U.S., the Spencer Foundation has awarded the university a $400,000 grant for "Project LEARN: Language, Equity and Action Research With Newcomer Students," which builds upon the success of the Summer Language Academy. 
The grant supports incorporating action research — students and teachers will collaboratively develop research questions related to the experiences of newcomer students, gather data and use their findings to improve their lives, their classrooms and their communities — and academic year activities into the program, said Alison Dover, associate professor of secondary education, who is directing the grant project. 
"In Project LEARN, students, teachers and families will come together to explore how newcomer students themselves can help reenvision schools as sites of affirmation, academic rigor, language exploration and agency," Dover said.
Fernando Rodríguez-Valls, professor of secondary education, and Renae Bryant, director of English learner and multilingual services at Anaheim Union High School District, are co-leading the project.
Newcomer students who have been in the U.S. for less than one year and emergent bilingual students — fluent in a language other than English and are learning English — are among the fastest growing populations in the nation, Dover said. 
"Research indicates their schooling experiences are often marred by linguistic barriers and pervasive social and economic pressures, including high levels of poverty, unwelcoming social or political climates, and experiences of racism and discrimination," she added.
The goal of the three-year project is to expand the program to up to 10 school sites in the Anaheim school district and serve more than 1,000 students, Dover said. The project also will engage CSUF graduate student researchers, offer professional learning and community engagement activities for district teachers and support 47 teachers in incorporating new strategies with their newcomer students during the academic year. 
Additionally, project-related findings will direct the development of policy recommendations, new curriculum and training resources related to newcomer and emergent bilingual students. These findings will be shared with district partners, at conferences and through publications.
"This grant will create the space for Summer Language Academy teachers and students to conduct research, which will reinforce the importance of multiliteracies and multilingualism; increase student achievement; and develop critical consciousness in the teaching of, and learning of, newcomer students," Rodríguez-Valls added.
Over the last five years, students entering grades 7-12, representing more than 20 countries, including from Mexico, China, Egypt, Philippines, Guatemala and Myanmar, and speaking such languages as Arabic, Spanish, Vietnamese, Mandarin, Burmese, Tagalog and Tirginya, have benefited from the program. Recognized as a model program at the district, county and state levels, program accolades include the 2018 Orange County Department of Education Cultural and Linguistic Responsiveness Award and 2018 California School Board Association Golden Bell Award.
This summer's program in the Anaheim school district was held virtually because of the pandemic and served 59 students who represented 10 countries and spoke eight different languages. A distance-based academy with 19 students who speak Mandarin, Portuguese and Spanish also was held in Newport-Mesa Unified School District. Students and teachers used technology to collaboratively explore language, identity and community in multicultural and multilingual virtual classrooms.
"Racially, culturally and linguistically, the Summer Language Academy students are the present and future of our communities — they use the linguistic repertoires born and learnt at home, in their communities and at their school sites," Rodríguez-Valls said.
Contact: Debra Cano Ramos, dcanoramos@fullerton.edu