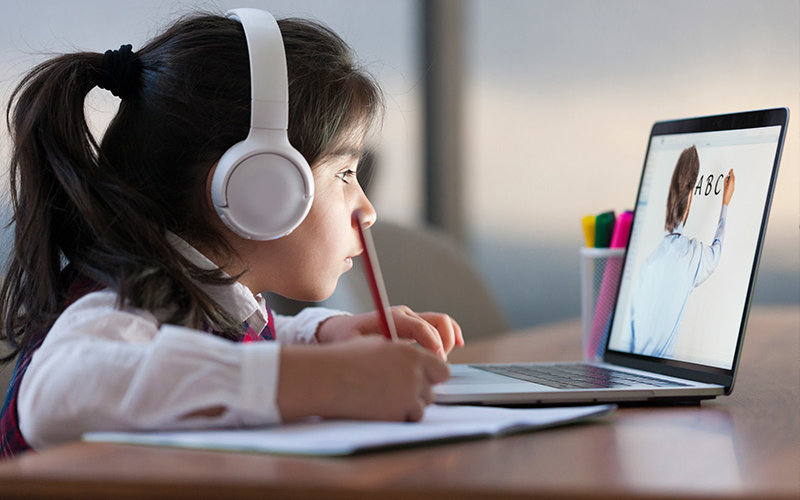 As the coronavirus pandemic presses on, schools across Orange County, California and the nation are beginning the new academic year with reliance on educational technologies to deliver instruction online. 
But the over reliance on, and misuse of, educational technologies can widen the inequities and disparities that already plague public education, said Cal State Fullerton's Alison Dover, associate professor of secondary education.
"It's important to note that the pandemic didn't create these educational inequities, but exacerbated them," Dover said. "Any solutions must be more comprehensive than short term responses to the current crisis." 
To address these issues and support educators, Dover and her colleagues from across the state will discuss their policy brief and share their recommendations for policies and practices for online education during a Friday, Sept. 11, free webinar. (See related story)
What is the focus of the webinar?
We'll summarize research regarding the efficacy of online schooling overall, as well as for historically marginalized students and communities specifically, including the risks, tensions and dilemmas associated with the current over reliance on technology. I'll focus on recommendations to help teachers and educational leaders enact culturally and linguistically sustaining, equity-oriented teaching. 
What are some of the issues of inequities and injustices in online education?
Essentially, students are facing tremendous disparities in educational access and experience, not only in terms of access to engaging, academically rigorous and culturally relevant schooling, but also in terms of access to schooling at all. A few examples from the brief include that some schools have resources to meet the needs for connectivity, including computers, laptops, tablets, as well as internet access, technical support and facilities, while others do not. Some students have homes with sufficient resources, while other students either live in under-resourced homes or are experiencing housing instability. Some teachers, students and students' caregivers have familiarity with navigating technologies for online education, others do not. Other students may struggle to use or benefit from such technologies because of health, environmental and learning challenges.   
What are you doing to make online learning accessible to all students?
At CSUF, we're partnering with local districts to develop and implement a curriculum that is culturally and linguistically sustaining and student-driven. This summer, for example, Fernando Rodríguez-Valls (professor of secondary education) and I worked with Anaheim Union High School District and Newport-Mesa Unified School District to pilot distance-based summer language academies for newcomer and emergent bilingual students. Students and teachers used technology to collaboratively explore language, identity and community in multicultural and multilingual virtual classrooms. Through partnerships like this, we're leveraging our collective creativity, expertise and resources to support diverse communities in inquiry-based, locally-resonant distance-based learning.
What are some of the recommendations for policies and practices?
That all schools support teachers in building humanizing relationships with students and communities; that all schools function as community schools, whether in-person or online; and that they receive adequate and equitable funding and support to do so;
That all schools provide the resources and support needed, including partnerships with teacher unions, district personnel, community and youth educators, parents and families, professional associations and colleges of education, to develop and engage such curriculum online; and that they receive adequate and equitable funding and support to do so; and
That schools use technologies for online education as thoughtfully and sparingly as possible and guard against any move to replace the expertise of educators with such technology.
Contact: Debra Cano Ramos, dcanoramos@fullerton.edu