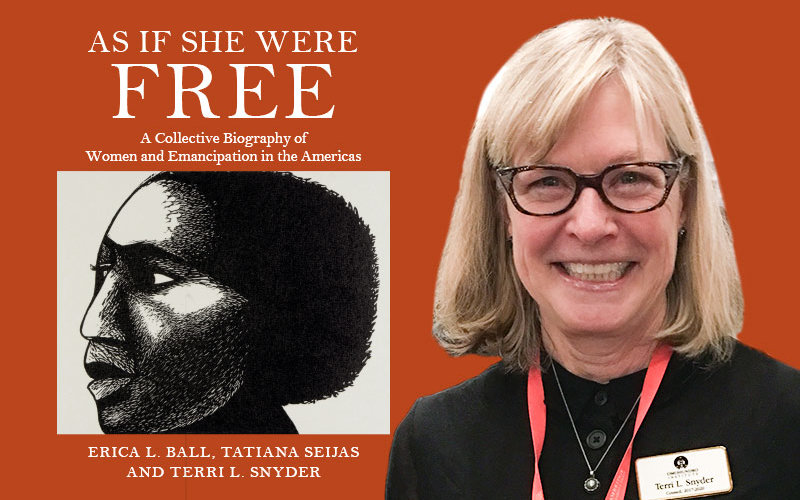 Margarita de Sossa, born a slave in Portugal, purchased her freedom and built a life for herself as a free woman in Mexico. Bessy Chambers, a Jamaican woman, brought her overseer to court in an effort to hold him accountable for his abuse. Mary Ellen Pleasant, a free Black woman in California, was the largest financial donor to John Brown's raid on Harper's Ferry.
The stories of 24 women who claimed freedom across the Americas from the 16th through the 20th centuries are featured in "As If She Were Free: A Collective Biography of Women and Emancipation in the Americas," a new book co-edited by Terri Snyder, Cal State Fullerton chair and professor of American studies, along with Erica L. Ball of Occidental College and Tatiana Seijas of Rutgers University.
What is the subject of your book?
"As If She Were Free" tells the story of the individual and collective struggles of African-descended women speaking and acting in ways that declared that they had a right to determine the course of their lives. In this sense, the book articulates a new feminist history of freedom. Each chapter tells the story of one woman. Taken as a group, these chapter biographies collectively narrate the history of women who renounced their commodification and exploitation — the history of emancipation.
How did you become interested in this topic?
My research field is early American studies. I am working on a project on a young Black woman who, while born free in 1716, was kidnapped and sold into slavery and taken far from her home. Using networks of Black mariners, local legal officials and communities that spanned the Atlantic seaboard, she regained her freedom.
Erica Ball, a former colleague at CSUF who is now at Occidental, shares similar research interests on Black women. Tatiana Seijas, of Rutgers, and I were on a book prize committee for the Berkshire Conference on the History of Women. We were reading all these amazing new studies of women and slavery and had remarkable conversations about them.
Through a series of discussions, we discovered we were a great fit in terms of chronological and regional specialties, and our commitment to studying women.
What new or surprising information did you discover during this book project?
The stories of the women in each of the chapters were always surprising, and each of them is so distinct to me. Yet, after completing the book, I no longer think of these women as atypical or extraordinary. What is remarkable about these women, of course, is that fragments of their stories survive in the archives. But I believe that many women with Black, Latinx and Indigenous ancestry struggled for emancipation, but their stories are lost to us or haven't yet been found. I hope our book will inspire others to dig deeper for these kinds of histories.
The cover was a revelation. We wanted a cover that reflected the women our authors wrote about. We settled on the visual artist Elizabeth Catlett (1915-2012) because from the beginnings of her career, her art was unapologetically about Black women.
Why is it important for people to understand this subject?
Three social movements have sustained and inspired our efforts during the past two years: #MeToo, #BlackLivesMatter and #SayHerName. The stories in "As If She Were Free" demonstrate that sexual assault and racial violence have a long history in the Americas and so, too, does the story of women seeking emancipation and defining for themselves the parameters of their freedom. Our book honors the memory of those women who took up the struggle in the past and is dedicated to those women who carry it forward into the future.
Contact: Lynn Juliano, ljuliano@fullerton.edu