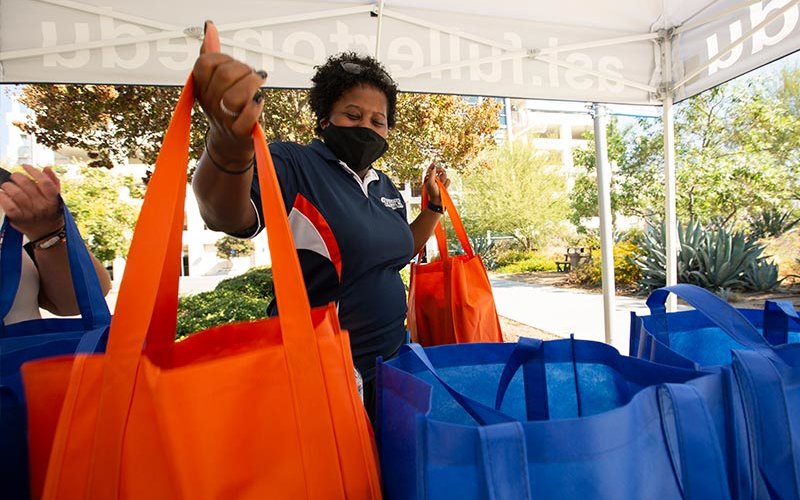 On Friday, Oct. 2, about 75 students arrived on campus at Cal State Fullerton … not for classes, but to pick up needed food supplies.
When students began studying virtually, some lost access to on-campus food sources. Although the university's Associated Students Inc. and other on-campus sources have been providing assistance to food insecure students since 2018, ASI launched a new program this fall to ensure that students who needed food received help. That's how the contactless drive-through and walk-up program began.
Designed specifically for CSUF students, the food that is distributed may include rice, oatmeal, cereal, pasta and other non-perishable items.
"We found, as the pandemic continued, some of our students lost their jobs or had to take pay cuts," said Asha Nettles, coordinator of ASI's Leader and Program Development. "In some instances, family members lost jobs and students were working extra hours to try to supplement the family income."
ASI leaders are seeing increases in the numbers of students needing assistance each month.
"It started as a quarterly event and then it grew into a monthly event," said Nettles. "When virtual instruction for the fall was announced, the program was revamped to a contactless drive-through and walk-up event."
Students must register in advance using the Eventbrite link at asi.fullerton.edu. (Choose "services," then "ASI Food Pantry.") Students will then select a pick up time to reduce the number of students on campus at one time.
If you would like to help the ASI Food Pantry, contact Asha Nettles at anettles@fullerton.edu.
Contact: Valerie Orleans, vorleans@fullerton.edu