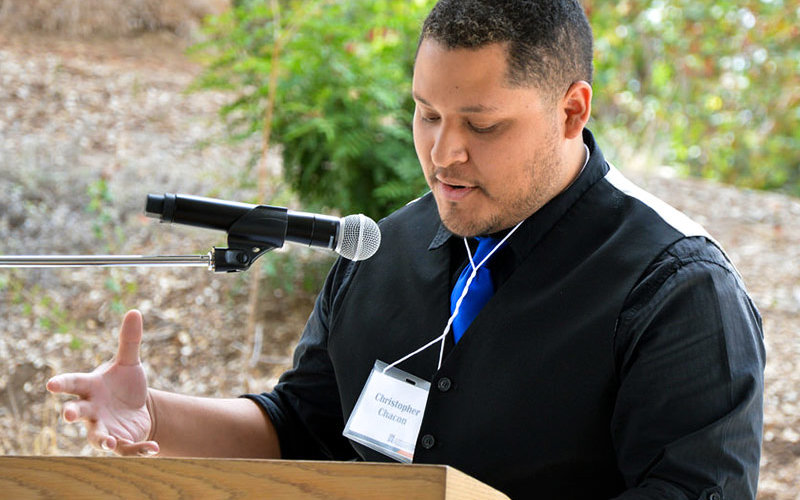 Growing up in nearby La Habra, Chris Chacon was called the "class genius" by his peers, graduated eighth grade as the class salutatorian and excelled in high school. 
At Cal State Fullerton, he majored in anthropology, history and religious studies and graduated magna cum laude with a bachelor's degree in 2013. Three years later, he earned a master's degree in history at CSUF and now is pursuing a doctorate to work in academia and teach underrepresented students like himself.
"As a Mexican American student, I wanted to see role models who looked like me and came from places like my hometown. Now, I want the next generation of college students — who come from diverse backgrounds such as my own — to see someone just like them. That is the best way I can serve my community," said Chacon, a first-generation college graduate who will be the first in his family to also earn a doctorate.
Chacon, a doctoral student at UC Irvine studying South Asia and world history, is one of two CSUF alumni selected for the 2020-21 California State University Chancellor's Doctoral Incentive Program. Physics graduate Denyz Melchor, working toward a doctorate in astrophysics in UCLA's physics and astronomy program, also was selected as a fellow. 
The program's goals are to increase the number of faculty with the qualifications, motivation and skills needed to teach the diverse students of the CSU. Fellows receive financial support, mentorship by CSU faculty, and professional development and grant resources. 
Chacon will be mentored by Robert McLain, professor of history, who was his master's thesis adviser; and Melchor's mentor is her undergraduate adviser Geoffrey Lovelace, associate professor of physics.
Two other doctoral students will be mentored by CSUF faculty members: Yoselinda Mendoza, a doctoral student in sociology at Cornell University, will be mentored by Patricia A. Perez, professor of Chicana and Chicano studies; and Erualdo Gonzalez, chair and professor of Chicana and Chicano studies, will mentor  Emanuel Preciado, a doctoral student in urban and environmental planning and policy at UC Irvine.
'CSU Success Story'
The fellowship will help Chacon pay off his graduate school loans and he looks forward to working once again with McLain during his fellowship. 
Chacon aspires to one day teach and conduct research at a CSU campus because of the system's dedication to diversity, inclusivity and equity, and his own experiences of being mentored by faculty like McLain and others who went above and beyond. 
"I am a CSU success story," said Chacon, raised by a single mother whose family immigrated from Mexico in the 1920s and '30s, and through the 1960s, picked fruits and nuts each summer in Central California's agricultural fields.
"To have the opportunity to contribute to a university system that has given me so much would be a dream come true. Receiving this award is the cumulation of nearly a decade of coursework, applications and planning."
Chacon, who was a CSUF Elevar Scholar, credits many of his CSUF faculty mentors for giving him guidance, encouragement, and even letters of recommendation, to pursue graduate school and become an academic.
"The opportunities at CSUF made my application strong enough for the Ph.D. program," he said. 
As an undergraduate, he conducted research on Indian history, new religious movements and Middle East history. He assisted in instruction for courses such as "World Civilizations to the 16th Century" as a graduate student, and published his master's thesis on Hindu nationalism, all of which gave him a glimpse into professorship. 
For his doctoral program, Chacon spent a year studying Hindi in Jaipur, Rajasthan, India, as a part of the American Institute of Indian Studies language program. He plans to return to India to complete research for his dissertation on early 20th century Hindu nationalism, under Vinayak Chaturvedi, UCI associate professor of history.
"My work follows the lives and work of Bhai Parmanand and Lajpat Rai. Both men share many similarities, including time in the U.S. My overall argument suggests that their lived experiences and ideas contributed to the overall Hindu world building that took place prior and concurrent to the formation of Hindu nationalist organizations, such as the Hindu Mahasabha. 
"While my topic is quite controversial, it is intellectually stimulating and encouraging. My dissertation will contribute to the relatively new field of global intellectual history."
For more information, visit: CSUF's Office of Graduate Studies website or CSU Chancellor's Doctoral Incentive Program's website. 
Contact: Debra Cano Ramos, dcanoramos@fullerton.edu