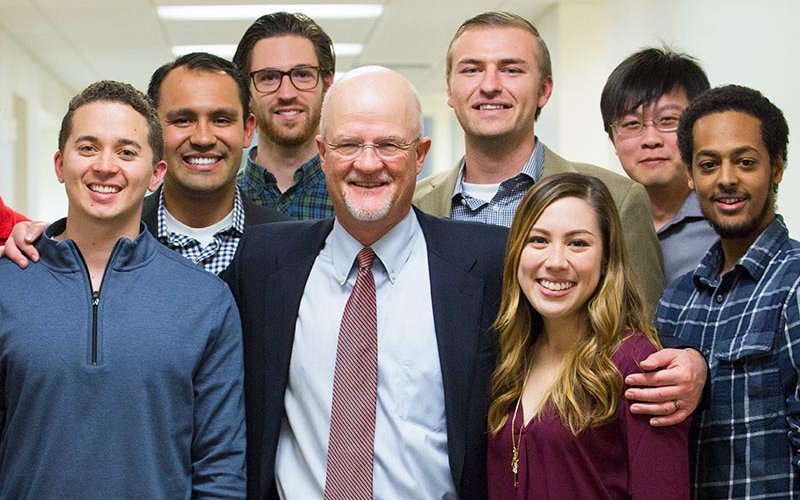 Cal State Fullerton's Titan Capital Management program donated nearly $80,000 to programs across the university to help with the substantial needs caused by the COVID-19 pandemic. 
The university's premier student-run investment program gives Titans studying finance firsthand experience in securities analysis and portfolio management using real dollars. 
"Despite the pandemic, TCM had a positive return for the fiscal year," said Marcia Lucas, faculty adviser for TCM and lecturer in finance. "This speaks to the hard work and savvy evidence-based decision-making talents of our students in the program."
The funds that students generate from managing a stock or bond portfolio in the TCM program support student-centered activities and programs in the College of Business and Economics. Last year TCM provided $30,000 to support the Business Tutoring Center and a scholarship. 
This year the executive committee that decides the program's annual distribution chose to enhance their outlay after becoming aware of increased needs outside of the business college due to COVID-19. 
Jeffrey Van Harte '80 (B.A. business administration-finance), chairman and chief investment officer of Jackson Square Partners and founder of TCM explained, "I'm proud that we gave to different university programs outside of the business school in this very difficult time, and that we made the effort to more than double our distribution for the common good of the university."
Alongside matching gifts from Van Harte and his firm, TCM supported the following programs:
CBE Tutoring Center: $30,000
Center for Healthy Neighborhoods: $12,000
Center for Economic Education: $10,000
Other CBE Centers: $8,000
School of Nursing: $7,500
President's Scholars: $7,000
Guardian Scholars: $5,000
Visit the Titan Capital Management website, Facebook page or LinkedIn to learn more about the program.
Contact: Karen Lindell, klindell@fullerton.edu