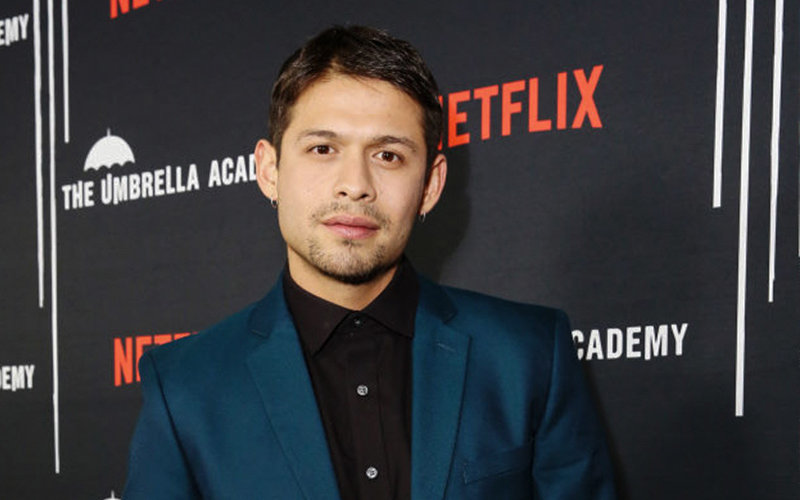 Alumnus David Castañeda '15 (B.A. communications-radio/TV/film), most notably known for his role as Diego Hargreeves in Netflix's superhero TV series "The Umbrella Academy," didn't always know that he wanted to be an actor, but Cal State Fullerton helped him realize his passion and potential.
How did you choose CSUF and a radio/TV/film (now cinema and television arts) major?
Cal State Fullerton was welcoming, and I appreciated that it was very close to home. I went into civil engineering, and I had this image of what I was going to do: be a civil engineer, work at my dad's construction company, take over, make money, have a family. While I was studying civil engineering, I was auditioning for short films or student films on the side. I realized at some point that I was on the wrong trajectory. I told my parents that acting and directing was something I wanted to do, so I went into RTVF.
How did CSUF prepare you for your career?
I felt like I belonged at CSUF. I was part of the TV-Film Society club and made friends there. Shelley Murray, the club adviser, was great. She would be at our meetings and point out that every time she saw me, I had a script in my hand. My first-ever audition was for a student film at Cal State Fullerton, although I bombed it! Another benefit of going to Fullerton was commuting. I was in La Puente/West Covina, and I'd commute to campus, then I'd go to LA for my auditions. I never had time to stay in LA to hang out because I had to be back at CSUF for a class. It kept me out of trouble.
How did your career path go en route to "The Umbrella Academy"? 
I just kept auditioning. Through more classes and preparation, I learned about characters, frame and taking fear away from the camera. I started understanding a deeper level of human psychology and brought that into my acting. The break that made me feel like I could definitely see myself acting as a career was when I did the sequel to the film "Sicario." That one made me feel like I could fit into that format of storytelling. 
What has it been like to land the role of Diego Hargeeves?
When I realized the showrunner for "The Umbrella Academy" had worked on "Altered Carbon," "Fargo" and "Legion" ("Fargo" is my favorite TV show), I was excited. I've put a lot of pressure on myself to keep up with my cast because everyone is incredible. It's turned out pretty well, and thankfully Netflix gave us a second season. It's nice that critics are receiving it positively, but I try not to pay too much attention to reviews because they can lead you down a really dark hole. My family helps keep me grounded.
What advice do you have for students?
If you can write, act and direct, it's good to mingle in all of it. At the end of the day, it's all storytelling. What's needed are more storytellers from the Latino community. There's a responsibility, at least for Latinos, to make our community realize that we can go into this field. And for the up-and-coming filmmakers at CSUF: Work hard so you can hire me. I'm going to need another job at some point.
Visit the cinema and television arts website to learn more about CSUF's program.
Contact: Karen Lindell, klindell@fullerton.edu