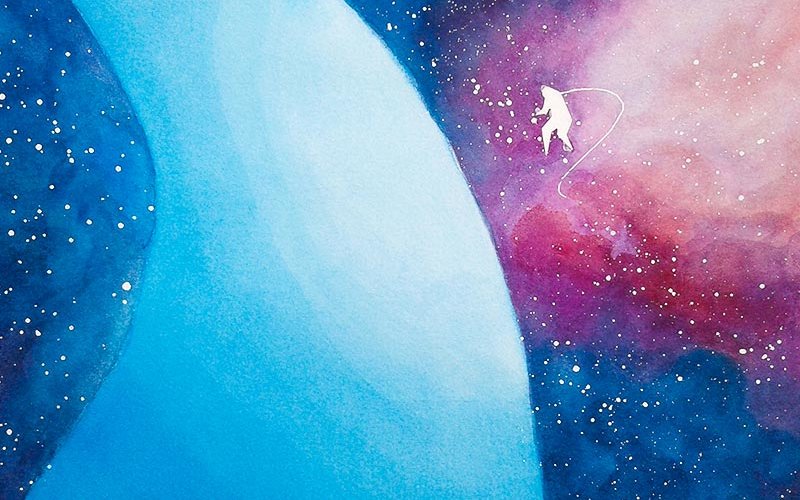 With dazzling artwork and prolific prose about science fiction, hip-hop movements or serious topics like AIDS, zines are handmade, self-published books or pamphlets made for "passion, not profit," according to aficionado David Sandner.
A fan of zines since a teenager, Sandner, professor of English, comparative literature and linguistics, wants others to learn more about these individualistic literary gems. He is the project director of "Zines to the Future! (Re)making SoCal Futures" — a virtual exhibit at Cal State Fullerton's Pollak Library. A zine, pronounced "zeen," is short for magazine or fanzine.
"Zines all have one common element: the celebration and exploration of science fiction and other genres," Sandner said.
With the theme "Imagining Diverse Futures," the exhibit in the Salz-Pollak Atrium Gallery opens virtually Oct. 29 and continues through December. The library is not open for in-person exhibits due to the novel coronavirus pandemic.
The exhibit showcases the history of zines and displays of rare zines and original zines created by CSUF students. Students, including art, African American studies and English majors, are involved in the project in a variety of ways from making and writing zines to creating art or installing the physical exhibit, Sandner said.
Online activities and events include zine-making workshops at the library's Innovation/Makerspace Center, videos, a virtual panel and readings, and more. (See related story) The interdisciplinary project is supported by a $5,000 award from California Humanities, funded through the Humanities for All Quick Grant program.
When did zines begin and what draws people to create them?
Zines began as "fanzines" in the 1930s when science fiction was just getting started as a genre. They reflected the passion of fans talking about something they loved. Zines spread science fiction until it became the ubiquitous genre we know today: the source of countless streaming TV shows, movies, books, manga, comics and more. People make them because they need to express something —and there is no better outlet for their passion.
What are popular zine topics?
While zines began in science fiction, "zinesters" brought zine-making to rock-and-roll music, giving rise to the first rock-and-roll criticism and magazines. Punk embraced zines and their DIY (do-it-yourself) aesthetic. The hip-hop and Riot grrrl movements used zines to spread the word. Zines are vital in the queer community, talking about AIDS, for example, when no one else would, and leading to the Queercore, punk+queer music movement. There are hundreds of "kinds" of zines, depending on how you see it — from general to specialized zines of all sorts. There is no limit … and that's the point.
Why did you want to do this exhibit?
CSUF's University Archives and Special Collections is a treasure and has an amazing science fiction collection, including the papers of important writers like Philip K. Dick, Frank Herbert and Ray Bradbury, among others. Zines have become a big deal with many people in the "maker" movement wanting to make their own, including students who began to make zines themselves and show them to me.
What are some exhibit highlights?
The exhibit features zines that date back to the 1930s. These include the International Observer, published by early science fiction writers and editors. Others are the first Star Trek zines that helped save the show from cancellation and the Philip K. Dick zines made by Paul Williams, who invented the rock-and-roll zine. The Philip K. Dick Newsletter helped promote a neglected writer, who is now considered an important 20th century American writer. We have early zines in the rise of Tolkien fandom, "sword and sorcery" fandom, and Los Angeles science fiction zines out of one of the oldest and strongest fandoms  — and from which emerged the first queer zines and magazines. There are also early zines with writing by H.P. Lovecraft, Robert Bloch, the author of "Psycho," and many others.
What do you hope people learn?
Zines are humble productions made from love and yet they changed our popular cultural landscape. Zines had a role in the way so many Star Trek shows are still being produced or in the publication of new high-end editions of Philip K. Dick's work. They drove punk music and hip-hop into our consciousness — even for those who didn't read them — because they provided a way for true believers to connect and talk. Science fiction invented zines, and in doing so, invented a way for fans to change everything. The large scale fandom of Star Wars and large events like ComicCon or WonderCon are the outgrowth of the early, on-the-ground organizing of ephemeral zines made for the love of art.
Contact: Debra Cano Ramos, dcanoramos@fullerton.edu