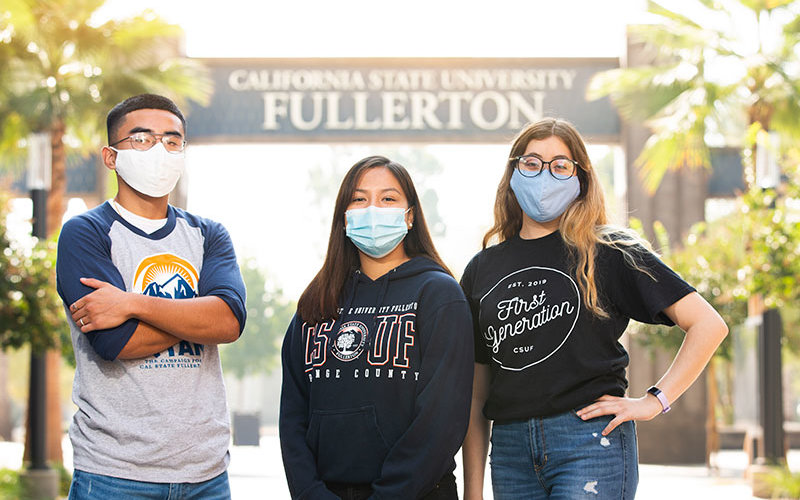 College can be stressful, and particularly so for Latinx students, many of whom are first in their families to pursue higher education. According to new research from human communication studies faculty at Cal State Fullerton, one way to combat such stress, along with depression and feelings of isolation, is social support from family and friends.
Tara Suwinyattichaiporn, assistant professor of human communication studies, centers her research on mental health and well-being — from empathy to phubbing and civil dialogue. Noting that as a Hispanic-Serving Institution, CSUF has a large Latinx student population, and that research in the last decade has shown high levels of stress and depression among such students, she wanted to better understand what might help with this mental health epidemic.
"I wanted to study social support from families in particular," explained Suwinyattichaiporn, "because Latinx culture is collectivistic (i.e., emphasizes the needs and goals of the group over the needs and desires of each individual). How your family views you and your success is important."
Using a CSUF Junior/Senior Faculty Research Grant, Suwinyattichaiporn sent an online survey to a random sample of students at the university, asking them to rate a series of statements pertaining to stress, depression, social isolation and social support. The correlations and analysis were based on data from 907 first-generation Latinx undergraduates.
The research, co-authored by Zac D. Johnson, associate professor of human communication studies, was recently published in the Journal of Hispanic Higher Education.
First-Generation Latinx Students Face Cultural Barriers
The study found that Latinx college students, particularly first-generation, face multiple cultural barriers that together result in enhanced levels of anxiety, which could lead to clinical depression.
"When Latinx and first-generation statuses are combined," Suwinyattichaiporn noted, "the friction is greatly enhanced. What's emphasized in Latinx culture are family and collectivism, and what's stressed among first-generation students is 'my family doesn't understand me.' The combined effect is 'their opinion matters to me a lot, but they don't understand me.'"
Another source of tension for Latinx students is invalidation or dismissal of mental health issues of young people by their seniors. First-generation students often face family members questioning the merit of higher education, and they feel socially isolated from that world while working hard to make connections in their new environment.
Providing Social Support to Students
The research demonstrated that social support from friends can mitigate this feeling of isolation. "If you have friends who are first-generation," Suwinyattichaiporn advised, "reach out — ask them how they're doing. It can go a long way."
She emphasizes that all students benefit from social support. However, providing such support is perhaps more intuitive for those who have gone through the college experience themselves and for those in more individualistic cultures.
Suwinyattichaiporn urges higher education institutions to offer training on this topic to both students and parents: Students would learn how to explain their college experience to their family, and parents could get specifics on how to provide social support (see sidebar).
Student support services at CSUF, including the Latinx Community Resource Center, have developed some training related to this subject, and they continue to update resources based on the latest research findings and best practices.
"Social support — listening, validating and providing tangible help — these are acts of love," explained Suwinyattichaiporn. "All this combined is going to really enrich the experience of Latinx first-generation students."
Read the research: "The Impact of Family and Friends Social Support on Latino/a First-Generation College Students' Perceived Stress, Depression and Social Isolation."