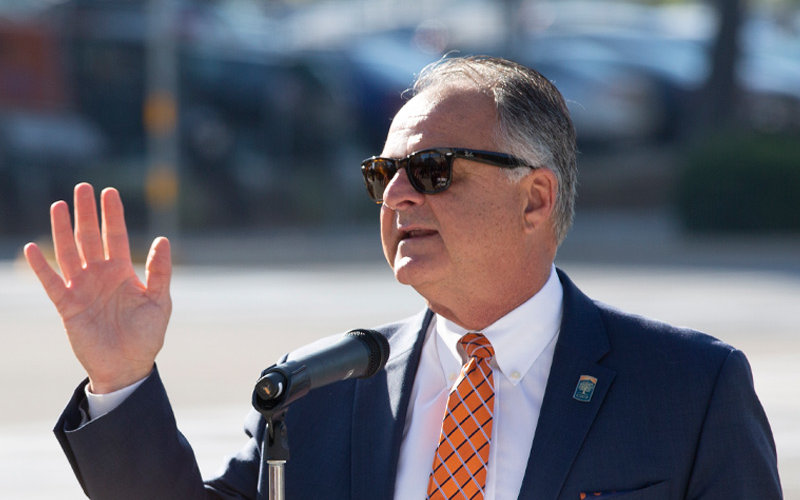 President Fram Virjee was one of six recipients of an OC Influencers for Good Award presented by the Institute for Community Impact and the Passkeys Foundation. The award recognizes Orange County leaders who serve as pillars of the community.
"I am happy to accept this award on behalf of all Titans," said Virjee, who delivered the keynote address. "It is a great honor to share this with others who are working collectively and collaboratively to make Orange County a national leader in diversity, inclusion, social justice and equitable access to health care, higher education and upward mobility."
Cal State Fullerton represents "the last best chance at upward mobility for our more than 40,000 students," he said. "Nearly 60% of our students are first-generation, meaning they are the first in their families to attend college. More than 60% are students of color and nearly half are Pell-eligible, meaning they are eligible for federal grants that overwhelmingly go to families who earn less than $50,000 a year."
Of course, the pandemic has brought many changes with 97% of classes being held virtually.
"We have become even more proficient at teaching our students remotely," Virjee said. "We are now making measured progress in developing a plan that will allow us to return to campus, safely and responsibly. We've launched our university's first comprehensive philanthropic campaign to raise $200 million, and we received unanimous CSU Board of Trustees' approval of our physical master plan — redoubling our commitment to be a steward of place for both our students and surrounding communities.
"But it is important to note that for some time, the through-line of all our work and achievements have been anchored in the subject that weighs heaviest on our hearts and minds over the past months: social justice, equity, inclusion and the eradication of intolerance, injustice and racism."
Virjee pointed out that the university has intensified its efforts to address these societal ills and noted that we must "acknowledge that white privilege and systemic racism is built into the fabric and institutions of our beloved nation. I believe that much of the change we seek in Orange County begins at Cal State Fullerton. However, the issue is national and so our solutions must also be national."
To that end, Virjee, along with presidents from universities across the nation, developed a Diversity, Equity and Inclusion statement. Together, the presidents created a national speakers series centered around seven pillars of diversity, equity, inclusion, social justice, free speech, leadership and voting.
Virjee concluded his speech by adding, "None of this is possible without all of you and so many other Orange County leaders who recognize that Cal State Fullerton and its students are worthy of an investment that provides the greatest possible return — an educated workforce."
Visit the Titans Together website for more information on CSUF's justice, equity and inclusion initiatives.