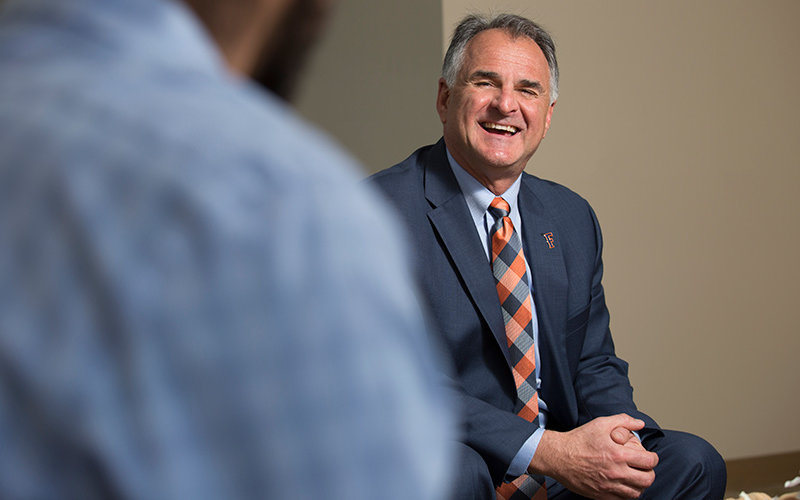 Dear Titans:
After writing a Thanksgiving reflection for the Orange County Register, I wanted to share a version of it directly with all of you – our faculty, staff and students. It is the story of my first Thanksgiving in this country and what we, as a university that sits upon occupied land, must recognize with greater reverence and responsibility.
***
As a six-year-old newly-minted immigrant with an East London accent, short pants, and the moniker "Framroze," I didn't exactly fit in at school upon my arrival to this country. But as "unique" as I was to my new classmates, things were equally peculiar for me, particularly the holidays. That first year, I learned about Valentine's Day, Memorial Day and Fourth of July, but when my first Thanksgiving came along, I was more than a bit lost.
It wasn't until we traveled to my American grandparents' house for Thanksgiving dinner that the spirit of the holiday began to formulate in my young mind. As evening approached, Grandpa stood on the front porch and unleashed a "Come to dinner!" that shook the birds from the trees (and me in my boots). As my cousins and I scurried into the house, Grandpa kept calling, and I realized he wasn't just inviting us in for dinner, he was welcoming everyone.
That first year, the answer to his clarion calls began with a thin man with a deeply creased face who approached from the street. After welcoming him into the house, Grandpa kept calling, and slowly more guests arrived, each appearing hungrier than the last. Soon, new seats were squeezed around tables that wound through the house, but Grandpa kept calling. "There are no more seats," I whispered to Grandma. "That happens some years, love," she whispered right back. "Grandpa will give up his seat if he needs to, and so will we."
I am not sure I realized it then, but Grandpa's Thanksgiving pre-meal tradition taught me more about the holiday than any 1960s-era classroom or history book ever did or could. No, his benevolence did not address America's narrative that both disregards the colonization of indigenous people and perpetuates the myth that the imperialism our nation is founded upon was somehow consensual rather than violent. To be clear, I have no doubt Grandpa would have stood tall against those injustices had he been provided with the tools and education to know those truths.
What Grandpa did get across so well was that this holiday calls upon those of us, like me, who are born with more, with privilege, to examine that truth; to challenge the idea that our bounty has more to do with hard work than an abundance of unearned opportunities that came too often at the expense of others; and to express our gratitude for the blessings at our table by ensuring others have equitable access to it – even if it means giving up our own seat.
Fellow Titans, as we approach Thanksgiving during this very challenging time, I am most grateful for those of you who do this work every day, infusing the spirit of hope, justice, equity and opportunity into the fabric of Cal State Fullerton.
It is visible in the tenacity of our students who just earned the highest GPAs in our history while navigating COVID-19, caring for loved ones, and standing against the systemic racism that continues to be our nation's true underlying plague.
It is knit into the work of our faculty and staff who spent their summers training to become even more effective virtual educators – including through trainings that aim to see us more fully recognize our commitment to racial equity, full inclusion and social justice. It is reflected in the leadership of our ethnic studies faculty who are creating GE courses that will ensure all Titans understand our nation's complex legacy of race-based inequity so that we can better live up to our democratic promise as we move to the future.
And it is in Cal State Fullerton's commitment to better acknowledge that the land we teach and learn upon was first inhabited by indigenous people who stewarded the region for generations. As current occupants of this land in the territories of the Kizh (Tongva) and Acjachemen, we seek to honor these tribes — past, present and future — with greater regularity and reverence while also recognizing the more than 100 other tribes historically tied to the state of California.
Titan Family, please know that this work, these commitments, and all of you are the blessing for which I give thanks this season. And even as we responsibly observe the holiday — with social distancing, masks, small outdoor gatherings and virtual get-togethers — we can and must ensure our Titan tables are as welcoming and inclusive as ever.
Sincerely,
Fram Virjee
President