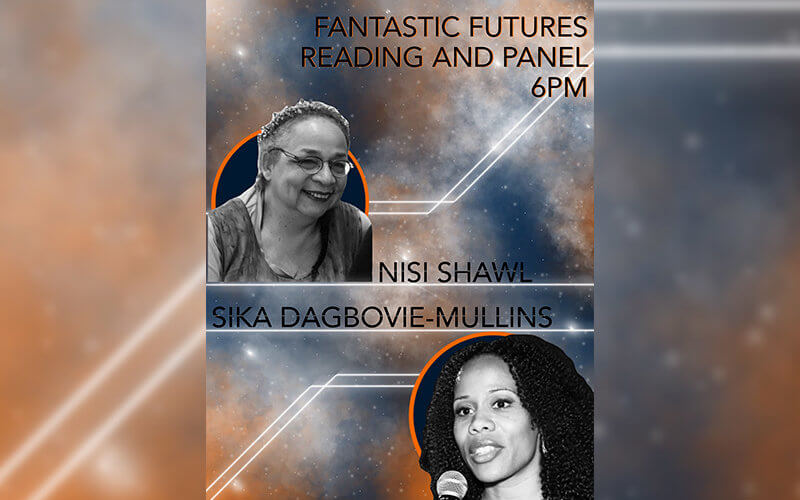 Science fiction, comics and fantasy genres often don't depict people of color, including Black characters.
"When Black characters do appear, they often represent timeworn stereotypes or have no connection to Black cultural realities," said Natalie J. Graham, associate professor of African American studies and director of Cal State Fullerton's newly established Institute of Black Intellectual Innovation.
Graham hopes to change this depiction by using sci-fi, fantasy and futurism writing to address social justice and equity issues through events such as the recent "Fantastic Futures" reading and panel discussion.
The event was part of the institute's inaugural "Innovative Arts Futures Conference," themed "Imagining Freedom." Nearly 300 students, and campus and community members attended the Dec. 3 daylong virtual conference. The institute is an initiative to institutionalize the support and inclusion of Black people, culture, creative arts and intellectual history at CSUF and the community.
The "Fantastic Futures" panel discussion also was part of the "Zines to the Future!" project and Pollak Library exhibit, created by David Sandner, professor of English, comparative literature and linguistics.
"The idea of imagining a better world and future possibilities through creative and literary arts is what the event was all about," said Graham, who moderated the panel discussion.
"It's important that we include and amplify voices of Black authors and scholars. For students, it's difficult for them to imagine a future in the writing world with themselves in it if they don't see authors who look like them or stories that are culturally relevant or representative."
'Fantastic Futures' Panel Talk
Panelists were Nisi Shawl, a Seattle-based, science fiction writer and author of the Nebula Award-nominated novel "Everfair," a utopian alternate history set in the Congo, and Sika Dagbovie-Mullins, associate professor of English at Florida Atlantic University, where she specializes in modern and contemporary African American literature.
Shawl wrote "Lazzrus," published in the 2016 anthology "Upside Down: Inverted Tropes in Storytelling," and read — and sang — an excerpt.
"The trope I was inverting was that of the Black man dying first. I thought it fit very well with the event's theme of resistance to police brutality; it begins with a historical event, the bombing by the city of Philadelphia of a Black residential neighborhood," Shawl said. "This awful, militarized attack, known now as the MOVE bombing, gives rise in my fictional narrative to a young Black boy's discovery of his near-immortality."
Shawl wrote the story to give hope to Black youth in the U.S., including Shawl's nephews, who've had their own run-ins with police.
"I wanted to create a model for them, an indestructible figure overcoming the bigotry and unconscious bias they face every day," said Shawl, who has written a sequel focused on the same character, titled "Sunshine of Your Love," which appeared in the 2017 anthology "The Sum of Us."
Black Superheroes
Dagbovie-Mullins discussed the comic "Moon Girl and Devil Dinosaur" as an example of a Black female in a fantastic or mythical space who has otherworldly powers. The comic is about a 9-year-old Black girl, Lunella Lafayette, and her red Tyrannosaurus rex partner.
While her presentation celebrated the depiction of Lunella, she also critically analyzed the comic's unintentional stereotypical associations of blackness with darkness, primitivism and criminality.
"This demonstrates how difficult it is for popular culture — and other texts — to resist stereotypical representations of blackness that are deeply embedded in American culture and history," said Dagbovie-Mullins, who co-edited the anthology, "Mixed-Race Superheroes," set for publication in spring 2021.
The anthology collection examines the intersection of critical mixed-race and superhero studies, including the representations of racial mixedness that challenge, complicate or reinscribe stereotypes of mixed-race, and the idea of the superhero primarily in comics, film and television, Dagbovie-Mullins said.
"Texts featuring mixed-race characters and superhero texts often share several thematic concerns, such as the tension between belonging and not belonging, authenticity and purity, dual identities, passing, and alienation. Our collection fleshes out these connections and is the first book-length text (that we know of) to do so," Dagbovie-Mullins said.
The next Institute of Black Intellectual Innovation conference is scheduled for April 20. For more information, visit the institute's website or contact Graham at ngraham@fullerton.edu. To support the institute, visit the CSUF giving page.