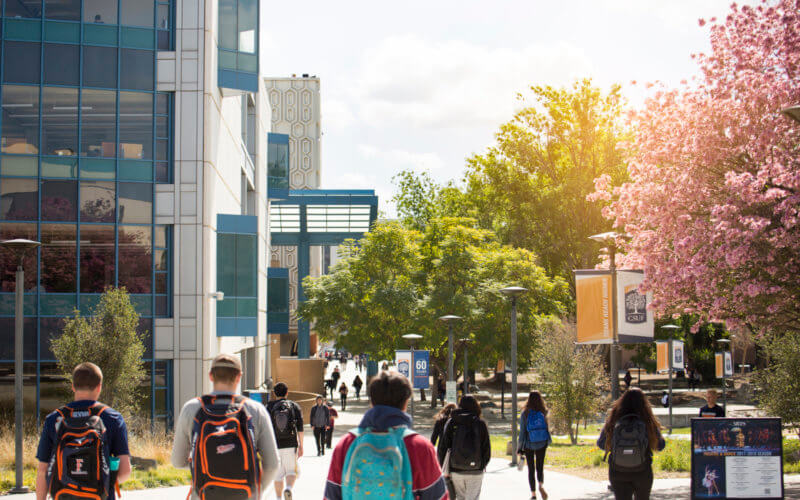 Cal State Fullerton was ranked third among the top 10 universities for social mobility in a report released Dec. 1 by Education Reform Now, a nonprofit advocacy group. The findings focused on social mobility "elevators" of low-income student enrollment and outcomes at four-year colleges and universities.
Examining Pell Grant students, typically individuals from households earning less than $65,000 a year, enrollment and graduation figures were determined using weighted averages of academic years 2016-17, 2017-18 and 2018-19.
During the years studied, 48.42% of students at Cal State Fullerton (16,883) received Pell Grants. Nationwide, almost 7 million college students received Pell Grants. Of the approximately 1,900 colleges and universities in the United States, only 614 were identified as institutions of higher education where students with Pell Grants were more likely to graduate than drop out and where federal loan repayment and default rates are better than average.
The "social mobility elevators" were based on the share of Pell Grant students enrolled, Pell Grant student graduation rates and the number of Pell Grant students served. To be included, a university or college needed more than 50% of its students with Pell Grants to graduate within six years, fewer than 6.9% of students defaulting on their student loans within three years of entering repayment, and at least 75% of students paying down their federal loans within five years of entering repayment.
Although hundreds of schools enroll large numbers of Pell Grant students, universities need to provide the academic and student services that drive higher graduation rates. At Cal State Fullerton, 65% of Pell Grant students went on to graduate.
According to the report, "Higher education remains an important driver of social mobility in America. Everyone benefits when low-income and working-class students enroll in and complete postsecondary training. Those with postsecondary degrees earn more, are more likely to be employed and pay more in taxes. Racial inequities in employee and income increasingly even out where there are higher levels of education attainment."
To read the complete report, visit Education Reform Now. https://edreformnow.org/blog/social-mobility-elevators/