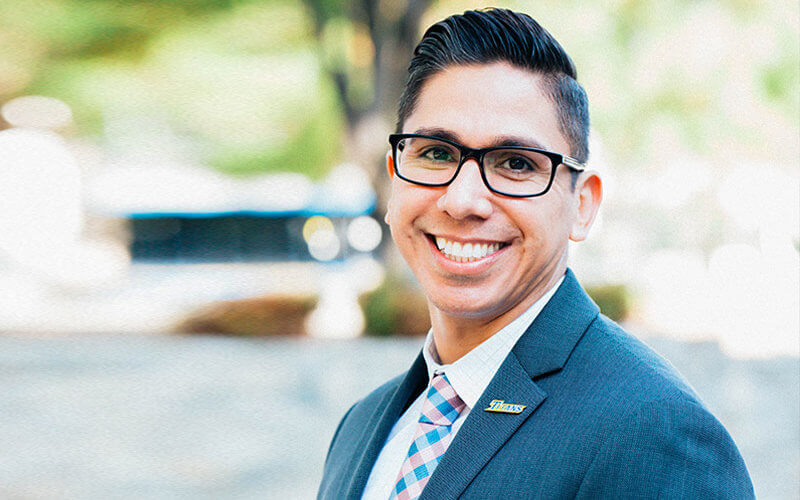 Student affairs leader Vincent Vigil knows what it's like to grow up in a home where domestic violence prevailed. His alcoholic father was abusive toward him and his mother. His mother never reached out to anyone for help — the shame and embarrassment overpowered her.
"As a kid, I didn't know what was really happening in my home. As I reached my preteens, my father's drinking increased, and his words got meaner and he got more aggressive," shared Vigil, Cal State Fullerton's associate vice president for student affairs and dean of students.
"When these attacks happened, my mom and I would console each other, usually with tears and hugs, and sometimes we would retreat to a local motel for the night."
Vigil shared his personal story at this fall's Violence Prevention Conference, themed "Violence Prevention in the Time of COVID-19." The 21st annual event was held virtually for students, faculty and staff and featured community advocates. Vigil oversees several areas of student affairs, including Health Services, Counseling and Psychological Services, and student programs such as TitanWell.
As a teenager in high school, Vigil had enough and confided in family members for help. By this time, his mother had left his father, whose own father was abusive, and she had become involved in another abusive relationship. He moved in with his grandparents on his mother's side and slept in their dining room: "I didn't know about the cycle of abuse; I thought all families were like mine."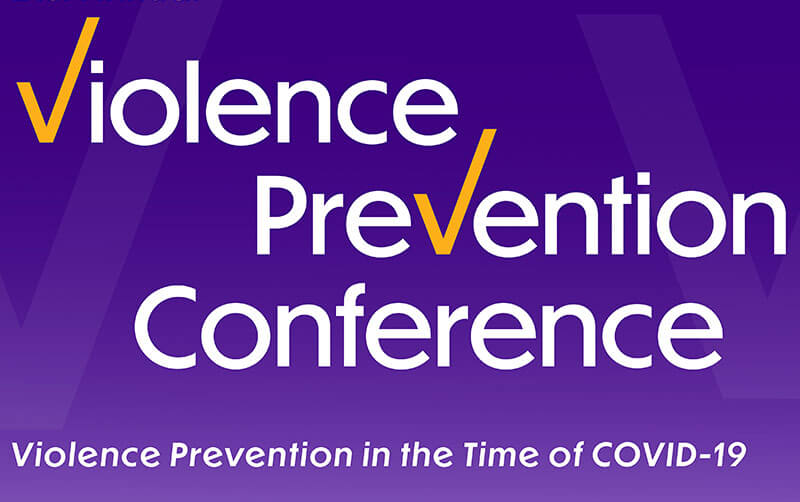 The Pandemic and Abuse
This year's conference explored the challenges associated with COVID-19 and violence in the home. Discussions focused on such topics as domestic violence, intimate dating violence and stalking, and human trafficking.
"My hope is that students will learn from my experiences," Vigil said. "I hope I was able to reach any students that may have had similar experiences as my own and that these experiences do not need to define the rest of their lives.
"Instead, students can overcome these hardships and make better lives for themselves by focusing on themselves and their education. I also hope my talk will encourage students to seek support and help to deal with the trauma inflicted upon them. I believe this will improve their sense of self and relationships with others."
In the United States, according to the National Coalition Against Domestic Violence, more than 10 million adults experience domestic violence annually, Vigil noted. During the COVID-19 pandemic, the number of calls to domestic violence hotlines has increased because people are having to stay at home. As a result, victims are unable to safely connect with services since abusive partners have used the pandemic to further control and abuse, Vigil said.
"It's impacting the ability of victims to access support and services. Imagine any individual going through what I have experienced, and then add the pandemic, and it results in multiple stresses at home."
Vigil emphasized to students that outreach and education are now more vital than ever, and that advocacy work by staff, faculty and the community is equally important.
At Cal State Fullerton, there are a number of resources for students offered at the WoMen's and Adult Reentry Center, through TitanWell and YOU@Fullerton, a new online resource for mental health and wellness for students, as well as faculty and staff.
Breaking the Cycle of Violence
Like many, Vigil didn't learn about domestic violence from a school counselor and how it impacts individuals and families. Instead, he learned about domestic violence from TV shows that brought public attention to the issue.
"I learned a lot from these TV shows, especially how important it is to seek support and talk to someone about your experiences," Vigil said.
While his mother stayed in the abusive relationship with her boyfriend for 15 years, and slowly lost everything in her life, their relationship became strained. Vigil, who has since rebuilt his relationship with his mother and has not seen his father in years, sought therapy and dealt with alcoholism — he's been sober for 10 years — and concentrated on higher education to break the cycle.
Vigil came to CSUF in 2015 and has held various roles in student affairs. He earned a doctorate in higher education and a master's degree in student affairs from USC and a bachelor's degree in business administration from Whittier College.
"There is a lot going on in our country right now. I get it. We are all exhausted. I am exhausted," he said. "But we cannot lose our focus. We need to continue to work together to provide support and resources to individuals, students and kids that are in situations like my own."