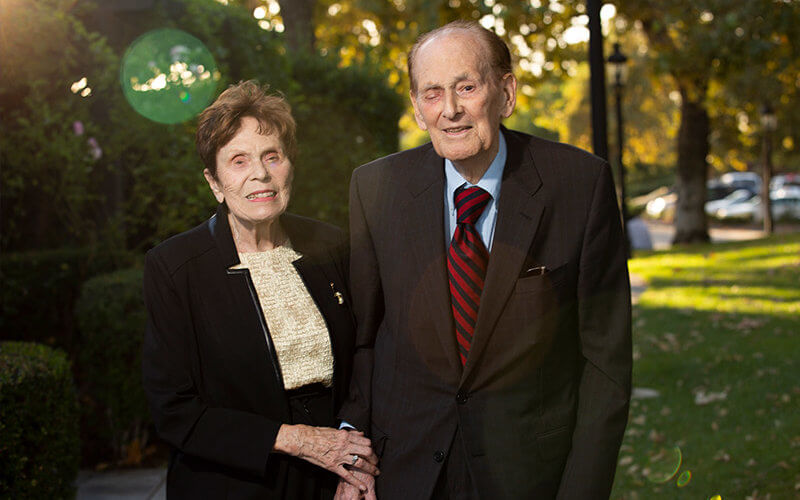 Cal State Fullerton donor and campus supporter Lee Begovich shared how for her late husband, Nicholas, science and engineering was his life. Now, supporting students in the College of Engineering and Computer Science is part of his legacy.
"He loved to interact with students," said Begovich, 91, the longest serving member of the CSUF Art Alliance. "I hope he was an influence on them, too."
At a Dec. 10 virtual event to thank donors and applaud student scholarship recipients, the college recognized the Begoviches with its 2020 "ECS Philanthropist of the Year" award.
The Fullerton couple's $10 million gift earlier this year launched CSUF's "It Takes a Titan: The Campaign for Cal State Fullerton," a $200 million fundraising community campaign. Nicholas Begovich donated 14 European sports cars in his collection to the university.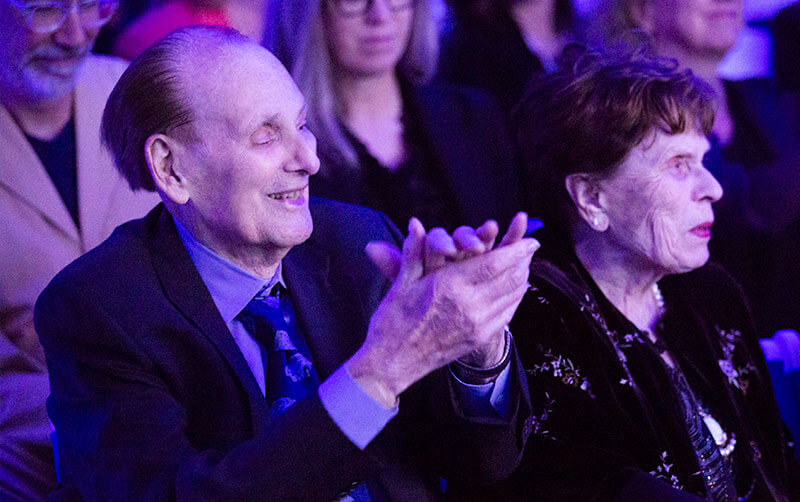 Of the gift, $3 million is supporting interdisciplinary research, new courses and electives, student projects, early-career faculty members, and other College of Engineering and Computer Science initiatives. The remaining amount is supporting gravitational-wave research in the College of Natural Sciences and Mathematics.
President Fram Virjee, and his wife, Julie, praised the Begoviches' generosity to the college and university and fondly acknowledged the couple's lifetime of service and investment in Cal State Fullerton.
"Nick was always fascinated by innovation in science and engineering," the president said of Begovich, who was a family friend and died in May at age 98.
"He was one of the most curious men I've ever met in my life. I know Nick was proud of his decision to support Cal State Fullerton and ECS. Generations of future engineers and computer scientists will benefit from the Begoviches' generosity."
Scholarships Help Students Succeed
Individual and corporate donors assist engineering and computer science students in pursuing their academic and professional endeavors. Nearly 50 student scholarship recipients were celebrated at the event.
Because of donor support, "We've been able to more than double the number of scholarships to students over the last three years," said Dean Susan Barua. "In these times, this is so important, and I hope this growth will continue."
In 2019-20, the college had the most successful fundraising year in its history, and since 2017, there has been a 400% increase in planned gifts.
Kali Sanders
Kali Sanders aspires to one day work at NASA or a major engineering company to invent products that change people's lives.
"I aim to create a world full of wonder," said Sanders, a mechanical engineering major who plans to graduate in May.
Sanders, the first in her family to attend college, is the recipient of a $1,000 Southern California Edison scholarship.
"Growing up, I did not have a father in the house, a close relationship with my family members, any role models who believed in me or that I could emulate. My mother was toxic and did not provide me any emotional, financial or physical support," Sanders shared at the event.
She overcame personal and academic obstacles to get into college — and now the scholarship will help her finish her academic journey.
"Before receiving news that I was awarded this scholarship, I was scrambling unsuccessfully to find the funds to continue my education this year," she said. "Because of this award, I will be fulfilling a dream I've had since I was a little girl of being a college graduate."
Josh Seyed
Scholarship recipient Josh Seyed is a first-generation college student. His father immigrated to the U.S. from Iran at age 14 to flee the 1979 revolution, and his mother came from Sinaloa, Mexico.
"I watched my parents always struggle to make ends meet. A high school education was the most schooling my parents had," said Seyed, who became driven to earn a college degree. "I gained a hunger, a desire and an unstoppable will to succeed in my own right."
Seyed, a mechanical engineering major who has worked part time to help pay for college, received two scholarships. He is the recipient of a $3,000 Joseph Emilio Licciardone Hero Foundation Scholarship and the $1,000 Purpura Internship Scholarship to help him complete his CSUF education.
A member of the college's SAE Titan Aero unmanned aerial vehicle project, Seyed is on track to graduate in May. He has already been offered an engineering position at Southern California Edison, where he is an intern.
"Because of your donations, students like me get to take a sigh of relief since my last year of tuition is essentially paid," Seyed told donors. "Through my success as an engineer, I hope to show the donors that their contribution has made a lasting impact on my life."
To date, ECS has achieved 85% of its "It Takes a Titan" campaign goal. To support the college and its students, visit the CSUF giving website, or contact Michael Karg, senior director of development, at mkarg@fullerton.edu.