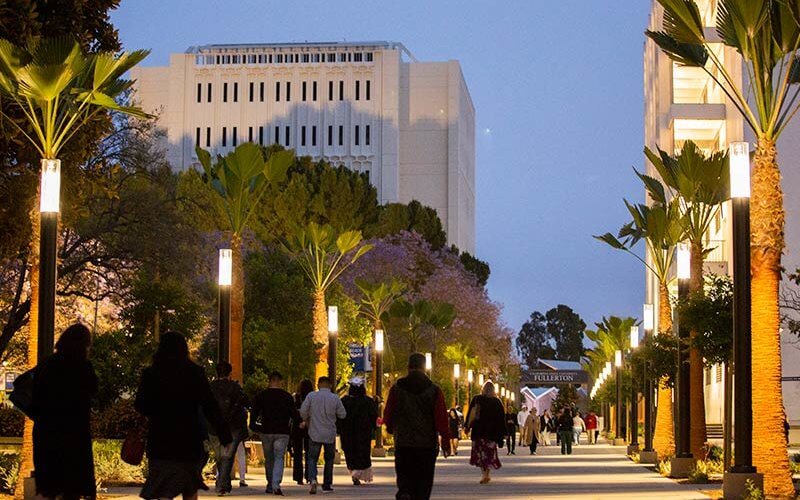 Deadline to Apply to CSUF Is Dec. 15
For the 2021-22 academic year, there is a temporary change to admission eligibility to Cal State Fullerton for graduating high school students wanting to become a Titan.
"The biggest change for the 2021-22 academic year is, for the first time, we will rely on admitting students without using traditional eligibility indexes that factor in SAT and ACT scores," said Elizabeth Zavala-Acevez, associate vice president for student affairs who oversees the College Access and Career Pathways area, which includes admissions.
"Our focus will be to look at "a-g requirements' of college preparatory courses​ and grade point average for our incoming class of first-time freshmen. We will do our best to inform students as early as possible of their application status after the application deadline."
Tonantzin Oseguera, vice president for students affairs, added there are no drawbacks of not including standardized tests in the admissions process.
"For students, it will be one less barrier to apply for college during a pandemic," Oseguera said. "Research demonstrates that standardized tests are not predictors for success in college; rather overall GPA and persistence are metrics that support overall success, which is what we are utilizing."
Prospective students have until Monday, Dec. 15, to apply to Cal State Fullerton — and other California State University campuses — due to COVID-19 challenges. The CSU announced this week the anticipated return to delivering in-person classes for fall 2021.
Zavala-Acevez discusses applying to CSUF, as well as campus resources available for prospective students.
What should prospective students know about applying for fall 2021?
First and foremost, there is still time to submit an application via Cal State Apply. We understand that financial circumstances may have changed. Application fee waivers are available to those who qualify based on changes to their income. There are financial aid programs for eligible students with need. We're moving forward with automatic enrollment deposit fee deferrals based on the student's expected family contributions (determined by their financial aid application). If students need to submit an appeal for an application fee deferment, they should do so with our Office of Admissions.
What support is available for prospective students and families hit hard by the pandemic?
If the student's financial circumstances have been impacted by a change in income as a result of the COVID-19 pandemic, students should contact the Office of Financial Aid to determine if they may be eligible for an income appeal. However, a student must be admitted, have received an initial financial aid award, and if selected for verification, must complete the verification process prior to being considered for an income appeal.
How is the pandemic expected to impact 2021 applications?
Nationwide there has been a decline in admissions applications on all levels of higher education institutions — community colleges to four-year private and public universities. The trends per campus and institution are changing daily. In following national trends, we can expect a decline, but we'll have to see how this all pans out. CSUF has been a "campus of choice" for many prospective students within our region.
Why is CSUF expected to continue to be an in-demand college destination?
CSUF is regarded as a campus that is accessible and provides a quality education at an affordable cost — and we are the only CSU within Orange County. Our campus is the perfect place to launch a future towards a professional career or graduate school. Various national and state rankings position us well, along with all of our work toward getting students on a path of academic success. CSUF is one of two campuses within the CSU system on track for Graduation Initiative 2025, which provides academic support and removes barriers so students can accomplish their academic goals. This says a lot about our mission and commitment to student success.
What are some tips and campus resources for prospective students?
Prospective students can get connected with our student service areas at any time they need via Titan One-Stop-Shop, which offers virtual resources, and relevant and timely information from various departments. There is still plenty of help and support via virtual engagement, workshops and live chats through our Outreach and Recruitment team who is ready to help with inquiries about applying to CSUF.
Prospective students need to apply for financial aid by March 1, 2021, and submit the required documents by April 30. Timely document submissions are imperative to ensure students receive timely disbursement of their financial aid in time for fall 2021.
When applying to CSUF, prospective students should use an email they will use beyond their graduation and departure from high school. This will ensure that they continue to receive communication from our campus, and not miss important information and next steps that will set them up for success as a future Titan.