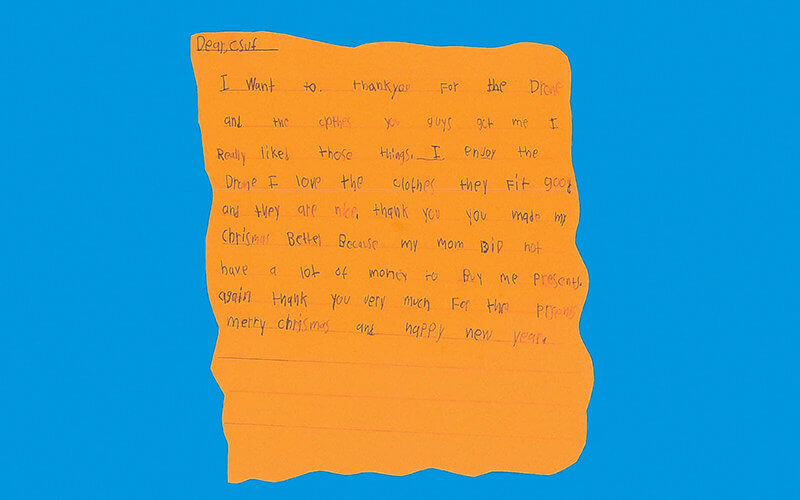 For Chalea Forgues, the holidays aren't about the gifts you receive, but the gifts you give to others.
Through Cal State Fullerton's "Tuffy's Tidings," Forgues, chief of operations for student affairs, is among faculty and staff members who are making the holiday season brighter for Titan student parents and their families.
The holiday project, created by the WoMen's and Adult Reentry Center, benefits students in the CalWORKs (California Work Opportunity and Responsibility to Kids) program. The public assistance program gives cash aid and supportive services to low-income California families who are working toward a college degree, job training or full-time employment.
Since Tuffy's Tidings started in 2015, Forgues has participated and donated gift items from students' wish lists. Holiday giving is a family tradition in the Forgues family. She and her family have participated in an adopt-a-family program in the cities where they have lived to give her own children a way to help a family in need.
"Tuffy's Tidings is a great opportunity to help one of our CSUF families," said Forgues, who is giving to a family of three, including two children ages 7 and 11. "It's a wonderful program that truly helps our student parents so they don't have to worry about what they will get their children for the holidays."
This holiday season, 28 students and their families are benefiting from the generosity of campus employees, said Vanessa Almanza, coordinator for nontraditional and parenting programs at the WoMen's and Adult Reentry Center.
Interested students in the CalWORKs program submitted an application for holiday sponsorship and families were paired with a CSUF employee who was given their wish list. Both families and donors remain anonymous.
Because of the coronavirus pandemic, this year's gift giving is a little different — and almost was canceled, Almanza said. To make it safe and contactless, most of the students and their families are receiving virtual gift cards for retail and grocery stores. Some gifts will be mailed — bought before the COVID-19 surge and the new stay-at-home order by the state.
Families range in size from single parents with one or more children to a family of seven, including the student, spouse and five children. Most of the student parents participating have children under the age of 10, with many of the families asking for basic necessities such as gifts cards for groceries and gas, Almanza added.
Students requested other "wish list" items such as holiday clothes, jackets and shoes for their children, "Baby Alive" and Barbie dolls and the popular Magna-Tiles, magnetic building tiles.
"We just want to help these students since they are part of the Titan family," Almanza said. "Everyone deserves to receive gifts and rejoice in the holiday."
Tuffy's Tidings is accepting virtual gift card donations through Friday, Dec. 11. To donate or for more information, contact Almanza at valmanza@fullerton.edu.