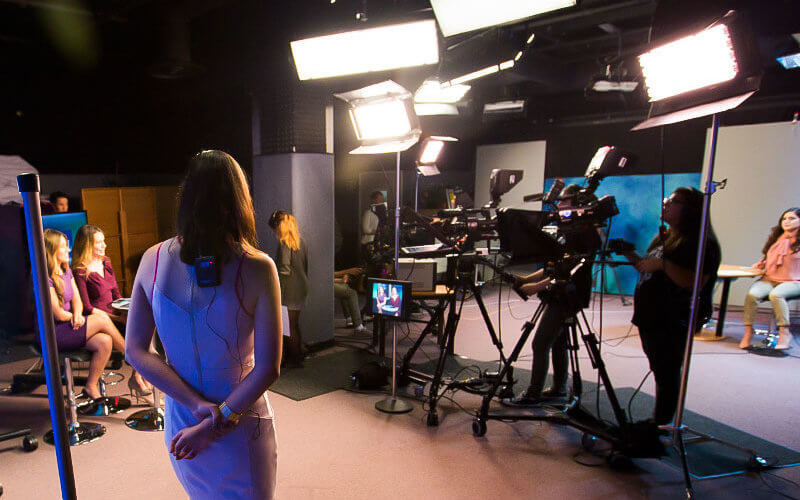 Cal State Fullerton's College of Communications is one of only 17 institutions of higher education across the nation partnering with NBCUniversal to expand learning opportunities and training for underrepresented journalism students. CSUF is the only four-year university in California selected for the NBCU Academy collaboration.
The $500,000 two-year grant from NBCUniversal funds $250,000 in scholarships for students; $200,000 to support faculty and classes in which NBCU journalists will participate as guest speakers; and $50,000 in equipment, including digital editing and production tools for multimedia reporting. Students will gain expanded opportunities to work one-on-one with news professionals, enhance global and multicultural skills, and access industry internships and jobs.
"A driving force of our success as the No. 1 university in the state and No. 3 in the nation for graduating underrepresented students is our many partnerships with world-class organizations who share our vision to provide immersive educational experiences that both meet workforce needs and promote diversity, equity and inclusion," said President Fram Virjee. "NBCU Academy is such an organization, and we are excited to partner with the NBCUniversal News Group family to produce top-notch journalists and storytellers whose diversity reflects that of our state and nation."
Bey-Ling Sha, dean of the College of Communications, noted that the grant reflects the consistent hard work and excellence of CSUF's journalism faculty and students, and the strong relationships the college has nurtured for years with community and industry leaders.
"Working together, we'll continue to enhance diversity in the journalism profession, which is so very important for ensuring that our Constitutionally-protected right to a free press remains a strong bulwark in defense of our nation's democracy," said Sha.
Jason Shepard, professor and chair of the college's Department of Communications, will lead coordination of the partnership. While all journalism students will benefit from the partnership through equipment acquisition and guest speakers, the scholarship portion will allow financial support for journalism students in need. Shepard anticipates that 25 students will be awarded $10,000 scholarships over two years. A faculty committee will meet this spring to select the first cohort of scholarship recipients for the 2021-22 academic year.
"This partnership will be transformative for our journalism students," said Shepard, "continuing our department's 60-year tradition of producing competitive, well-trained journalists who work for news organizations throughout California and across the country."