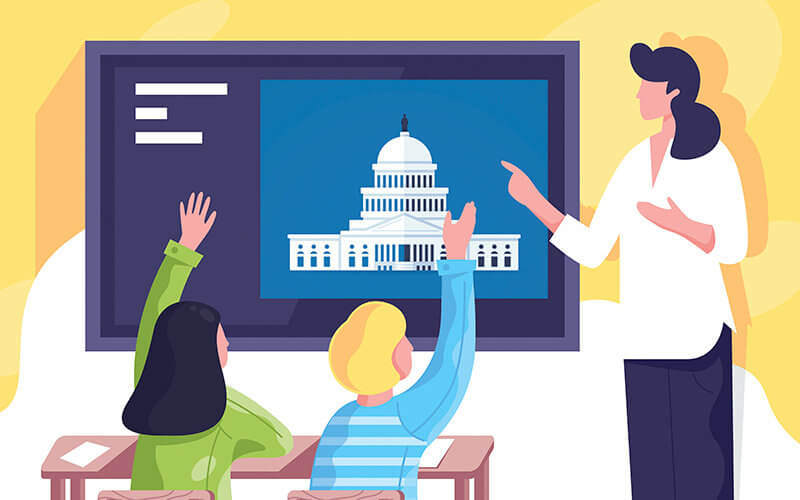 Many teachers have had to consider inviting careful dialogue into their K-12 classrooms after the Jan. 6 insurrection at the U.S. Capitol and other national events.
Having that conversation is especially important, said Alison Dover, associate professor of secondary education at Cal State Fullerton. Dover said educators have a legal and ethical responsibility to condemn hate, violence and treason explicitly and directly.
"It's important to acknowledge that the attack on the Capitol didn't happen in a vacuum," Dover said. "It is a product of the broader landscape of racism, white supremacy and intense partisanship that plagues our country."
While Dover encourages all teachers to address the Jan. 6 insurrection, she stresses that doing so should be part of a broader commitment to anti-racist and civic-oriented curriculum.
"We have an opportunity – and a responsibility – to teach the 'real world' in all subject areas, and there are many excellent resources available to help teachers do so effectively," Dover said.
She shared tips and resources to consider when leading a classroom conversation about important national events in the news with students.
Create Space for Reflection
When working with young children, drawing and journal prompts give teachers a window into what kids are thinking and feeling. Prompts like "Draw or write about something you read or saw on TV yesterday" or "What is something you talked about with your family yesterday?" can help teachers evaluate the degree to which students are aware of national events and how they feel about them.

"Teachers can develop lessons that reflect students' authentic experiences, fears and needs," Dover said. "Through these lessons, students will have a broader vocabulary, strategies to speak up and the knowledge that they are not alone."
Lessons on Media Literacy
For older students, lessons on critical media literacy are absolutely essential, Dover said. Sharing history and media sources with students can help them learn how to think critically about media coverage of the insurrection and other national events.
To gauge young people's ability to evaluate online content, Dover recommends Civic Online Reasoning developed by the Stanford History Education Group.
Lead by Example
Overall, the most important thing is for teachers and administrators to not be silent. Dover said when educators are silent on issues that matter, it teaches students that it is OK to avoid hard conversations, ignore acts of hate and violence and allow traumatizing events to continue. "Educators cannot pretend things are fine or that celebrations of diversity are enough," Dover said. "They must also prepare all students to think critically, have hard conversations in civil ways, understand when they are encountering hate and speak out against hate during difficult times. This is just one way an educator can have a lasting impact on students and communities."