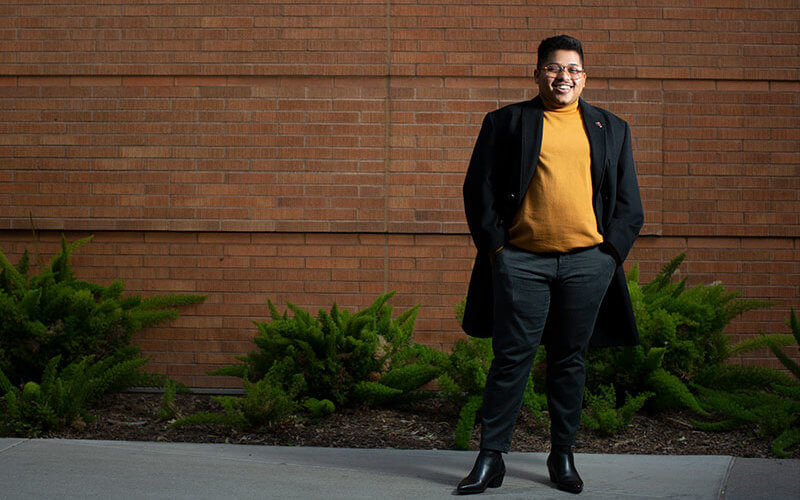 Every year, Cal State Fullerton selects a student to send to our nation's capital as a Panetta Congressional intern. Isaac Alferos, a business administration major who hopes to graduate in May 2022, was chosen.
However, in 2020, due to COVID 19, things were different. Instead of working and living in Washington, D.C., students completed their internships virtually. In fact, the House of Representatives closed because of the pandemic two days before the program was scheduled to begin. But the learning continued in a virtual environment.
"The institute does a great job of presenting interns with information on almost every domestic and foreign policy area there is," said Alferos. "And the lectures were led by industry experts. This meant that we were learning from former presidential cabinet secretaries, California state officials, leading researchers, journalists and organizers.
"We had to 'attend' more than 30 Zoom sessions in two weeks. It became an endurance game of keeping up with each lecture and understanding the subject area. Recognizing the ability to ask a cabinet secretary their thoughts on current policy is a once in a lifetime opportunity so I wanted to make sure I was well prepared and ready. I affectionately called it 'Public Policy Bootcamp.'"
While the group of Panetta Scholars from the multiple classes couldn't meet in person, they worked with each other through group chats.
"We had to write an extensive policy paper and reviews, and the group chat was critical to our success," Alferos said. "We spent many all-nighters collectively supporting each other."
Although Alferos isn't interested in running for elected office, he aspires to work on social policy, specifically on using the capacities of higher education to combat broader social issues such as incarceration, basic needs insecurity and economic inequality.
"I have known, probably since eighth grade, that I had a passion for working in public service. But when I came to CSUF, I realized my passion for social policy.
"The work we did as Panetta interns was highly informative. After completing the internship, I have a well-rounded perspective on domestic and foreign policy, and completed a comprehensive policy brief on addressing racial disparities in mass incarceration."
The Panetta Institute hosts students for its Congressional Internship Program during the fall semester. This program provides an opportunity for selected students from the 23 California State University campuses as well as three Northern California private schools to intern for the California congressional delegation in Washington, D.C.. for 11 weeks after a two-week intensive academic and orientation program held at the Panetta Institute.
This past year, due to COVID-19, the Washington, D.C., internship portion of the program was canceled. However, an academic program with more than 40 speakers was held. This program is designed to supplement the intern's education through attending and participating in the class sessions featuring nationally renowned speakers and then completing reflective and substantive session reviews. Students were also required to research and write a 20-page comprehensive research policy paper at the end of the semester.
Students interested in learning more or applying for the 2021 Panetta Institute Congressional Internship can do so online by Feb. 8. Questions? Contact Yessica De La Torre Roman, assistant director of assessment and student development, at yedelatorre@fullerton.edu or 657-278-3201.