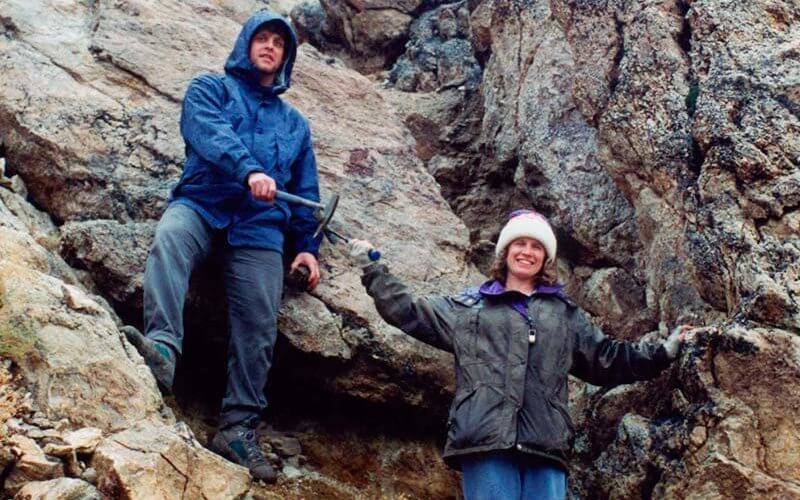 Geology alumna Christine Irwin has an untamable curiosity for science.
At a young age, she became fascinated with geology. But as a teenager, she buried her interest, that is, until a community college instructor reignited her passion to study the Earth, its geologic history, and of course, rocks. This was followed by Cal State Fullerton geological sciences faculty members who further motivated and fueled her desire to become a scientist.
Between working and attending community college, then transferring to CSUF, it took Irwin 12 years to realize her goal of earning a bachelor's degree in geology in 1995. While in college, she worked as an archeologist, where she identified artifacts at Bolsa Chica Mesa in Orange County, searched for prehistoric and historic sites at Lake Tahoe for the U.S. Forest Service and spent a summer in Ireland to unearth medieval church sites.
Teaching wasn't on her radar at first. But the enthusiasm of her college professors inspired her to become a science teacher. In 1999, she completed the university's teacher credential program to teach high school geoscience. She became a physical science teacher at Fullerton Union High School and taught for more than two decades.
"I found that I really enjoyed teaching and that I had a great rapport with teenagers," shared Irwin, who retired in June. "I had a constructivist teaching philosophy, where students' experiences drove my curriculum. I have always said that science is a verb, and therefore, my students did many hands-on labs and activities."
Irwin's science classroom was anything but ordinary. She created teachable moments with "earthquake dances" — using the arms and body to show how seismic waves move through Earth and on the surface — to help students understand scientific concepts such as plate tectonics.
Her classroom was filled with rocks, minerals and fossils so she could show students real-world examples of what she taught.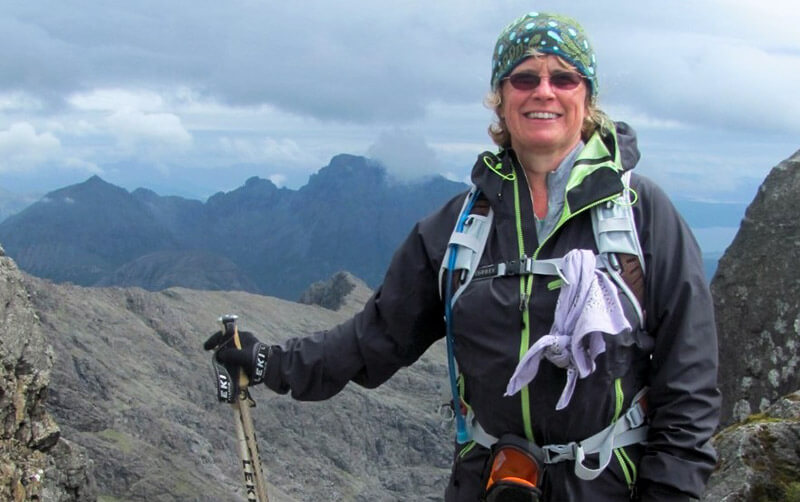 "My classroom was a safe place where high school students could shed their cool exteriors and become that curious kid again," she said.
Irwin has been recognized by her school district as an outstanding educator and has influenced young scientists throughout her teaching career, with some enrolling at CSUF to earn a science degree. In the fall, she was honored with the 2020 Alumni of the Year Award from CSUF's Department of Geological Sciences in the College of Natural Sciences and Mathematics.
Longtime supporters of the department, Irwin and her husband, Michael, who she met at CSUF and also earned a bachelor's degree in geology in 1995, are giving back to help the next generation of geologists. The Fullerton couple has pledged a $400,000 legacy gift to support geology students in their academic endeavors.
"We're excited that our gift will go toward helping students who are interested in teaching geoscience in K-12 or at the college level," said Irwin, who earned a master's degree in geology in 2008 at CSUF. "As a student who had to work throughout my college career to afford my education, every little bit helps. We hope that this gift will help students realize their college goals and dreams."
The most rewarding aspect about being a donor, Irwin relayed, is that the couple is helping students further the importance of geoscience education.
"Climate change and science literacy are important to us. The key to stopping anti-science misinformation is knowledge," she said.
Irwin recounted that during her Cal State Fullerton journey, she was exposed to the natural world, which made her a better caretaker of the environment, and met lifelong friends and colleagues she calls her "tribe."
"The rigorous curriculum in the Department of Geological Sciences — and focus on student field experience and authentic research — is tempered with a warm and welcoming climate, where students feel safe to take academic risks and are richly rewarded," Irwin said.
"My whole life changed because I was instilled with the confidence that I could be a scientist. I was taught how to read, write and think like a scientist. I am a scientist."