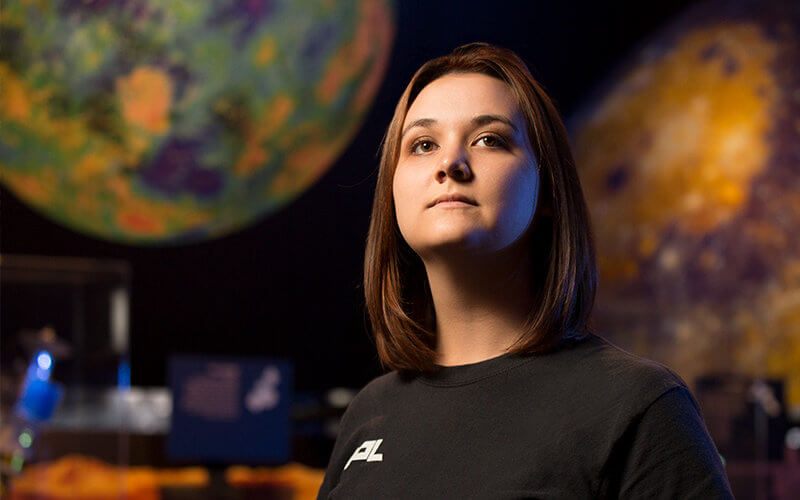 As a mechanical engineering student, Lauren DuCharme interned at NASA's Jet Propulsion Laboratory in Pasadena and worked on leading space technology.
Now, the alumna who led Cal State Fullerton's Titan Rover team, is a JPL engineer and part of the Mars 2020 mission to seek signs of ancient life and collect samples on the red planet.
The Mars 2020 Perseverance rover will search for signs of ancient microbial life, which will advance NASA's quest to explore the past habitability of Mars, and test technologies to help pave the way for future human exploration of Mars.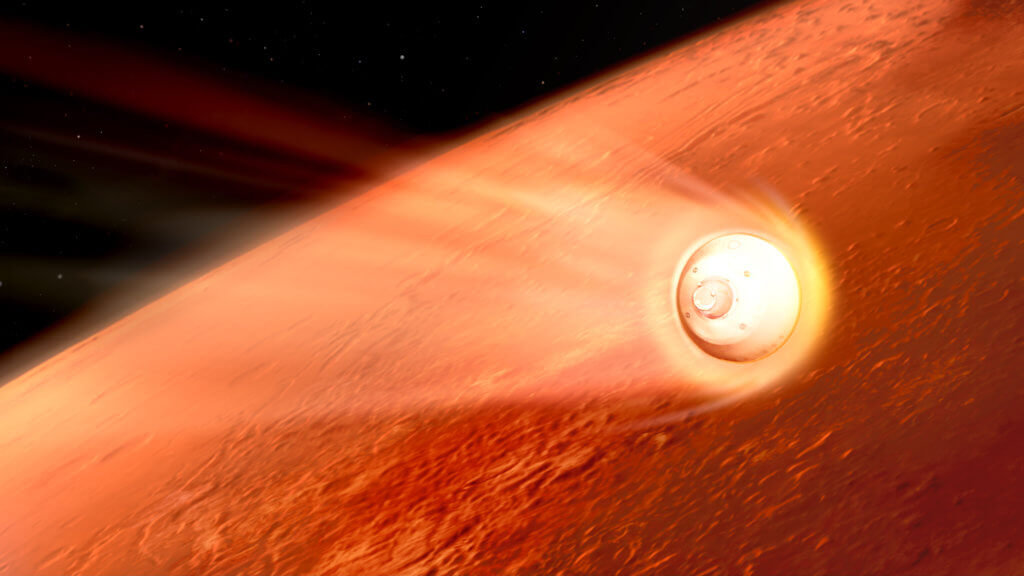 The rover will land in Jezero Crater on Thursday (Feb. 18), following a nearly seven-month, 292.5-million-mile journey. The tricky, final minutes of the entry, descent and landing — from the top of the atmosphere to the surface of Mars — is called the "Seven Minutes of Terror."
DuCharme has either interned or worked at JPL since 2014 and has been involved in research and engineering development for technologies to return Mars rock and soil samples back to Earth for analysis. In 2017, she was hired as a full-time flight systems engineer for the Mars 2020 mission. She is a member of the mission's fault protection system team, which is responsible for developing, testing and validating flight software and hardware.
Since childhood, DuCharme has been fascinated with space and spaceflight. When she enrolled at Cal State Fullerton her dream was to land a career at JPL to design spacecraft for NASA. But in her sophomore year, she faced a harrowing setback. Her car was hit by a drunken driver, shattering her left elbow and wrist. She spent six months learning how to reuse her arm.
She persisted in her academics and led the robotics team on their senior design project, which focused on developing a rover to assist astronauts on another planet.
"I feel extremely fortunate to have been able to fully immerse myself in what I am most passionate about," she said.
DuCharme, who grew up in Garden Grove, earned a bachelor's degree in mechanical engineering in 2015. She continued her education at USC and graduated with a master's degree in astronautical engineering, where she studied spacecraft dynamics.
What is most exciting about the Mars 2020 mission?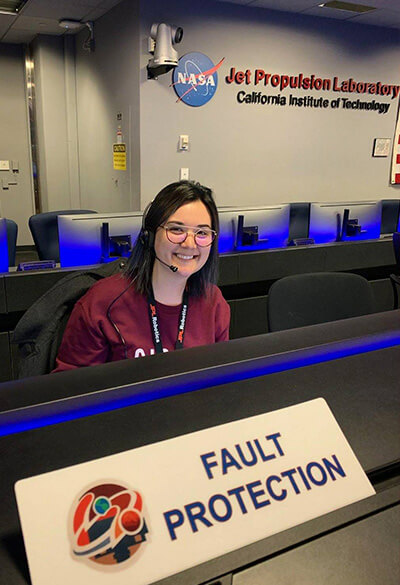 When the project was announced by NASA in 2012, I was beginning my major courses at CSUF. I like to think that Perseverance, which the team dubbed "Percy," and I grew up together. Two years into her development, I started my first internship at JPL and researched how we would retrieve the samples she collected from the surface of Mars. As I continued to grow from a summer intern to a graduate student engineer, Percy continued to grow, too, and by the time she reached critical design review, I was lucky enough to have contributed to her design. Each day since the July 30, 2020, launch, I've been on a console monitoring her health and safety, and helping her recover when she experiences anything unexpected. I will be watching with excitement as she lands and begins her surface mission on Mars.
What is your role in the Mars 2020 mission?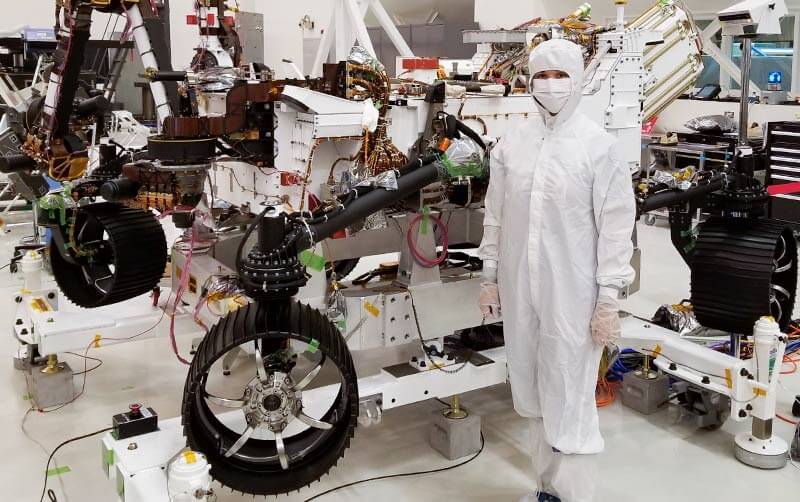 I've had many roles throughout the years from the development, testing to operations phases of the project. I've been responsible for managing the spacecraft configuration through its various phases of the mission. My role is to ensure that Percy knows how to respond and keep herself safe, whether by turning off devices or turning herself to face the sun, until the ground crew can figure out what's wrong. Due to COVID-19 restrictions, the number of team members in the mission control room on landing day has been greatly reduced to keep us safe; however, the entire remote and at-home teams will be having a viewing party and supporting our team the entire day. I will be on shift the night before, making sure the rover is safe for entry.
How did CSUF prepare you for your career?
I took a fabrication course to learn the time and effort it takes to fabricate and manufacture components we designed. This course ended up being the most valuable course I have ever taken. Any person can design a component or system in a CAD program, but it is useless unless it can be manufactured. The manufacturing process is a driving force in the cost and time it takes for a design to become a reality — and understanding this is critical to success.
What are you looking forward to most on landing day?
Although entry, descent and landing is arguably one of the most eventful and thrilling aspects of any rover mission, I think the most exciting aspect of landing day is that it's the first day of our surface mission. Once we land, we begin to explore a part of Mars that we have only seen in orbiter images. We get to traverse Martian soil we've never traversed, sample and analyze Martian soil we have never touched before, and even fly a helicopter for the first time on another planet. I can't wait to see the discoveries Perseverance makes and the answers she gathers.