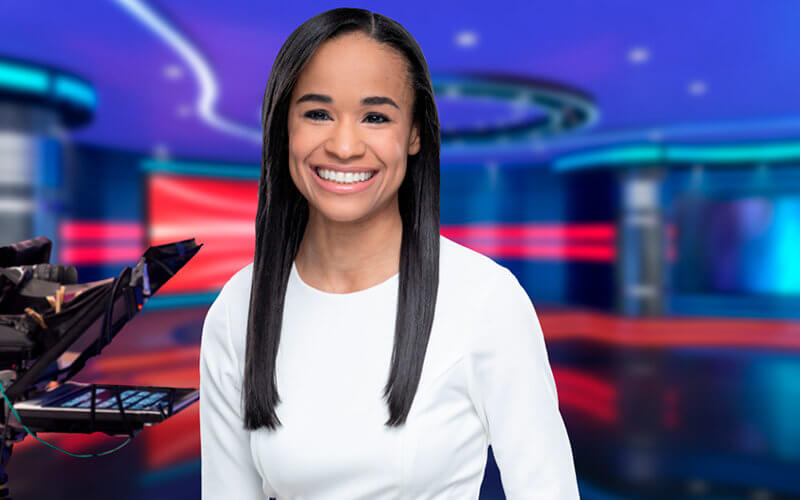 TV Producer Shares her Path From CSUF to the Major News Network
Alumna Vanessa Rumbles '07 (B.A. communications-radio/TV/film) made the jump from working behind the scenes for Cal State Fullerton TV shows to winning a news Emmy for her work at CNN. Rumbles has always had a love for current events, but her alma mater helped turn that passion into a dream career.
How did you choose Cal State Fullerton and your radio/TV/film (now cinema and television arts) major?
I grew up watching Court TV, the O.J. Simpson case and CNN, and knew early on that I loved current events and storytelling. When I toured the campus, I liked that professors had real-world experience and I saw that I could get the same. I felt at home and thought, "This is where I have to go."
How did CSUF prepare you for your career?
The school did an excellent job of letting us know what was happening in the industry, educating us on resources to make internships and jobs happen, and providing real-life training on TV production. I wrote scripts, worked behind the camera and learned every position. I didn't have anyone in my family to help me figure out the field, but I found a family at CSUF who taught me that I could do it. I had the best professors, and I still keep in contact with those in the RTVF group who are all over the industry. Philippe Perebinossoff, professor emeritus of radio/TV/film, once asked me a question that has stuck with me and continues to guide me in life. When I told him I wanted to work in TV news, he asked, "What are you doing to achieve that?" I can complain or say something is difficult, but it comes down to actions that get me where I want to go.
How did your career path go en route to CNN and winning an Emmy?
When I started at CSUF, I was doing public access TV in Orange County and thought I wanted to be a news anchor. But at college, working behind the scenes and looking at the big picture of the broadcast — I loved that and decided to become a producer. I began at KTLA, then moved to Public Radio International, PBS, SiriusXM, and in 2017 — CNN. My main show on CNN is "New Day," which airs Saturdays and Sundays at 6 a.m. With my team, I figure out what stories to cover, the order of coverage, the time assigned to each segment and work the control booth.
What was it like to win an Emmy?
We won for Outstanding News in the Editorial and Analysis category, competing against heavy hitters like Alexandria Ocasio-Cortez. It's a brand new category, awarded for an opinion piece from an anchor or reporter. The segment "Infested He Says" was delivered by our anchor Victor Blackwell, in response to President Trump's comments in 2019 when he called the city of Baltimore "infested." He told a deeply personal story about growing up there. I remember Victor walking out after the show was done and everyone in the newsroom applauded. The night of the Emmys, when they announced "CNN," I screamed. It was surreal knowing the impact we had on something that we care about. You're just doing your job and what you love and don't expect to be rewarded for that.
What advice do you have for students?
You need passion and hustle to work in sports and television. Create your own videos, build your own reel and present that during your internship to prove you have experience. Don't wait until you have a degree to look for a job. A lot of places are looking for help. Even though you might not earn a lot of money, you can get your foot in the door. There are a lot of sacrifices in the industry. Because my show airs at 6 a.m., I'm up at 1 a.m. You have to look at the bigger picture and know it's worth it — for you and your dreams.
Learn more about the university's cinema and television arts and broadcast journalism programs or support them on the College of Communications website.