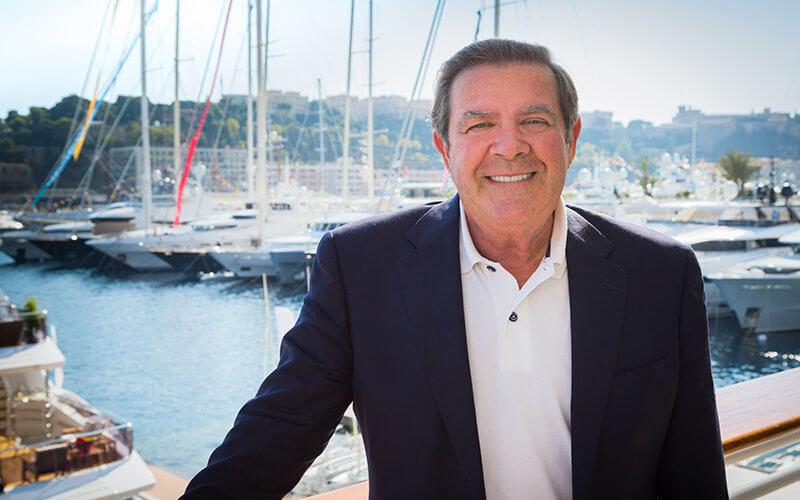 Alumnus Terry M. Giles — lawyer, business leader, entrepreneur, author and longtime supporter of Cal State Fullerton — has pledged a $1 million gift to benefit the Center for Leadership through his Giles O'Malley Foundation.
"With his generous support and visionary leadership, Terry is expanding the high-impact opportunities we aim to equitably provide all students at our top ten-ranked business school," said President Fram Virjee. "The impact of this investment will eternally reverberate across the local business community and beyond, as it powers the development of diverse leaders needed for the future Orange County."
Giles '70 (B.A. speech communication), owner and president of Houston-based Giles Enterprises, is perhaps best known for his career as a trial lawyer, defending such high-profile clients as Richard Pryor, the Martin Luther King, Jr. Estate and the victims of the California Catholic predator priest cases.
Debating a Career
His support of university began decades ago, with scholarships for the campus' debate program — the very reason the Magnolia High School (Anaheim) graduate decided to attend the university and the "single best thing I did in my education to prepare me for life."
Giles shared that at CSUF, he participated in a first-class debate program coached by Lucy Keele, verbally sparring with some of the top debaters and teams in the United States.
"It was great fun and great preparation for my career," he reminisced. "It's not difficult to see the jump from collegiate debate to trial lawyer or chairman of the board — all require training so that you're able to think quickly on your feet." Giles became both a trial lawyer and chairman of several boards, establishing or acquiring 35 businesses over his career, including a leading West Coast law firm. With his strong record of leadership, the university tapped him to help establish a Center for Leadership in the College of Business and Economics.
Empowering Orange County Leaders
As a founding member of the center, Giles has had the opportunity to witness Morteza Rahmatian, dean of the College of Business and Economics, and Jay Barbuto, professor of management and center director, grow its offerings over the years.
"They've really done a great job with the center," said Giles, "not only with helping students, but in bringing the business community into the university to connect with students. The mentoring programs are really special."
That mentoring had a big impact on Emanuel Valencia '16 (B.A. business administration-finance), founder and owner of Valencia Group. He was a Leadership Scholar at the center and still keeps in touch with many of the business leaders he met.
"The mentors were rooting for us," he shared. "They asked hard questions that helped me grow and get to the bottom of who I am. They taught me how to apply school to the real world and think through decisions."
The Center for Leadership is the primary voice and resource for leadership development in Orange County. Through the Leadership Scholars program, "The Leadership Voice" TV show, Annual Leadership Awards and Bringing Learning to Work program, the center fosters relationships across industries and helps leaders and organizations develop through education, training and outreach.
Barbuto noted that the gift is a game-changer for the center. "This gift is a major step toward sustainability for the center and its initiatives. In June 2021, we will move from running a year-to-year operation to being a permanent fixture of CSUF and the Orange County community."
Rahmatian added, "With the expansion of our business leadership programs, Terry's gift fuels the momentum we have in educating the region's workforce. We are grateful for his ongoing support of our college, which also includes the generous gift of his time, as he routinely interacts with students on campus and shares his considerable expertise."
As a mentor to students, Giles shares his wisdom, but he insists that he gets more out of the arrangement than the students do. "Mentoring helps me to stay in touch with young people and understand how they see the world," he remarked. "And hopefully I can save them a little bit of pain and help them take positive steps in the right direction every once a while."
Writing the Next Chapter
Giles also was instrumental in initiating the college's new Titans Talk Business program, kicking off the series last fall by discussing his latest endeavor: writing a book.
"The Fifteen Percent: Overcoming Hardships and Achieving Lasting Success," explores why 15% of people who experience traumatic circumstances or events actually emerge from the experience stronger than before.
It was a phenomenon Giles noticed when he represented the victims in the Catholic cases. He also saw it when reviewing scholarship applications as chairman of the scholarship committee for the Horatio Alger Association. Essays described young people suffering horrific trauma and abuse, but 15% pulled through and went on to thrive.
For the book, Giles examined the traits of the 15% and explored whether the resilience stemmed from DNA, learned skills or just plain luck. Writing it forced him to delve deeply into his personal relationships and confront his own vulnerabilities.
"Writing the book turned out to be a real positive," he relayed. "It was cathartic and helped me to reexamine my own life—flaws and all."
"I can relate to the majority of students at Cal State Fullerton as the first person in my family who went to college. When I was in school and connected with people who had been successful in their life, it gave me great hope that maybe I could do that someday. The support I give to Cal State Fullerton is about trying to pass on that hope to students — so that they can transform their life into anything that they want it to be."